Nasco MP3 3501T Arc & Flash Fire Breathable Bib-Style Rain Trouser
SKU: NC3501TN-S-EAMPN: 3501TN-S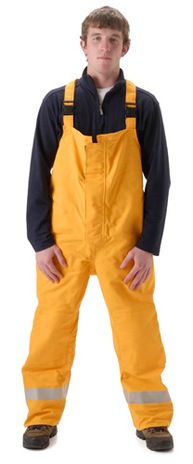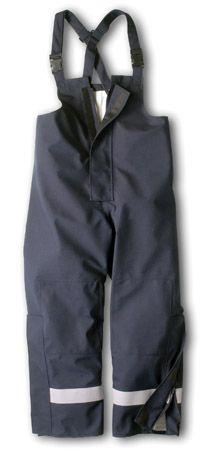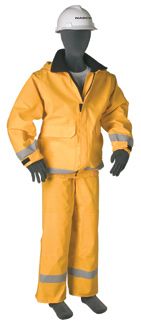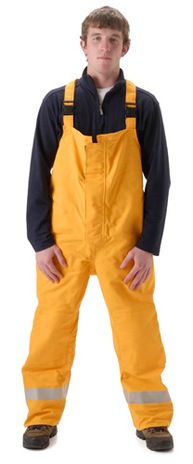 For current coupons - check home page
Product Details
Features of these Nasco MP3 bib style trousers include a non-conductive zipper front with a Velcro® storm fly front and non-conductive leg zippers, reinforced knees and a quick release suspender system. These arc flash trousers have 3M Scotchlite™ 2" reflective tape at ankles to provide additional visibility and safety to the wearer. These arc-flash and flash fire resistant pants from Nasco come in orange (3501TBO), navy (3501TN) and yellow (3501TY) colors. ATPV ratings are 9.7 cal/cm2 for the navy color material, and 9.3 cal/cm2 for the yellow material (yellow color garment is a non-stock item, call to order).
Features of Nasco MP3 high performance outwear are 7.5 oz/yd2 Nomex® trilaminate material, ePTFE moisture barrier, Arc Resistant (ASTM F1891, NFPA 70E), Flash Fire Resistant (ASTM F1930), Chemical Splash Resistant (ASTM F903), Stitched and Taped Seams, Waterproof, Breathable, Windproof, Made in USA.
MP3 suits are waterproof, windproof and breathable. These work suits provide protection against electric arcs, flash fire and heat stress hazards. MP3 by Nasco is the lightest weight, most versatile protective outerwear system made with Nomex® that is available today. With innovation, versatility and value, you no longer have to choose between comfort and safety. MP3 electric arc resistant, flash fire and chemical resistant work suits are the ultimate protective outerwear solution.
Innovation
MP3 means Multi-Performance Trilaminate. It is a breathable Nomex® outerwear system designed to excel in all weather conditions. MP3 bib pants offer protection from exposure to electric arcs and flash fires as well as reducing worker heat stress.
Versatility
Its versatility makes Nasco MP3 3501T bib style pants perfect for many applications. With their resistance to chemicals, electric arcs flashes, flash fire, and extended life cycle and retail appearance, MP3 is more than just raingear. MP3 is a proven superior alternative to other protective suits normally provided to workers.
Value
MP3 protective work suits offer a value proposition not available with traditional rainwear products. Their versatility and extended life cycle combined with a 3 year warranty create a value savings of 15% – 35% compared to common rainwear products used today.
Features & Benefits:
Electric Arc Resistance
Flash Fire Resistance
Waterproof
Breathable
Reduces Worker Heat Stress
Lightweight
Wind-Proof
Designed With Premier Features
Multi-year Life Cycle
Recommended Applications
Electric Utility Transmission & Distribution
Oil Refining & Processing
Meter Service
Electrical Switching
Telecommunication & CATV Workers
Gas Utility Transmission and Distribution
Specifications
| | | | | | | | | | | | | | | | | | | | | | | | | |
| --- | --- | --- | --- | --- | --- | --- | --- | --- | --- | --- | --- | --- | --- | --- | --- | --- | --- | --- | --- | --- | --- | --- | --- | --- |
| SKU | NC3501TN-S-EA | NC3501TN-M-EA | NC3501TN-L-EA | NC3501TN-XL-EA | NC3501TN-2XL-EA | NC3501TN-3XL-EA | NC3501TN-4XL-EA | NC3501TN-5XL-EA | NC3501TN-S-L-EA | NC3501TN-M-L-EA | NC3501TN-L-L-EA | NC3501TN-XL-L-EA | NC3501TN-2XL-L-EA | NC3501TN-3XL-L-EA | NC3501TN-4XL-L-EA | NC3501TN-5XL-L-EA | NC3501TN-S-T-EA | NC3501TN-M-T-EA | NC3501TN-L-T-EA | NC3501TN-XL-T-EA | NC3501TN-2XL-T-EA | NC3501TN-3XL-T-EA | NC3501TN-4XL-T-EA | NC3501TN-5XL-T-EA |
| MPN | 3501TN-S | 3501TN-M | 3501TN-L | 3501TN-XL | 3501TN-2XL | 3501TN-3XL | 3501TN-4XL | 3501TN-5XL | 3501TN-S-L | 3501TN-M-L | 3501TN-L-L | 3501TN-XL-L | 3501TN-2XL-L | 3501TN-3XL-L | 3501TN-4XL-L | 3501TN-5XL-L | 3501TN-S-T | 3501TN-M-T | 3501TN-L-T | 3501TN-XL-T | 3501TN-2XL-T | 3501TN-3XL-T | 3501TN-4XL-T | 3501TN-5XL-T |
| Waist Size | S | M | L | XL | 2XL | 3XL | 4XL | 5XL | S | M | L | XL | 2XL | 3XL | 4XL | 5XL | S | M | L | XL | 2XL | 3XL | 4XL | 5XL |
| Pants Length | Regular | Regular | Regular | Regular | Regular | Regular | Regular | Regular | Long, +2" in Length | Long, +2" in Length | Long, +2" in Length | Long, +2" in Length | Long, +2" in Length | Long, +2" in Length | Long, +2" in Length | Long, +2" in Length | Tall, +4" in Length | Tall, +4" in Length | Tall, +4" in Length | Tall, +4" in Length | Tall, +4" in Length | Tall, +4" in Length | Tall, +4" in Length | Tall, +4" in Length |
| Garment Primary Color | Navy, 9.7 cal/cm2 | Navy, 9.7 cal/cm2 | Navy, 9.7 cal/cm2 | Navy, 9.7 cal/cm2 | Navy, 9.7 cal/cm2 | Navy, 9.7 cal/cm2 | Navy, 9.7 cal/cm2 | Navy, 9.7 cal/cm2 | Navy, 9.7 cal/cm2 | Navy, 9.7 cal/cm2 | Navy, 9.7 cal/cm2 | Navy, 9.7 cal/cm2 | Navy, 9.7 cal/cm2 | Navy, 9.7 cal/cm2 | Navy, 9.7 cal/cm2 | Navy, 9.7 cal/cm2 | Navy, 9.7 cal/cm2 | Navy, 9.7 cal/cm2 | Navy, 9.7 cal/cm2 | Navy, 9.7 cal/cm2 | Navy, 9.7 cal/cm2 | Navy, 9.7 cal/cm2 | Navy, 9.7 cal/cm2 | Navy, 9.7 cal/cm2 |