Nasco Sentinel 4503J Arc & Flash Fire Waist Length Rain Jacket
SKU: NC4503JFY-S-EAMPN: 4503JFY-S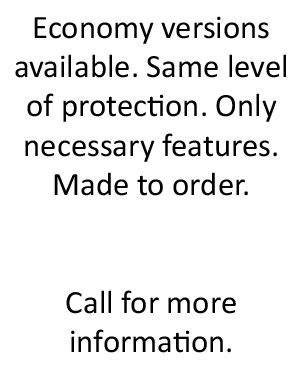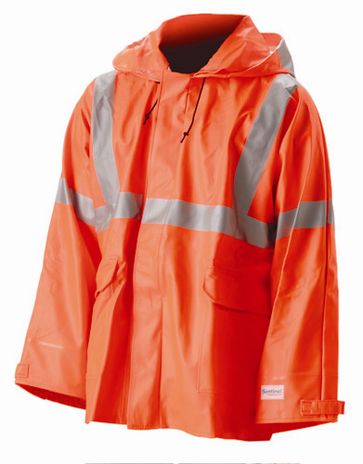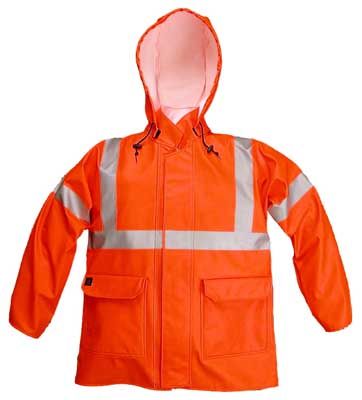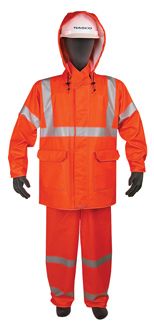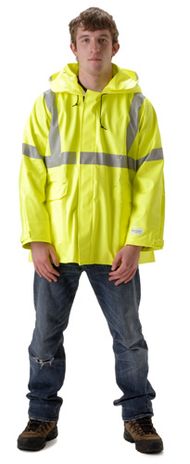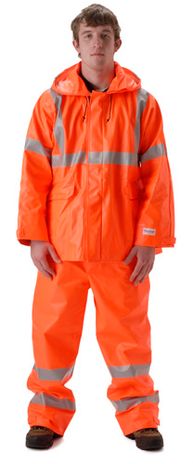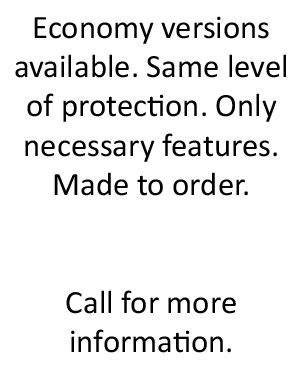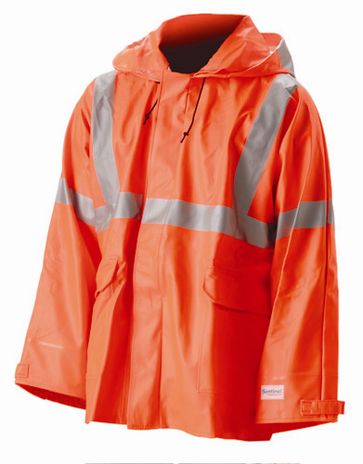 Garment Primary Color
Fluorescent Yellow, 12.3 cal/cm2
For current coupons - check home page
Product Details
Nasco 4503J is a Sentinel series waist length arc flash jacket with a 3 piece hood-in-collar, non-conductive zipper front with Velcro® closure. These high performance jackets have a ventilation system made with Nomex® mesh, fall protection equipment access and two pockets and wrist adjusters with Velcro®. The 3M Scotchlite™ 2 inch reflective trim allows the Nasco Sentinel jackets to achieve ANSI 107 Class 3, Level 2 high visibility ratings. Available in 2 fluorescent colors - yellow (4503JFY) and orange (4503JFO). ATPV ratings are 12.3 cal/cm2 for the fluorescent yellow material, and 16.5 cal/cm2 for the fluorescent orange material.
Features of Nasco Sentinel arc flash suits: 10 oz/yd2 FR cotton knit, FR polyurethane moisture/chemical barrier, Arc Resistant (ASTM F1891, NFPA 70E) Flash Fire Resistant (ASTM F1930), Chemical Penetration (ASTM F903), Dielectrically Welded Seams with Safety Stitch.
The Sentinel™ is the industry's first total solution product for companies whose workers are exposed to gas and electric arcs. It provides the highest level of protection against an electric arc flash as well as providing protection from a hydrocarbon flash fire. Sentinel work clothing excels in joining comfort with durability and protection. While keeping workers protected from electric arcs and flash fires, the durable Sentinel™ material extends the usable life and level of comfort well beyond other raingear.
Features & Benefits of Nasco Sentinel 4503J Work Jackets:
Arc, Flame and Flash Fire Resistance - Does Not Melt, Drip, Ignite, or Break Open and Minimizes Heat Transfer Burns
Chemical Splash Resistance
Waterproof
Durable
Soft, Flexible
Long Life-Cycle
Recommended Applications
Electric & Gas Utilities
Gas & Oil Extraction
Oil Refining
Electrical Maintenance
Electrical Switching
Meter Service
Storm Restoration
Specifications
| | | | | | | | | | | | | | | | | | | | | | | | | | | | | | | | | | | | | | | | | | | | | | | | | |
| --- | --- | --- | --- | --- | --- | --- | --- | --- | --- | --- | --- | --- | --- | --- | --- | --- | --- | --- | --- | --- | --- | --- | --- | --- | --- | --- | --- | --- | --- | --- | --- | --- | --- | --- | --- | --- | --- | --- | --- | --- | --- | --- | --- | --- | --- | --- | --- | --- |
| SKU | NC4503JFY-S-EA | NC4503JFO-S-EA | NC4503JFY-S-L-EA | NC4503JFO-S-L-EA | NC4503JFY-S-T-EA | NC4503JFO-S-T-EA | NC4503JFY-M-EA | NC4503JFO-M-EA | NC4503JFY-M-L-EA | NC4503JFO-M-L-EA | NC4503JFY-M-T-EA | NC4503JFO-M-T-EA | NC4503JFY-L-EA | NC4503JFO-L-EA | NC4503JFY-L-L-EA | NC4503JFO-L-L-EA | NC4503JFY-L-T-EA | NC4503JFO-L-T-EA | NC4503JFY-XL-EA | NC4503JFO-XL-EA | NC4503JFY-XL-L-EA | NC4503JFO-XL-L-EA | NC4503JFY-XL-T-EA | NC4503JFO-XL-T-EA | NC4503JFY-2XL-EA | NC4503JFO-2XL-EA | NC4503JFY-2XL-L-EA | NC4503JFO-2XL-L-EA | NC4503JFY-2XL-T-EA | NC4503JFO-2XL-T-EA | NC4503JFY-3XL-EA | NC4503JFO-3XL-EA | NC4503JFY-3XL-L-EA | NC4503JFO-3XL-L-EA | NC4503JFY-3XL-T-EA | NC4503JFO-3XL-T-EA | NC4503JFY-4XL-EA | NC4503JFO-4XL-EA | NC4503JFY-4XL-L-EA | NC4503JFO-4XL-L-EA | NC4503JFY-4XL-T-EA | NC4503JFO-4XL-T-EA | NC4503JFY-5XL-EA | NC4503JFO-5XL-EA | NC4503JFY-5XL-L-EA | NC4503JFO-5XL-L-EA | NC4503JFY-5XL-T-EA | NC4503JFO-5XL-T-EA |
| MPN | 4503JFY-S | 4503JFO-S | 4503JFY-S-L | 4503JFO-S-L | 4503JFY-S-T | 4503JFO-S-T | 4503JFY-M | 4503JFO-M | 4503JFY-M-L | 4503JFO-M-L | 4503JFY-M-T | 4503JFO-M-T | 4503JFY-L | 4503JFO-L | 4503JFY-L-L | 4503JFO-L-L | 4503JFY-L-T | 4503JFO-L-T | 4503JFY-XL | 4503JFO-XL | 4503JFY-XL-L | 4503JFO-XL-L | 4503JFY-XL-T | 4503JFO-XL-T | 4503JFY-2XL | 4503JFO-2XL | 4503JFY-2XL-L | 4503JFO-2XL-L | 4503JFY-2XL-T | 4503JFO-2XL-T | 4503JFY-3XL | 4503JFO-3XL | 4503JFY-3XL-L | 4503JFO-3XL-L | 4503JFY-3XL-T | 4503JFO-3XL-T | 4503JFY-4XL | 4503JFO-4XL | 4503JFY-4XL-L | 4503JFO-4XL-L | 4503JFY-4XL-T | 4503JFO-4XL-T | 4503JFY-5XL | 4503JFO-5XL | 4503JFY-5XL-L | 4503JFO-5XL-L | 4503JFY-5XL-T | 4503JFO-5XL-T |
| Coat Size | S | S | S | S | S | S | M | M | M | M | M | M | L | L | L | L | L | L | XL | XL | XL | XL | XL | XL | 2XL | 2XL | 2XL | 2XL | 2XL | 2XL | 3XL | 3XL | 3XL | 3XL | 3XL | 3XL | 4XL | 4XL | 4XL | 4XL | 4XL | 4XL | 5XL | 5XL | 5XL | 5XL | 5XL | 5XL |
| Length | Regular | Regular | Long, +2" in Length | Long, +2" in Length | Tall, +4" in Length | Tall, +4" in Length | Regular | Regular | Long, +2" in Length | Long, +2" in Length | Tall, +4" in Length | Tall, +4" in Length | Regular | Regular | Long, +2" in Length | Long, +2" in Length | Tall, +4" in Length | Tall, +4" in Length | Regular | Regular | Long, +2" in Length | Long, +2" in Length | Tall, +4" in Length | Tall, +4" in Length | Regular | Regular | Long, +2" in Length | Long, +2" in Length | Tall, +4" in Length | Tall, +4" in Length | Regular | Regular | Long, +2" in Length | Long, +2" in Length | Tall, +4" in Length | Tall, +4" in Length | Regular | Regular | Long, +2" in Length | Long, +2" in Length | Tall, +4" in Length | Tall, +4" in Length | Regular | Regular | Long, +2" in Length | Long, +2" in Length | Tall, +4" in Length | Tall, +4" in Length |
| Garment Primary Color | Fluorescent Yellow, 12.3 cal/cm2 | Fluorescent Orange, 16.5 cal/cm2 | Fluorescent Yellow, 12.3 cal/cm2 | Fluorescent Orange, 16.5 cal/cm2 | Fluorescent Yellow, 12.3 cal/cm2 | Fluorescent Orange, 16.5 cal/cm2 | Fluorescent Yellow, 12.3 cal/cm2 | Fluorescent Orange, 16.5 cal/cm2 | Fluorescent Yellow, 12.3 cal/cm2 | Fluorescent Orange, 16.5 cal/cm2 | Fluorescent Yellow, 12.3 cal/cm2 | Fluorescent Orange, 16.5 cal/cm2 | Fluorescent Yellow, 12.3 cal/cm2 | Fluorescent Orange, 16.5 cal/cm2 | Fluorescent Yellow, 12.3 cal/cm2 | Fluorescent Orange, 16.5 cal/cm2 | Fluorescent Yellow, 12.3 cal/cm2 | Fluorescent Orange, 16.5 cal/cm2 | Fluorescent Yellow, 12.3 cal/cm2 | Fluorescent Orange, 16.5 cal/cm2 | Fluorescent Yellow, 12.3 cal/cm2 | Fluorescent Orange, 16.5 cal/cm2 | Fluorescent Yellow, 12.3 cal/cm2 | Fluorescent Orange, 16.5 cal/cm2 | Fluorescent Yellow, 12.3 cal/cm2 | Fluorescent Orange, 16.5 cal/cm2 | Fluorescent Yellow, 12.3 cal/cm2 | Fluorescent Orange, 16.5 cal/cm2 | Fluorescent Yellow, 12.3 cal/cm2 | Fluorescent Orange, 16.5 cal/cm2 | Fluorescent Yellow, 12.3 cal/cm2 | Fluorescent Orange, 16.5 cal/cm2 | Fluorescent Yellow, 12.3 cal/cm2 | Fluorescent Orange, 16.5 cal/cm2 | Fluorescent Yellow, 12.3 cal/cm2 | Fluorescent Orange, 16.5 cal/cm2 | Fluorescent Yellow, 12.3 cal/cm2 | Fluorescent Orange, 16.5 cal/cm2 | Fluorescent Yellow, 12.3 cal/cm2 | Fluorescent Orange, 16.5 cal/cm2 | Fluorescent Yellow, 12.3 cal/cm2 | Fluorescent Orange, 16.5 cal/cm2 | Fluorescent Yellow, 12.3 cal/cm2 | Fluorescent Orange, 16.5 cal/cm2 | Fluorescent Yellow, 12.3 cal/cm2 | Fluorescent Orange, 16.5 cal/cm2 | Fluorescent Yellow, 12.3 cal/cm2 | Fluorescent Orange, 16.5 cal/cm2 |
| Arc flash rating | ATPV 12.3 cal/cm2 | ATPV 12.3 cal/cm2 | ATPV 12.3 cal/cm2 | ATPV 12.3 cal/cm2 | ATPV 12.3 cal/cm2 | ATPV 12.3 cal/cm2 | ATPV 12.3 cal/cm2 | ATPV 12.3 cal/cm2 | ATPV 12.3 cal/cm2 | ATPV 12.3 cal/cm2 | ATPV 12.3 cal/cm2 | ATPV 12.3 cal/cm2 | ATPV 12.3 cal/cm2 | ATPV 12.3 cal/cm2 | ATPV 12.3 cal/cm2 | ATPV 12.3 cal/cm2 | ATPV 12.3 cal/cm2 | ATPV 12.3 cal/cm2 | ATPV 12.3 cal/cm2 | ATPV 12.3 cal/cm2 | ATPV 12.3 cal/cm2 | ATPV 12.3 cal/cm2 | ATPV 12.3 cal/cm2 | ATPV 12.3 cal/cm2 | ATPV 12.3 cal/cm2 | ATPV 12.3 cal/cm2 | ATPV 12.3 cal/cm2 | ATPV 12.3 cal/cm2 | ATPV 12.3 cal/cm2 | ATPV 12.3 cal/cm2 | ATPV 12.3 cal/cm2 | ATPV 12.3 cal/cm2 | ATPV 12.3 cal/cm2 | ATPV 12.3 cal/cm2 | ATPV 12.3 cal/cm2 | ATPV 12.3 cal/cm2 | ATPV 12.3 cal/cm2 | ATPV 12.3 cal/cm2 | ATPV 12.3 cal/cm2 | ATPV 12.3 cal/cm2 | ATPV 12.3 cal/cm2 | ATPV 12.3 cal/cm2 | ATPV 12.3 cal/cm2 | ATPV 12.3 cal/cm2 | ATPV 12.3 cal/cm2 | ATPV 12.3 cal/cm2 | ATPV 12.3 cal/cm2 | ATPV 12.3 cal/cm2 |
| Coat length | Waist | Waist | Waist | Waist | Waist | Waist | Waist | Waist | Waist | Waist | Waist | Waist | Waist | Waist | Waist | Waist | Waist | Waist | Waist | Waist | Waist | Waist | Waist | Waist | Waist | Waist | Waist | Waist | Waist | Waist | Waist | Waist | Waist | Waist | Waist | Waist | Waist | Waist | Waist | Waist | Waist | Waist | Waist | Waist | Waist | Waist | Waist | Waist |
| High Visibility | ANSI Class 3 | ANSI Class 3 | ANSI Class 3 | ANSI Class 3 | ANSI Class 3 | ANSI Class 3 | ANSI Class 3 | ANSI Class 3 | ANSI Class 3 | ANSI Class 3 | ANSI Class 3 | ANSI Class 3 | ANSI Class 3 | ANSI Class 3 | ANSI Class 3 | ANSI Class 3 | ANSI Class 3 | ANSI Class 3 | ANSI Class 3 | ANSI Class 3 | ANSI Class 3 | ANSI Class 3 | ANSI Class 3 | ANSI Class 3 | ANSI Class 3 | ANSI Class 3 | ANSI Class 3 | ANSI Class 3 | ANSI Class 3 | ANSI Class 3 | ANSI Class 3 | ANSI Class 3 | ANSI Class 3 | ANSI Class 3 | ANSI Class 3 | ANSI Class 3 | ANSI Class 3 | ANSI Class 3 | ANSI Class 3 | ANSI Class 3 | ANSI Class 3 | ANSI Class 3 | ANSI Class 3 | ANSI Class 3 | ANSI Class 3 | ANSI Class 3 | ANSI Class 3 | ANSI Class 3 |
| Material | 10 oz FR Cotton knit, FR Polyurethane barrier | 10 oz FR Cotton knit, FR Polyurethane barrier | 10 oz FR Cotton knit, FR Polyurethane barrier | 10 oz FR Cotton knit, FR Polyurethane barrier | 10 oz FR Cotton knit, FR Polyurethane barrier | 10 oz FR Cotton knit, FR Polyurethane barrier | 10 oz FR Cotton knit, FR Polyurethane barrier | 10 oz FR Cotton knit, FR Polyurethane barrier | 10 oz FR Cotton knit, FR Polyurethane barrier | 10 oz FR Cotton knit, FR Polyurethane barrier | 10 oz FR Cotton knit, FR Polyurethane barrier | 10 oz FR Cotton knit, FR Polyurethane barrier | 10 oz FR Cotton knit, FR Polyurethane barrier | 10 oz FR Cotton knit, FR Polyurethane barrier | 10 oz FR Cotton knit, FR Polyurethane barrier | 10 oz FR Cotton knit, FR Polyurethane barrier | 10 oz FR Cotton knit, FR Polyurethane barrier | 10 oz FR Cotton knit, FR Polyurethane barrier | 10 oz FR Cotton knit, FR Polyurethane barrier | 10 oz FR Cotton knit, FR Polyurethane barrier | 10 oz FR Cotton knit, FR Polyurethane barrier | 10 oz FR Cotton knit, FR Polyurethane barrier | 10 oz FR Cotton knit, FR Polyurethane barrier | 10 oz FR Cotton knit, FR Polyurethane barrier | 10 oz FR Cotton knit, FR Polyurethane barrier | 10 oz FR Cotton knit, FR Polyurethane barrier | 10 oz FR Cotton knit, FR Polyurethane barrier | 10 oz FR Cotton knit, FR Polyurethane barrier | 10 oz FR Cotton knit, FR Polyurethane barrier | 10 oz FR Cotton knit, FR Polyurethane barrier | 10 oz FR Cotton knit, FR Polyurethane barrier | 10 oz FR Cotton knit, FR Polyurethane barrier | 10 oz FR Cotton knit, FR Polyurethane barrier | 10 oz FR Cotton knit, FR Polyurethane barrier | 10 oz FR Cotton knit, FR Polyurethane barrier | 10 oz FR Cotton knit, FR Polyurethane barrier | 10 oz FR Cotton knit, FR Polyurethane barrier | 10 oz FR Cotton knit, FR Polyurethane barrier | 10 oz FR Cotton knit, FR Polyurethane barrier | 10 oz FR Cotton knit, FR Polyurethane barrier | 10 oz FR Cotton knit, FR Polyurethane barrier | 10 oz FR Cotton knit, FR Polyurethane barrier | 10 oz FR Cotton knit, FR Polyurethane barrier | 10 oz FR Cotton knit, FR Polyurethane barrier | 10 oz FR Cotton knit, FR Polyurethane barrier | 10 oz FR Cotton knit, FR Polyurethane barrier | 10 oz FR Cotton knit, FR Polyurethane barrier | 10 oz FR Cotton knit, FR Polyurethane barrier |
| Style | Unisex | Unisex | Unisex | Unisex | Unisex | Unisex | Unisex | Unisex | Unisex | Unisex | Unisex | Unisex | Unisex | Unisex | Unisex | Unisex | Unisex | Unisex | Unisex | Unisex | Unisex | Unisex | Unisex | Unisex | Unisex | Unisex | Unisex | Unisex | Unisex | Unisex | Unisex | Unisex | Unisex | Unisex | Unisex | Unisex | Unisex | Unisex | Unisex | Unisex | Unisex | Unisex | Unisex | Unisex | Unisex | Unisex | Unisex | Unisex |