Nasco ArcLite HiVis 1501P Elastic Waist Arc Flash Rain Pant
SKU: NC1501PFY-S-EAMPN: 1501PFY-S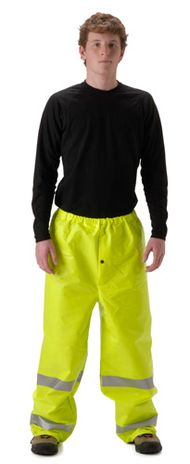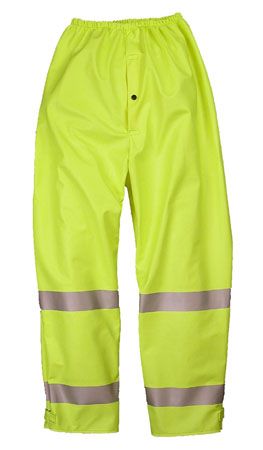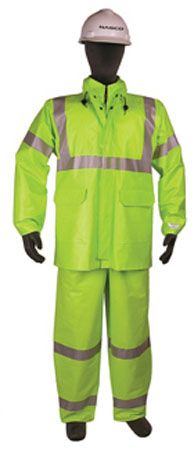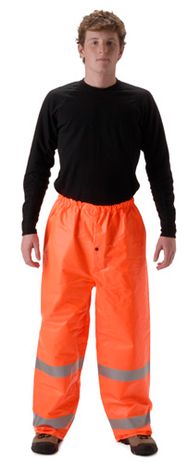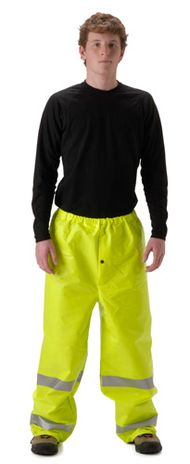 Pants Length
Garment Primary Color
Fluorescent Yellow, 7.2 cal/cm2
For current coupons - check home page
Product Details
These HiVis Arclite elastic waist pants from Nasco have Velcro® tab leg cuff adjusters, snap fly front, and 3M Scotchlite™ 2" reflective trim around calves and knees to provide an ANSI 107 Class E Level 2 high visibility rating. Available colors for these arc flash pants are fluorescent orange (1501PFO) and fluorescent yellow (1501PFY). ATPV ratings are 7.2 cal/cm2 for the fluorescent yellow material, and 7.9 cal/cm2 for the fluorescent orange material.
ArcLite HiVis rainwear from Nasco features are: 8 oz/yd2, PVC/Nomex® System, Arc Resistant (ASTM F1891, NFPA 70E), High Visibility (ANSI 107 Compliant), Dielectrically Welded Seams, Waterproof.
ArcLite™ is designed by linemen for linemen. It is the most popular foul weather product designed specifically for utility workers who may be exposed to electric arcs. With a feature packed design, including fall protection access, mesh vented cape back and a hood that rolls into the collar, ArcLite is sure to meet the needs of the demanding electric utility industry.
Features & Benefits of Nasco ArcLite HiVis Trousers 1501P:
Arc and Flame Resistance - Does Not Melt, Drip, Ignite, or Break Open and Minimizes Heat Transfer Burns
Waterproof
Lightweight
Soft, Flexible
Designed by Linemen
Limited Chemical Splash Resistance
Recommended Applications:
Electric Utility
Electrical Maintenance
Meter Service
Electrical Switching
Telecommunication workers
CATV workers
Specifications
| | | | | | | | | | | | | | | | | | | | | | | | | | | | | | | | | | | | | | | | | | | | | | | | | |
| --- | --- | --- | --- | --- | --- | --- | --- | --- | --- | --- | --- | --- | --- | --- | --- | --- | --- | --- | --- | --- | --- | --- | --- | --- | --- | --- | --- | --- | --- | --- | --- | --- | --- | --- | --- | --- | --- | --- | --- | --- | --- | --- | --- | --- | --- | --- | --- | --- |
| SKU | NC1501PFY-S-EA | NC1501PFO-S-EA | NC1501PFY-M-EA | NC1501PFO-M-EA | NC1501PFY-L-EA | NC1501PFO-L-EA | NC1501PFY-XL-EA | NC1501PFO-XL-EA | NC1501PFY-2XL-EA | NC1501PFO-2XL-EA | NC1501PFY-3XL-EA | NC1501PFO-3XL-EA | NC1501PFY-4XL-EA | NC1501PFO-4XL-EA | NC1501PFY-5XL-EA | NC1501PFO-5XL-EA | NC1501PFY-S-L-EA | NC1501PFO-S-L-EA | NC1501PFY-M-L-EA | NC1501PFO-M-L-EA | NC1501PFY-L-L-EA | NC1501PFO-L-L-EA | NC1501PFY-XL-L-EA | NC1501PFO-XL-L-EA | NC1501PFY-2XL-L-EA | NC1501PFO-2XL-L-EA | NC1501PFY-3XL-L-EA | NC1501PFO-3XL-L-EA | NC1501PFY-4XL-L-EA | NC1501PFO-4XL-L-EA | NC1501PFY-5XL-L-EA | NC1501PFO-5XL-L-EA | NC1501PFY-S-T-EA | NC1501PFO-S-T-EA | NC1501PFY-M-T-EA | NC1501PFO-M-T-EA | NC1501PFY-L-T-EA | NC1501PFO-L-T-EA | NC1501PFY-XL-T-EA | NC1501PFO-XL-T-EA | NC1501PFY-2XL-T-EA | NC1501PFO-2XL-T-EA | NC1501PFY-3XL-T-EA | NC1501PFO-3XL-T-EA | NC1501PFY-4XL-T-EA | NC1501PFO-4XL-T-EA | NC1501PFY-5XL-T-EA | NC1501PFO-5XL-T-EA |
| MPN | 1501PFY-S | 1501PFO-S | 1501PFY-M | 1501PFO-M | 1501PFY-L | 1501PFO-L | 1501PFY-XL | 1501PFO-XL | 1501PFY-2XL | 1501PFO-2XL | 1501PFY-3XL | 1501PFO-3XL | 1501PFY-4XL | 1501PFO-4XL | 1501PFY-5XL | 1501PFO-5XL | 1501PFY-S-L | 1501PFO-S-L | 1501PFY-M-L | 1501PFO-M-L | 1501PFY-L-L | 1501PFO-L-L | 1501PFY-XL-L | 1501PFO-XL-L | 1501PFY-2XL-L | 1501PFO-2XL-L | 1501PFY-3XL-L | 1501PFO-3XL-L | 1501PFY-4XL-L | 1501PFO-4XL-L | 1501PFY-5XL-L | 1501PFO-5XL-L | 1501PFY-S-T | 1501PFO-S-T | 1501PFY-M-T | 1501PFO-M-T | 1501PFY-L-T | 1501PFO-L-T | 1501PFY-XL-T | 1501PFO-XL-T | 1501PFY-2XL-T | 1501PFO-2XL-T | 1501PFY-3XL-T | 1501PFO-3XL-T | 1501PFY-4XL-T | 1501PFO-4XL-T | 1501PFY-5XL-T | 1501PFO-5XL-T |
| Waist Size | S | S | M | M | L | L | XL | XL | 2XL | 2XL | 3XL | 3XL | 4XL | 4XL | 5XL | 5XL | S | S | M | M | L | L | XL | XL | 2XL | 2XL | 3XL | 3XL | 4XL | 4XL | 5XL | 5XL | S | S | M | M | L | L | XL | XL | 2XL | 2XL | 3XL | 3XL | 4XL | 4XL | 5XL | 5XL |
| Pants Length | Regular | Regular | Regular | Regular | Regular | Regular | Regular | Regular | Regular | Regular | Regular | Regular | Regular | Regular | Regular | Regular | Long, +2" in Length | Long, +2" in Length | Long, +2" in Length | Long, +2" in Length | Long, +2" in Length | Long, +2" in Length | Long, +2" in Length | Long, +2" in Length | Long, +2" in Length | Long, +2" in Length | Long, +2" in Length | Long, +2" in Length | Long, +2" in Length | Long, +2" in Length | Long, +2" in Length | Long, +2" in Length | Tall, +4" in Length | Tall, +4" in Length | Tall, +4" in Length | Tall, +4" in Length | Tall, +4" in Length | Tall, +4" in Length | Tall, +4" in Length | Tall, +4" in Length | Tall, +4" in Length | Tall, +4" in Length | Tall, +4" in Length | Tall, +4" in Length | Tall, +4" in Length | Tall, +4" in Length | Tall, +4" in Length | Tall, +4" in Length |
| Garment Primary Color | Fluorescent Yellow, 7.2 cal/cm2 | Fluorescent Orange, 7.9 cal/cm2 | Fluorescent Yellow, 7.2 cal/cm2 | Fluorescent Orange, 7.9 cal/cm2 | Fluorescent Yellow, 7.2 cal/cm2 | Fluorescent Orange, 7.9 cal/cm2 | Fluorescent Yellow, 7.2 cal/cm2 | Fluorescent Orange, 7.9 cal/cm2 | Fluorescent Yellow, 7.2 cal/cm2 | Fluorescent Orange, 7.9 cal/cm2 | Fluorescent Yellow, 7.2 cal/cm2 | Fluorescent Orange, 7.9 cal/cm2 | Fluorescent Yellow, 7.2 cal/cm2 | Fluorescent Orange, 7.9 cal/cm2 | Fluorescent Yellow, 7.2 cal/cm2 | Fluorescent Orange, 7.9 cal/cm2 | Fluorescent Yellow, 7.2 cal/cm2 | Fluorescent Orange, 7.9 cal/cm2 | Fluorescent Yellow, 7.2 cal/cm2 | Fluorescent Orange, 7.9 cal/cm2 | Fluorescent Yellow, 7.2 cal/cm2 | Fluorescent Orange, 7.9 cal/cm2 | Fluorescent Yellow, 7.2 cal/cm2 | Fluorescent Orange, 7.9 cal/cm2 | Fluorescent Yellow, 7.2 cal/cm2 | Fluorescent Orange, 7.9 cal/cm2 | Fluorescent Yellow, 7.2 cal/cm2 | Fluorescent Orange, 7.9 cal/cm2 | Fluorescent Yellow, 7.2 cal/cm2 | Fluorescent Orange, 7.9 cal/cm2 | Fluorescent Yellow, 7.2 cal/cm2 | Fluorescent Orange, 7.9 cal/cm2 | Fluorescent Yellow, 7.2 cal/cm2 | Fluorescent Orange, 7.9 cal/cm2 | Fluorescent Yellow, 7.2 cal/cm2 | Fluorescent Orange, 7.9 cal/cm2 | Fluorescent Yellow, 7.2 cal/cm2 | Fluorescent Orange, 7.9 cal/cm2 | Fluorescent Yellow, 7.2 cal/cm2 | Fluorescent Orange, 7.9 cal/cm2 | Fluorescent Yellow, 7.2 cal/cm2 | Fluorescent Orange, 7.9 cal/cm2 | Fluorescent Yellow, 7.2 cal/cm2 | Fluorescent Orange, 7.9 cal/cm2 | Fluorescent Yellow, 7.2 cal/cm2 | Fluorescent Orange, 7.9 cal/cm2 | Fluorescent Yellow, 7.2 cal/cm2 | Fluorescent Orange, 7.9 cal/cm2 |