Nasco ArcLite Hi Vis 1503C 48" Long Arc Flash Rain Coat
SKU: NC1503CFY-S-EAMPN: 1503CFY-S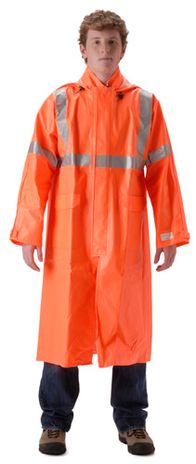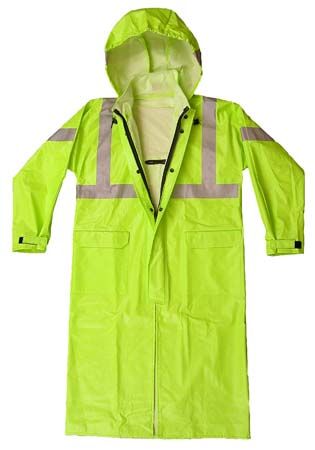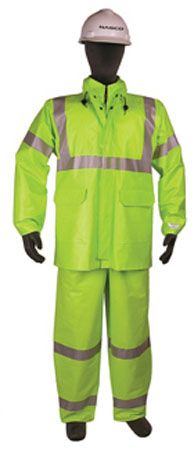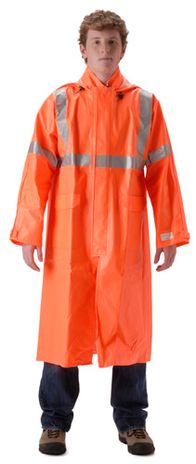 Product Details
Nasco ArcLite HiViz full length coats are 48 long, and come with non-conductive zipper front with dual over flies and snaps and a 3 piece hood-in-collar. They feature a Nomex® mesh ventilation system and provide access for fall protection gear. Velcro® tab type wrist adjusters and two pockets with Velcro® closure add to the convenient features of these arc flash coats. ANSI107 Class 3 Level 2 rating is achieved by use of 3M Scotchlite™ 2" reflective tape on biceps, around chest and over shoulders. Nasco's hi-viz ArcLite coats are sold in fluorescent yellow (1503CFY) or fluorescent orange (1503CFO) colors. ATPV ratings are 7.2 cal/cm2 for the fluorescent yellow material, and 7.9 cal/cm2 for the fluorescent orange material.
Features of Nasco ArcLite HiVis Lineman Rain Gear: 8 oz/yd2, PVC/Nomex® System, Arc Resistant (ASTM F1891, NFPA 70E), High Visibility (ANSI 107 Compliant), Dielectrically Welded Seams, Waterproof.
ArcLite™ is designed by linemen for linemen. It is the most popular foul weather product designed specifically for utility workers who may be exposed to electric arcs. With a feature packed design, including fall protection access, mesh vented cape back and a hood that rolls into the collar, ArcLite is sure to meet the needs of the demanding electric utility industry.
Features & Benefits of Nasco ArcLite High Visibility Coat:
Arc and Flame Resistance - Does Not Melt, Drip, Ignite, or Break Open and Minimizes Heat Transfer Burns
Waterproof
Lightweight
Soft, Flexible
Designed by Linemen
Limited Chemical Splash Resistance
Recommended Applications of Nasco 1503C Work Coat:
Electric Utility
Electrical Maintenance
Meter Service
Electrical Switching
Telecommunication workers
CATV workers
Specifications
| | | | | | | | | | | | | | | | | |
| --- | --- | --- | --- | --- | --- | --- | --- | --- | --- | --- | --- | --- | --- | --- | --- | --- |
| SKU | NC1503CFY-S-EA | NC1503CFO-S-EA | NC1503CFY-M-EA | NC1503CFO-M-EA | NC1503CFY-L-EA | NC1503CFO-L-EA | NC1503CFY-XL-EA | NC1503CFO-XL-EA | NC1503CFY-2XL-EA | NC1503CFO-2XL-EA | NC1503CFY-3XL-EA | NC1503CFO-3XL-EA | NC1503CFY-4XL-EA | NC1503CFO-4XL-EA | NC1503CFY-5XL-EA | NC1503CFO-5XL-EA |
| MPN | 1503CFY-S | 1503CFO-S | 1503CFY-M | 1503CFO-M | 1503CFY-L | 1503CFO-L | 1503CFY-XL | 1503CFO-XL | 1503CFY-2XL | 1503CFO-2XL | 1503CFY-3XL | 1503CFO-3XL | 1503CFY-4XL | 1503CFO-4XL | 1503CFY-5XL | 1503CFO-5XL |
| Coat Size | S | S | M | M | L | L | XL | XL | 2XL | 2XL | 3XL | 3XL | 4XL | 4XL | 5XL | 5XL |
| Garment Primary Color | Fluorescent Yellow, 7.2 cal/cm2 | Fluorescent Orange, 7.9 cal/cm2 | Fluorescent Yellow, 7.2 cal/cm2 | Fluorescent Orange, 7.9 cal/cm2 | Fluorescent Yellow, 7.2 cal/cm2 | Fluorescent Orange, 7.9 cal/cm2 | Fluorescent Yellow, 7.2 cal/cm2 | Fluorescent Orange, 7.9 cal/cm2 | Fluorescent Yellow, 7.2 cal/cm2 | Fluorescent Orange, 7.9 cal/cm2 | Fluorescent Yellow, 7.2 cal/cm2 | Fluorescent Orange, 7.9 cal/cm2 | Fluorescent Yellow, 7.2 cal/cm2 | Fluorescent Orange, 7.9 cal/cm2 | Fluorescent Yellow, 7.2 cal/cm2 | Fluorescent Orange, 7.9 cal/cm2 |
| Arc flash rating | ATPV 7.2 cal/cm2 | ATPV 7.2 cal/cm2 | ATPV 7.2 cal/cm2 | ATPV 7.2 cal/cm2 | ATPV 7.2 cal/cm2 | ATPV 7.2 cal/cm2 | ATPV 7.2 cal/cm2 | ATPV 7.2 cal/cm2 | ATPV 7.2 cal/cm2 | ATPV 7.2 cal/cm2 | ATPV 7.2 cal/cm2 | ATPV 7.2 cal/cm2 | ATPV 7.2 cal/cm2 | ATPV 7.2 cal/cm2 | ATPV 7.2 cal/cm2 | ATPV 7.2 cal/cm2 |
| Coat length | 48" | 48" | 48" | 48" | 48" | 48" | 48" | 48" | 48" | 48" | 48" | 48" | 48" | 48" | 48" | 48" |
| High Visibility | ANSI Class 3 | ANSI Class 3 | ANSI Class 3 | ANSI Class 3 | ANSI Class 3 | ANSI Class 3 | ANSI Class 3 | ANSI Class 3 | ANSI Class 3 | ANSI Class 3 | ANSI Class 3 | ANSI Class 3 | ANSI Class 3 | ANSI Class 3 | ANSI Class 3 | ANSI Class 3 |
| Material | 8 oz PVC/Nomex System | 8 oz PVC/Nomex System | 8 oz PVC/Nomex System | 8 oz PVC/Nomex System | 8 oz PVC/Nomex System | 8 oz PVC/Nomex System | 8 oz PVC/Nomex System | 8 oz PVC/Nomex System | 8 oz PVC/Nomex System | 8 oz PVC/Nomex System | 8 oz PVC/Nomex System | 8 oz PVC/Nomex System | 8 oz PVC/Nomex System | 8 oz PVC/Nomex System | 8 oz PVC/Nomex System | 8 oz PVC/Nomex System |
| Style | Unisex | Unisex | Unisex | Unisex | Unisex | Unisex | Unisex | Unisex | Unisex | Unisex | Unisex | Unisex | Unisex | Unisex | Unisex | Unisex |