Nasco WorkChoice Hi Viz 513CFY221 Batwing Sleeve Waterproof Rain Coat
SKU: NC513CFY221-S-EAMPN: 513CFY221-S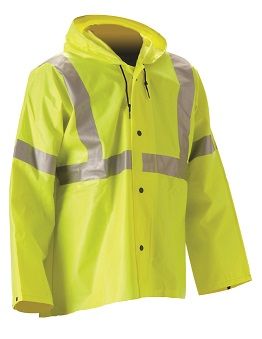 Product Details
WorkChoice series batwing sleeve COAT from Nasco has mesh vented cape type back, an attached hood, storm fly front with snaps, fall protection access slit, snaps at sleeve cuffs, and 3M Scotchlite™ 2 inch high visibility tape trim. This high visibility jacket is ANSI 107-2004 Class 3, Level 2 compliant. Fluorescent yellow coats (513CFY221) are available for the Nasco WorkChoice series.
Nasco WorkChoice high visibility garments are made with 10 oz/yd2 polyester knit material with a PVC moisture barrier. WorkChoice suits are flame resistant (ASTM D6413-99) and ANSI 107-2004 Class 3, Level 2 compliant for high visibility.
WorkChoice™ HiVis is ANSI 107 compliant foul weather gear. WorkChoice™ coats is the right choice for economical high visibility protective outerwear.
Features & Benefits of Nasco's WorkChoice High Visibility Clothing:
ANSI 107 Compliant
Waterproof
Soft, Supple Feel
Flexible
Durable
Medium Weight
Limited Chemical Splash Resistance
Limited Flame Resistance
Recommended Applications for WorkChoice HiVis Jacket:
Departments of Transportation
Construction
Municipalities
Transportation
Telecommunications
CATV
Sanitation Management
Specifications
| | | | | | | | | | | | | | | | | | | | | | | | | |
| --- | --- | --- | --- | --- | --- | --- | --- | --- | --- | --- | --- | --- | --- | --- | --- | --- | --- | --- | --- | --- | --- | --- | --- | --- |
| SKU | NC513CFY221-S-EA | NC513CFY221-S-L-EA | NC513CFY221-S-T-EA | NC513CFY221-M-EA | NC513CFY221-M-L-EA | NC513CFY221-M-T-EA | NC513CFY221-L-EA | NC513CFY221-L-L-EA | NC513CFY221-L-T-EA | NC513CFY221-XL-EA | NC513CFY221XL-L-EA | NC513CFY221-XL-T-EA | NC513CFY221-2XL-EA | NC513CFY221-2XL-L-EA | NC513CFY221-2XL-T-EA | NC513CFY221-3XL-EA | NC513CFY221-3XL-L-EA | NC513CFY221-3XL-T-EA | NC513CFY221-4XL-EA | NC513CFY221-4XL-L-EA | NC513CFY221-4XL-T-EA | NC513CFY221-5XL-EA | NC513CFY221-5XL-L-EA | NC513CFY221-5XL-T-EA |
| MPN | 513CFY221-S | 513CFY221-S-L | 513CFY221-S-T | 513CFY221-M | 513CFY221-M-L | 513CFY221-M-T | 513CFY221-L | 513CFY221-L-L | 513CFY221-L-T | 513CFY221-XL | 513CFY221XL-L | 513CFY221-XL-T | 513CFY221-2XL | 513CFY221-2XL-L | 513CFY221-2XL-T | 513CFY221-3XL | 513CFY221-3XL-L | 513CFY221-3XL-T | 513CFY221-4XL | 513CFY221-4XL-L | 513CFY221-4XL-T | 513CFY221-5XL | 513CFY221-5XL-L | 513CFY221-5XL-T |
| Coat Size | S | S | S | M | M | M | L | L | L | XL | XL | XL | 2XL | 2XL | 2XL | 3XL | 3XL | 3XL | 4XL | 4XL | 4XL | 5XL | 5XL | 5XL |
| Length | Regular | Long +2" | Tall +4" | Regular | Long +2" | Tall +4" | Regular | Long +2" | Tall +4" | Regular | Long +2" | Tall +4" | Regular | Long +2" | Tall +4" | Regular | Long +2" | Tall +4" | Regular | Long +2" | Tall +4" | Regular | Long +2" | Tall +4" |
| Garment Primary Color | Fluorescent Yellow | Fluorescent Yellow | Fluorescent Yellow | Fluorescent Yellow | Fluorescent Yellow | Fluorescent Yellow | Fluorescent Yellow | Fluorescent Yellow | Fluorescent Yellow | Fluorescent Yellow | Fluorescent Yellow | Fluorescent Yellow | Fluorescent Yellow | Fluorescent Yellow | Fluorescent Yellow | Fluorescent Yellow | Fluorescent Yellow | Fluorescent Yellow | Fluorescent Yellow | Fluorescent Yellow | Fluorescent Yellow | Fluorescent Yellow | Fluorescent Yellow | Fluorescent Yellow |
| Coat length | Knee | Knee | Knee | Knee | Knee | Knee | Knee | Knee | Knee | Knee | Knee | Knee | Knee | Knee | Knee | Knee | Knee | Knee | Knee | Knee | Knee | Knee | Knee | Knee |
| High Visibility | ANSI Class 3 | ANSI Class 3 | ANSI Class 3 | ANSI Class 3 | ANSI Class 3 | ANSI Class 3 | ANSI Class 3 | ANSI Class 3 | ANSI Class 3 | ANSI Class 3 | ANSI Class 3 | ANSI Class 3 | ANSI Class 3 | ANSI Class 3 | ANSI Class 3 | ANSI Class 3 | ANSI Class 3 | ANSI Class 3 | ANSI Class 3 | ANSI Class 3 | ANSI Class 3 | ANSI Class 3 | ANSI Class 3 | ANSI Class 3 |
| Material | 10 oz Polyester Knit, PVC barrier | 10 oz Polyester Knit, PVC barrier | 10 oz Polyester Knit, PVC barrier | 10 oz Polyester Knit, PVC barrier | 10 oz Polyester Knit, PVC barrier | 10 oz Polyester Knit, PVC barrier | 10 oz Polyester Knit, PVC barrier | 10 oz Polyester Knit, PVC barrier | 10 oz Polyester Knit, PVC barrier | 10 oz Polyester Knit, PVC barrier | 10 oz Polyester Knit, PVC barrier | 10 oz Polyester Knit, PVC barrier | 10 oz Polyester Knit, PVC barrier | 10 oz Polyester Knit, PVC barrier | 10 oz Polyester Knit, PVC barrier | 10 oz Polyester Knit, PVC barrier | 10 oz Polyester Knit, PVC barrier | 10 oz Polyester Knit, PVC barrier | 10 oz Polyester Knit, PVC barrier | 10 oz Polyester Knit, PVC barrier | 10 oz Polyester Knit, PVC barrier | 10 oz Polyester Knit, PVC barrier | 10 oz Polyester Knit, PVC barrier | 10 oz Polyester Knit, PVC barrier |
| Style | Unisex | Unisex | Unisex | Unisex | Unisex | Unisex | Unisex | Unisex | Unisex | Unisex | Unisex | Unisex | Unisex | Unisex | Unisex | Unisex | Unisex | Unisex | Unisex | Unisex | Unisex | Unisex | Unisex | Unisex |