Nasco WorkLite Hi Vis 80J455 Ventilated Set-In-Sleeve Rain Jacket
SKU: NC80JFY455-M-EAMPN: 80JFY455-M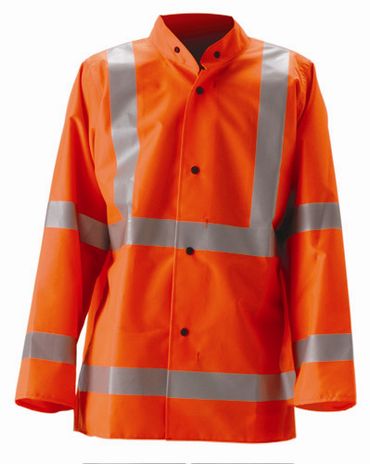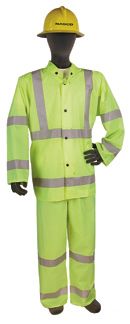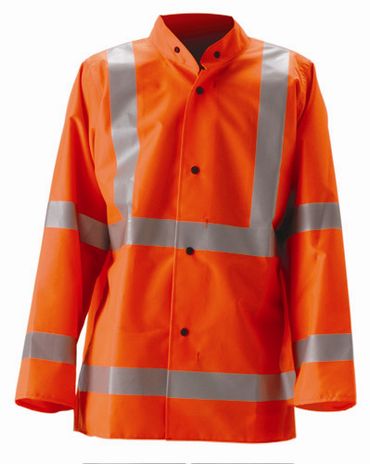 Product Details
WorkLite jackets by Nasco are set-in-sleeve style with storm fly front and hood snaps (for optional hood). These hi-viz work jackets are trimmed with 3M Scotchlite™ 2 inch tape and are ANSI 107-2004 Class 3, Level 2 compliant.Nasco 80J455 high visibility jacketsfeature a yoke back air flow ventilation system and fall protection access for maximum safety and comfort. Purchase theNasco WorkLite class III hi-vis jackets* in Fluorescent Yellow or Fluorescent Orange colors (Fluorescent Orange garments are non-stock items, call to order).
The Nasco WorkLite HiVis ventilated jackets are made with 4.5 oz/yd2 200-denier nylon oxford material and feature a polyurethane moisture barrier. Nasco Worklite clothing is durable and water repellent (DWR), flame resistant (ASTM D6413-99), ANSI 107-2004 Class 3, Level 2 compliant.
WorkLite™ HiVis is lightweight, tear resistant, ANSI 107 compliant foul weather gear. WorkLite™ HiVis outwear maximizes worker comfort while providing a high level of visibility to ensure worker safety. Maintains flexibility in cold weather.
Features & Benefits of WorkLite jacket 80J455:
ANSI 107 Compliant
Waterproof
Lightweight
Durable
Soft & Flexible
Non-Conductive
Limited Flame Resistance
Recommended Applications:
Departments of Transportation
Railroads
Airlines
Telecommunications
CATV
Sanitation Management
Meter Readers
Municipalities
Construction Crews
Specifications
| | | | | | | | |
| --- | --- | --- | --- | --- | --- | --- | --- |
| SKU | NC80JFY455-M-EA | NC80JFY455-L-EA | NC80JFY455-XL-EA | NC80JFY455-2XL-EA | NC80JFY455-3XL-EA | NC80JFY455-4XL-EA | NC80JFY455-5XL-EA |
| MPN | 80JFY455-M | 80JFY455-L | 80JFY455-XL | 80JFY455-2XL | 80JFY455-3XL | 80JFY455-4XL | 80JFY455-5XL |
| Coat Size | M | L | XL | 2XL | 3XL | 4XL | 5XL |
| Length | Regular | Regular | Regular | Regular | Regular | Regular | Regular |
| Garment Primary Color | Fluorescent Yellow | Fluorescent Yellow | Fluorescent Yellow | Fluorescent Yellow | Fluorescent Yellow | Fluorescent Yellow | Fluorescent Yellow |
| Coat length | Hip | Hip | Hip | Hip | Hip | Hip | Hip |
| High Visibility | ANSI Class 3 | ANSI Class 3 | ANSI Class 3 | ANSI Class 3 | ANSI Class 3 | ANSI Class 3 | ANSI Class 3 |
| Material | 4.5 oz 200-Denier Nylon, Polyurethane barrier | 4.5 oz 200-Denier Nylon, Polyurethane barrier | 4.5 oz 200-Denier Nylon, Polyurethane barrier | 4.5 oz 200-Denier Nylon, Polyurethane barrier | 4.5 oz 200-Denier Nylon, Polyurethane barrier | 4.5 oz 200-Denier Nylon, Polyurethane barrier | 4.5 oz 200-Denier Nylon, Polyurethane barrier |
| Style | Unisex | Unisex | Unisex | Unisex | Unisex | Unisex | Unisex |