Nasco WorkLite 81C468 48" Long Rain Coat with Hood
SKU: NC81CY468-S-EAMPN: 81CY468-S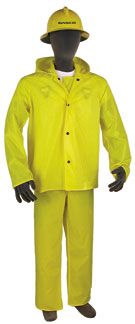 Product Details
WorkLite 80 Series 81C468 48 inch long hooded coat from Nasco comes with a snap front with storm fly, two pockets with flaps and a tailvent. This Nasco coat is available in Yellow (81CY468), International Orange (81CBO468), Navy (81CN468), and Black (81CB468) colors (Black, Navy, and International Orange are non-stock items, call to order).
Nasco WorkLite protective clothing is made with 4.5 oz/yd2 200-denier nylon oxford material with a polyurethane moisture barrier. It provides flame resistance (ASTM D6413-99) and two needle full felled seam construction with exclusive seam sealing tape. WorkLite 80 Series rainwear is a lightweight, general duty product ideal for use in application where comfort and durability are needed.
These PU coated coats are lightweight yet very durable foul weather protection designed for many industrial applications. Nasco WorkLite safety outwear maintains flexibility in cold weather.
Features & Benefits of Nasco 81C468 Raincoats:
Waterproof
Lightweight
Soft & Flexible
Durable
Non-Conductive
Limited Flame Resistance
Recommended Applications:
Construction
Municipalities
Tree Trimming
Transportation
Telecommunications
CATV
Food Processing
Specifications
| | | | | | | | | |
| --- | --- | --- | --- | --- | --- | --- | --- | --- |
| SKU | NC81CY468-S-EA | NC81CY468-M-EA | NC81CY468-L-EA | NC81CY468-XL-EA | NC81CY468-2XL-EA | NC81CY468-3XL-EA | NC81CY468-4XL-EA | NC81CY468-5XL-EA |
| MPN | 81CY468-S | 81CY468-M | 81CY468-L | 81CY468-XL | 81CY468-2XL | 81CY468-3XL | 81CY468-4XL | 81CY468-5XL |
| Coat Size | S | M | L | XL | 2XL | 3XL | 4XL | 5XL |
| Length | Regular | Regular | Regular | Regular | Regular | Regular | Regular | Regular |
| Garment Primary Color | Yellow | Yellow | Yellow | Yellow | Yellow | Yellow | Yellow | Yellow |
| Coat length | 48" | 48" | 48" | 48" | 48" | 48" | 48" | 48" |
| High Visibility | Enhanced | Enhanced | Enhanced | Enhanced | Enhanced | Enhanced | Enhanced | Enhanced |
| Material | 4.5 oz 200-Denier Nylon, Polyurethane barrier | 4.5 oz 200-Denier Nylon, Polyurethane barrier | 4.5 oz 200-Denier Nylon, Polyurethane barrier | 4.5 oz 200-Denier Nylon, Polyurethane barrier | 4.5 oz 200-Denier Nylon, Polyurethane barrier | 4.5 oz 200-Denier Nylon, Polyurethane barrier | 4.5 oz 200-Denier Nylon, Polyurethane barrier | 4.5 oz 200-Denier Nylon, Polyurethane barrier |
| Style | Unisex | Unisex | Unisex | Unisex | Unisex | Unisex | Unisex | Unisex |