Nasco WorkHard 60J Waist Length Rain Jacket
SKU: NC60JSY-S-EAMPN: 60JSY-S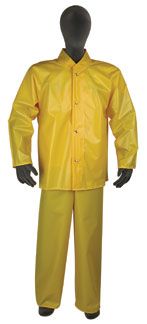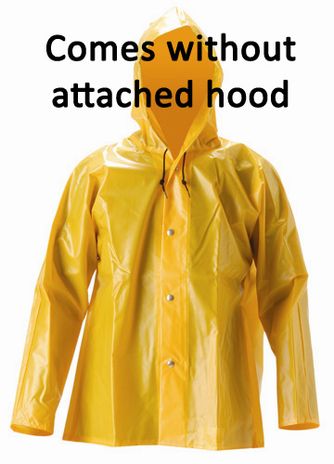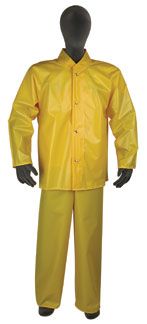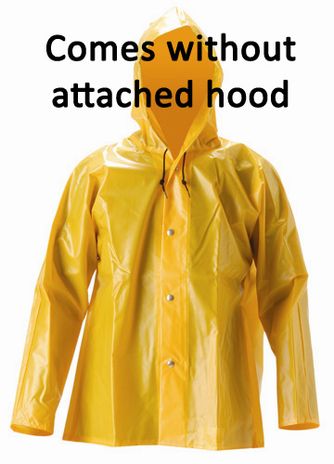 Product Details
Durable, heavy duty protective jacket from Nasco. These WorkHard 60J waist length jackets feature a corduroy tipped collar, hood snaps, and a snap front with a storm fly. Available in Green (60JG), Yellow (60JY), and Spanish Yellow (60JSY) colors.
Nasco WorkHard outwear 's features are: 5.5 oz/yd2 210-denier nylon, tough polyurethane moisture barrier (on outside of garment), RF welded seam construction. WorkHard work wear is ideal for food processing and sanitation applications.
Durable and heavy duty WorkHard 60 Series polyurethane coated protective suits are designed for food processing and sanitation applications. With an exterior coating, it easily sheds water, oils and sanitation chemicals while resisting degradation by fats and acids. Sealed seams, metal hardware, and a rugged material extend its life cycle.
Features & Benefits of Nasco 60J Jackets:
Waterproof
Lightweight
Durable
Dielectrically Welded Seams
Abrasion Resistant
Long Life Cycle
Recommended Applications:
Meat Packing
Poultry Processing
Sanitation Crews
Produce Processing
Dairy Processing
Specifications
| | | | | | | | | |
| --- | --- | --- | --- | --- | --- | --- | --- | --- |
| SKU | NC60JSY-S-EA | NC60JSY-M-EA | NC60JSY-L-EA | NC60JSY-XL-EA | NC60JSY-2XL-EA | NC60JSY-3XL-EA | NC60JSY-4XL-EA | NC60JSY-5XL-EA |
| MPN | 60JSY-S | 60JSY-M | 60JSY-L | 60JSY-XL | 60JSY-2XL | 60JSY-3XL | 60JSY-4XL | 60JSY-5XL |
| Coat Size | S | M | L | XL | 2XL | 3XL | 4XL | 5XL |
| Length | Regular | Regular | Regular | Regular | Regular | Regular | Regular | Regular |
| Garment Primary Color | Spanish Yellow | Spanish Yellow | Spanish Yellow | Spanish Yellow | Spanish Yellow | Spanish Yellow | Spanish Yellow | Spanish Yellow |
| Coat length | Hip | Hip | Hip | Hip | Hip | Hip | Hip | Hip |
| High Visibility | Enhanced | Enhanced | Enhanced | Enhanced | Enhanced | Enhanced | Enhanced | Enhanced |
| Material | 5.5 oz 210-Denier Nylon, Polyurethane barrier | 5.5 oz 210-Denier Nylon, Polyurethane barrier | 5.5 oz 210-Denier Nylon, Polyurethane barrier | 5.5 oz 210-Denier Nylon, Polyurethane barrier | 5.5 oz 210-Denier Nylon, Polyurethane barrier | 5.5 oz 210-Denier Nylon, Polyurethane barrier | 5.5 oz 210-Denier Nylon, Polyurethane barrier | 5.5 oz 210-Denier Nylon, Polyurethane barrier |
| Style | Unisex | Unisex | Unisex | Unisex | Unisex | Unisex | Unisex | Unisex |