Nasco AcidBasic 512J Waist Length Waterproof Jacket with Hood
SKU: NC512JG-S-EAMPN: 512JG-S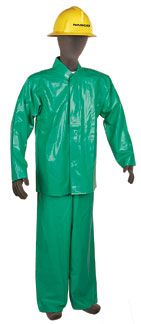 Product Details
Nasco AcidBasic 512J jackets are ideal for workers that require economical and durable protection from light chemical splash and rain. This chemical resistant jacket from Nasco comes with an attached hood, hidden snap front and a storm fly. Available in Kelly Green (512J) color only.
The AcidBasic 512J jacket from Nasco features: 12 oz/yd2 polyester knit, heavy PVC coating, flame resistant (ASTM D6413), RF welded seam construction
AcidBasic Series 50 protective clothing is an economical solution for light chemical splash hazards. It is designed to be used in workplaces with potential incidental contact with general industrial chemicals. Nasco AcidBasic 50 Series work suits are ideal for chemical handling that requires a reusable product.
Features & Benefits of Nasco Safety Outwear:
Waterproof
Chemical Splash Resistant
Heavy Duty
Durable
Limited Flame Resistance
Recommended Applications:
Chemical Plant Maintenance
Chemical Handling
General Industry
Food Processing
Sanitation
Petro-Chemical
Specifications
| | | | | | | | | |
| --- | --- | --- | --- | --- | --- | --- | --- | --- |
| SKU | NC512JG-S-EA | NC512JG-M-EA | NC512JG-L-EA | NC512JG-XL-EA | NC512JG-2XL-EA | NC512JG-3XL-EA | NC512JG-4XL-EA | NC512JG-5XL-EA |
| MPN | 512JG-S | 512JG-M | 512JG-L | 512JG-XL | 512JG-2XL | 512JG-3XL | 512JG-4XL | 512JG-5XL |
| Coat Size | S | M | L | XL | 2XL | 3XL | 4XL | 5XL |
| Length | Regular | Regular | Regular | Regular | Regular | Regular | Regular | Regular |
| Garment Primary Color | Kelly Green | Kelly Green | Kelly Green | Kelly Green | Kelly Green | Kelly Green | Kelly Green | Kelly Green |
| Coat length | Hip | Hip | Hip | Hip | Hip | Hip | Hip | Hip |
| High Visibility | None | None | None | None | None | None | None | None |
| Material | 12 oz Polyester Knit w/heavy PVC coating | 12 oz Polyester Knit w/heavy PVC coating | 12 oz Polyester Knit w/heavy PVC coating | 12 oz Polyester Knit w/heavy PVC coating | 12 oz Polyester Knit w/heavy PVC coating | 12 oz Polyester Knit w/heavy PVC coating | 12 oz Polyester Knit w/heavy PVC coating | 12 oz Polyester Knit w/heavy PVC coating |
| Style | Unisex | Unisex | Unisex | Unisex | Unisex | Unisex | Unisex | Unisex |