Nasco Envisage HiVis 103J Set-In-Sleeve Breathable Rain Jacket
SKU: NC103JFY-M-EAMPN: 103JFY-M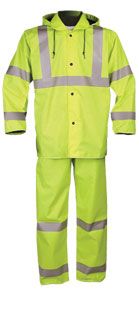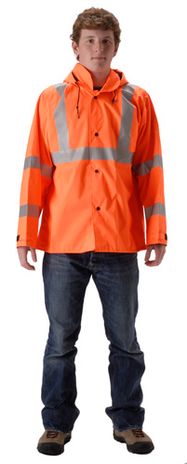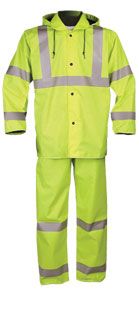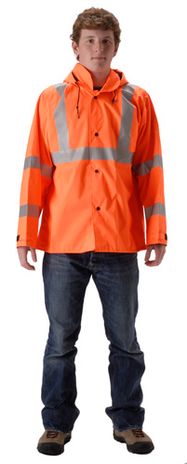 Product Details
This Nasco Envisage jacket is ANSI 107-2004 compliant as a Class 3, Level 2 garment. Envisage HiVis 103J jacket by Nasco has set-in-sleeves, storm fly front, hood that rolls into the collar, taffeta lining, and 3M Scotchlite™ 2" reflective tape trim for superior safety. This high-viz jacket is available in fluorescent yellow (103JFY) color or fluorescent orange (103JFO).
Features of Nasco Envisage Hi Vis clothing: 4.25 oz/yd2 polyester supplex, polyurethane breathable moisture barrier, durable water repellent (DWR), ANSI 107-2004 Class 3, Level 2 compliant suit, nylon taffeta lining. Envisage outwear by Nasco is compliant with ANSI 107 Requirements for: Resistance to Water Penetration, Water Repellency and Breathable Material Classification.
Envisage means "to have an image in advance of realization". For the industrial workplace, it means being recognized by operators of vehicular traffic when their job requires their attention to be diverted away from nearby traffic hazards.
Envisage™ series from Nasco is a line of waterproof, breathable, windproof and high visibility protective outerwear. Utilizing a waterproof, breathable film, Envisage™ protective clothing ensures comfort by keeping the worker dry as well as reducing heat body stress during foul weather. In low light environments, the ANSI/ISEA 107 compliant polyester fabric and 3M Scotchlite™ trim keeps workers visible and safe.
Features & Benefits of Envisage High Visibility Jacket 103J:
ANSI 107 Compliant
Resistance to Water Penetration
Water Repellency
Breathable Material Classification
Reduces Worker Heat Stress
Lightweight
Soft
Flexible
Durable
Recommended Applications:
Departments of Transportation
Railroads
Airlines
Telecommunications
CATV
Meter Readers
Municipalities
Specifications
| | | | | | | | |
| --- | --- | --- | --- | --- | --- | --- | --- |
| SKU | NC103JFY-M-EA | NC103JFY-L-EA | NC103JFY-XL-EA | NC103JFY-2XL-EA | NC103JFY-3XL-EA | NC103JFY-4XL-EA | NC103JFY-5XL-EA |
| MPN | 103JFY-M | 103JFY-L | 103JFY-XL | 103JFY-2XL | 103JFY-3XL | 103JFY-4XL | 103JFY-5XL |
| Coat Size | M | L | XL | 2XL | 3XL | 4XL | 5XL |
| Length | Regular | Regular | Regular | Regular | Regular | Regular | Regular |
| Garment Primary Color | Fluorescent Yellow | Fluorescent Yellow | Fluorescent Yellow | Fluorescent Yellow | Fluorescent Yellow | Fluorescent Yellow | Fluorescent Yellow |
| Coat length | Hip | Hip | Hip | Hip | Hip | Hip | Hip |
| High Visibility | ANSI Class 3 | ANSI Class 3 | ANSI Class 3 | ANSI Class 3 | ANSI Class 3 | ANSI Class 3 | ANSI Class 3 |
| Material | 4.25 oz Polyester Supplex | 4.25 oz Polyester Supplex | 4.25 oz Polyester Supplex | 4.25 oz Polyester Supplex | 4.25 oz Polyester Supplex | 4.25 oz Polyester Supplex | 4.25 oz Polyester Supplex |
| Style | Unisex | Unisex | Unisex | Unisex | Unisex | Unisex | Unisex |