NASCO RampartFR 8503JFY Arc Flash Fire Breathable Jacket
SKU: NC8503JFY-S-EAMPN: 8503JFY-S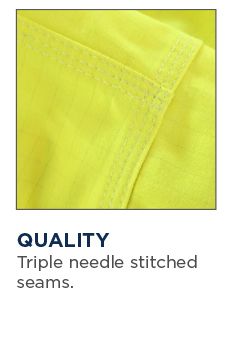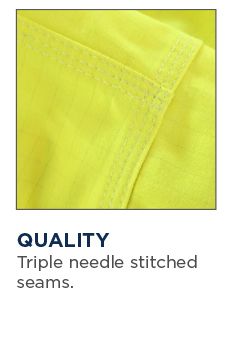 For current coupons - check home page
Product Details
NASCO RampartFR jacket is designed for long-duration rain events yet perfect for every foul weather condition. It combines exo and endo moisture management systems, which makes it a perfect bad weather outwear. NASCO RampartFR jacket provides the wearer with an electrostatic dissipative shell combined with a Polartec moisture management layer, which produces superior arc ratings and flash-fire results using Rampart FR zonal protection design. NASCO RampartFR jacket is the most comfortable protective raingear with its industry leading ASTM F1891, NFPA 70E Level 2 (13 cal/cm2), ASTM F2733, and ANSI 107 compliance.
Features:
Electrostatic dissipative shell
ANSI 107 Class 3 material with 3M ScotchliteTM
Fall Protection Access
Stain & Soil Release
Electric Arc Resistant – 13 cal/cm2
Flash Fire Resistant - 11.7% total burn injury
Waterproof
Breathable
Reduces Worker Heat Stress
Wind-Proof
Designed With Premier Features
Recommended Applications include Gas & Electric Utility, Telecommunication & CATV
Storm Restoration
Electrical Maintenance
Meter Service
Electrical Switching.
Specifications
| | | | | | | | | | | | | | | | | | | | | | | | | |
| --- | --- | --- | --- | --- | --- | --- | --- | --- | --- | --- | --- | --- | --- | --- | --- | --- | --- | --- | --- | --- | --- | --- | --- | --- |
| SKU | NC8503JFY-S-EA | NC8503JFY-S-L-EA | NC8503JFY-S-T-EA | NC8503JFY-M-EA | NC8503JFY-M-L-EA | NC8503JFY-M-T-EA | NC8503JFY-L-EA | NC8503JFY-L-L-EA | NC8503JFY-L-T-EA | NC8503JFY-XL-EA | NC8503JFY-XL-L-EA | NC8503JFY-XL-T-EA | NC8503JFY-2XL-EA | NC8503JFY-2XL-L-EA | NC8503JFY-2XL-T-EA | NC8503JFY-3XL-EA | NC8503JFY-3XL-L-EA | NC8503JFY-3XL-T-EA | NC8503JFY-4XL-EA | NC8503JFY-4XL-L-EA | NC8503JFY-4XL-T-EA | NC8503JFY-5XL-EA | NC8503JFY-5XL-L-EA | NC8503JFY-5XL-T-EA |
| MPN | 8503JFY-S | 8503JFY-S-L | 8503JFY-S-T | 8503JFY-M | 8503JFY-M-L | 8503JFY-M-T | 8503JFY-L | 8503JFY-L-L | 8503JFY-L-T | 8503JFY-XL | 8503JFY-XL-L | 8503JFY-XL-T | 8503JFY-2XL | 8503JFY-2XL-L | 8503JFY-2XL-T | 8503JFY-3XL | 8503JFY-3XL-L | 8503JFY-3XL-T | 8503JFY-4XL | 8503JFY-4XL-L | 8503JFY-4XL-T | 8503JFY-5XL | 8503JFY-5XL-L | 8503JFY-5XL-T |
| Coat Size | S | S | S | M | M | M | L | L | L | XL | XL | XL | 2XL | 2XL | 2XL | 3XL | 3XL | 3XL | 4XL | 4XL | 4XL | 5XL | 5XL | 5XL |
| Length | Regular | Long, +2" in Length | Tall, +4" in Length | Regular | Long, +2" in Length | Tall, +4" in Length | Regular | Long, +2" in Length | Tall, +4" in Length | Regular | Long, +2" in Length | Tall, +4" in Length | Regular | Long, +2" in Length | Tall, +4" in Length | Regular | Long, +2" in Length | Tall, +4" in Length | Regular | Long, +2" in Length | Tall, +4" in Length | Regular | Long, +2" in Length | Tall, +4" in Length |
| Garment Primary Color | Fluorescent Lime Yellow | Fluorescent Lime Yellow | Fluorescent Lime Yellow | Fluorescent Lime Yellow | Fluorescent Lime Yellow | Fluorescent Lime Yellow | Fluorescent Lime Yellow | Fluorescent Lime Yellow | Fluorescent Lime Yellow | Fluorescent Lime Yellow | Fluorescent Lime Yellow | Fluorescent Lime Yellow | Fluorescent Lime Yellow | Fluorescent Lime Yellow | Fluorescent Lime Yellow | Fluorescent Lime Yellow | Fluorescent Lime Yellow | Fluorescent Lime Yellow | Fluorescent Lime Yellow | Fluorescent Lime Yellow | Fluorescent Lime Yellow | Fluorescent Lime Yellow | Fluorescent Lime Yellow | Fluorescent Lime Yellow |
| Arc flash rating | ATPV 13 cal/cm2 | ATPV 13 cal/cm2 | ATPV 13 cal/cm2 | ATPV 13 cal/cm2 | ATPV 13 cal/cm2 | ATPV 13 cal/cm2 | ATPV 13 cal/cm2 | ATPV 13 cal/cm2 | ATPV 13 cal/cm2 | ATPV 13 cal/cm2 | ATPV 13 cal/cm2 | ATPV 13 cal/cm2 | ATPV 13 cal/cm2 | ATPV 13 cal/cm2 | ATPV 13 cal/cm2 | ATPV 13 cal/cm2 | ATPV 13 cal/cm2 | ATPV 13 cal/cm2 | ATPV 13 cal/cm2 | ATPV 13 cal/cm2 | ATPV 13 cal/cm2 | ATPV 13 cal/cm2 | ATPV 13 cal/cm2 | ATPV 13 cal/cm2 |
| Coat length | Hip | Hip | Hip | Hip | Hip | Hip | Hip | Hip | Hip | Hip | Hip | Hip | Hip | Hip | Hip | Hip | Hip | Hip | Hip | Hip | Hip | Hip | Hip | Hip |
| High Visibility | ANSI Class 3 | ANSI Class 3 | ANSI Class 3 | ANSI Class 3 | ANSI Class 3 | ANSI Class 3 | ANSI Class 3 | ANSI Class 3 | ANSI Class 3 | ANSI Class 3 | ANSI Class 3 | ANSI Class 3 | ANSI Class 3 | ANSI Class 3 | ANSI Class 3 | ANSI Class 3 | ANSI Class 3 | ANSI Class 3 | ANSI Class 3 | ANSI Class 3 | ANSI Class 3 | ANSI Class 3 | ANSI Class 3 | ANSI Class 3 |
| Style | Unisex | Unisex | Unisex | Unisex | Unisex | Unisex | Unisex | Unisex | Unisex | Unisex | Unisex | Unisex | Unisex | Unisex | Unisex | Unisex | Unisex | Unisex | Unisex | Unisex | Unisex | Unisex | Unisex | Unisex |