NASCO Omega 5001TFY Arc Flash Fire Breathable Bib Overall
SKU: NC5001TFY-S-EAMPN: 5001TFY-S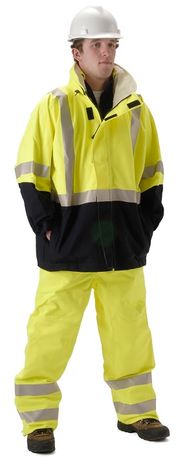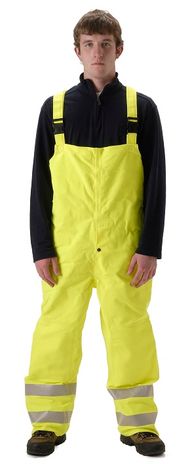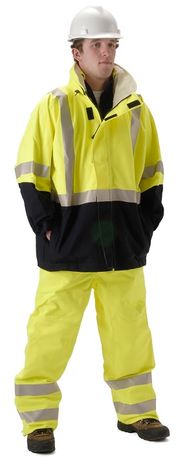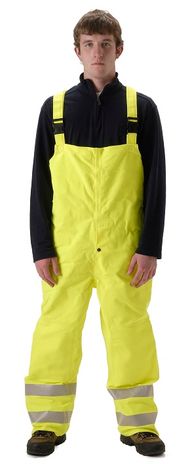 For current coupons - check home page
Product Details
NASCO Omega™ bib overall is the first waterproof, breathable outerwear product that combines high visibility with protection from the thermal hazards associated with an electric arc flash and hydrocarbon flash fires. Omega is designed for variety of rugged work environments.
Features:
ANSI 107 Class 3 material with 3M ScotchliteTM
Fall Protection Access
Stain & Soil Release
Electric Arc Resistant – 10.7 cal/cm2
Flash Fire Resistant - 12.3% total burn injury
Water & Wind Proof
Breathable & Lightweight
Chemical Splash Resistance
Wind-Proof
Designed With Premier Features to increase functionality
Recommended Applications include Gas & Electric Utility, Telecommunication & CATV
Storm Restoration
Electrical Maintenance
Meter Service
Electrical Switching.
Specifications
| | | | | | | | | | | | | | | | | | | | | | | | | |
| --- | --- | --- | --- | --- | --- | --- | --- | --- | --- | --- | --- | --- | --- | --- | --- | --- | --- | --- | --- | --- | --- | --- | --- | --- |
| SKU | NC5001TFY-S-EA | NC5001TFY-M-EA | NC5001TFY-L-EA | NC5001TFY-XL-EA | NC5001TFY-2XL-EA | NC5001TFY-3XL-EA | NC5001TFY-4XL-EA | NC5001TFY-5XL-EA | NC5001TFY-S-L-EA | NC5001TFY-M-L-EA | NC5001TFY-L-L-EA | NC5001TFY-XL-L-EA | NC5001TFY-2XL-L-EA | NC5001TFY-3XL-L-EA | NC5001TFY-4XL-L-EA | NC5001TFY-5XL-L-EA | NC5001TFY-S-T-EA | NC5001TFY-M-T-EA | NC5001TFY-L-T-EA | NC5001TFY-XL-T-EA | NC5001TFY-2XL-T-EA | NC5001TFY-3XL-T-EA | NC5001TFY-4XL-T-EA | NC5001TFY-5XL-T-EA |
| MPN | 5001TFY-S | 5001TFY-M | 5001TFY-L | 5001TFY-XL | 5001TFY-2XL | 5001TFY-3XL | 5001TFY-4XL | 5001TFY-5XL | 5001TFY-S-L | 5001TFY-M-L | 5001TFY-L-L | 5001TFY-XL-L | 5001TFY-2XL-L | 5001TFY-3XL-L | 5001TFY-4XL-L | 5001TFY-5XL-L | 5001TFY-S-T | 5001TFY-M-T | 5001TFY-L-T | 5001TFY-XL-T | 5001TFY-2XL-T | 5001TFY-3XL-T | 5001TFY-4XL-T | 5001TFY-5XL-T |
| Waist Size | S | M | L | XL | 2XL | 3XL | 4XL | 5XL | S | M | L | XL | 2XL | 3XL | 4XL | 5XL | S | M | L | XL | 2XL | 3XL | 4XL | 5XL |
| Pants Length | Regular | Regular | Regular | Regular | Regular | Regular | Regular | Regular | Long, +2" in Length | Long, +2" in Length | Long, +2" in Length | Long, +2" in Length | Long, +2" in Length | Long, +2" in Length | Long, +2" in Length | Long, +2" in Length | Tall, +4" in Length | Tall, +4" in Length | Tall, +4" in Length | Tall, +4" in Length | Tall, +4" in Length | Tall, +4" in Length | Tall, +4" in Length | Tall, +4" in Length |
| Garment Primary Color | Fluorescent Lime Yellow | Fluorescent Lime Yellow | Fluorescent Lime Yellow | Fluorescent Lime Yellow | Fluorescent Lime Yellow | Fluorescent Lime Yellow | Fluorescent Lime Yellow | Fluorescent Lime Yellow | Fluorescent Lime Yellow | Fluorescent Lime Yellow | Fluorescent Lime Yellow | Fluorescent Lime Yellow | Fluorescent Lime Yellow | Fluorescent Lime Yellow | Fluorescent Lime Yellow | Fluorescent Lime Yellow | Fluorescent Lime Yellow | Fluorescent Lime Yellow | Fluorescent Lime Yellow | Fluorescent Lime Yellow | Fluorescent Lime Yellow | Fluorescent Lime Yellow | Fluorescent Lime Yellow | Fluorescent Lime Yellow |
| Arc flash rating | ATPV 10.7 cal/cm2 | ATPV 10.7 cal/cm2 | ATPV 10.7 cal/cm2 | ATPV 10.7 cal/cm2 | ATPV 10.7 cal/cm2 | ATPV 10.7 cal/cm2 | ATPV 10.7 cal/cm2 | ATPV 10.7 cal/cm2 | ATPV 10.7 cal/cm2 | ATPV 10.7 cal/cm2 | ATPV 10.7 cal/cm2 | ATPV 10.7 cal/cm2 | ATPV 10.7 cal/cm2 | ATPV 10.7 cal/cm2 | ATPV 10.7 cal/cm2 | ATPV 10.7 cal/cm2 | ATPV 10.7 cal/cm2 | ATPV 10.7 cal/cm2 | ATPV 10.7 cal/cm2 | ATPV 10.7 cal/cm2 | ATPV 10.7 cal/cm2 | ATPV 10.7 cal/cm2 | ATPV 10.7 cal/cm2 | ATPV 10.7 cal/cm2 |
| High Visibility | ANSI Class 3 | ANSI Class 3 | ANSI Class 3 | ANSI Class 3 | ANSI Class 3 | ANSI Class 3 | ANSI Class 3 | ANSI Class 3 | ANSI Class 3 | ANSI Class 3 | ANSI Class 3 | ANSI Class 3 | ANSI Class 3 | ANSI Class 3 | ANSI Class 3 | ANSI Class 3 | ANSI Class 3 | ANSI Class 3 | ANSI Class 3 | ANSI Class 3 | ANSI Class 3 | ANSI Class 3 | ANSI Class 3 | ANSI Class 3 |
| Pockets | None | None | None | None | None | None | None | None | None | None | None | None | None | None | None | None | None | None | None | None | None | None | None | None |
| Style | Unisex | Unisex | Unisex | Unisex | Unisex | Unisex | Unisex | Unisex | Unisex | Unisex | Unisex | Unisex | Unisex | Unisex | Unisex | Unisex | Unisex | Unisex | Unisex | Unisex | Unisex | Unisex | Unisex | Unisex |