Nasco ArcLite 1101T Arc Flash Bib Style Rain Trouser
SKU: NC1101TY-S-EAMPN: 1101TY-S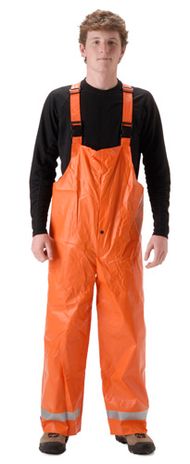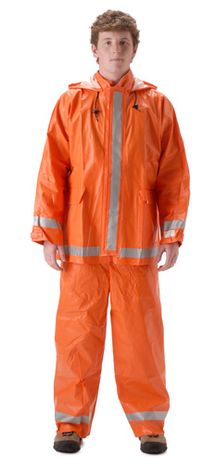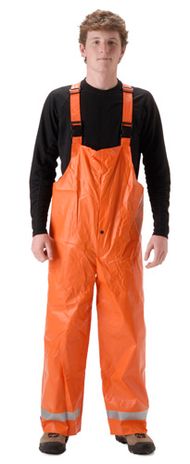 For current coupons - check home page
Product Details
ArcLite bib style trouser 1101T from Nasco features a quick release suspender system, fly front with snaps, Velcro tab leg cuff adjusters and 3M Scotchlite™1.5" reflective tape around ankles for extra visibility. These trousers come in Yellow and International Orange colors, corresponding to part numbers 1101TY and 1101TBO, respectively. ATPV ratings are: Yellow - 12 cal/cm2; International Orange - 16 cal/cm2.
Nasco's ArcLite series lineman's pants are 8 oz/yd2, PVC/Nomex® System, Arc Resistant (ASTM F1891, NFPA 70E), with Dielectrically Welded Seams.
ArcLite™ is designed by linemen for linemen. It is the most popular foul weather product designed specifically for utility workers who may be exposed to electric arcs. With a feature packed design, including fall protection access, mesh vented cape back and a hood that rolls into the collar, ArcLite is sure to meet the needs of the demanding electric utility industry.
Features & Benefits of ArcLite Bib Style Trousers:
Arc and Flame Resistance - Does Not Melt, Drip, Ignite, or Break Open and Minimizes Heat Transfer Burns
Waterproof
Lightweight
Soft, Flexible
Designed by Linemen
Limited Chemical Splash Resistance
Recommended Applications of ArcLite Trousers 1101T from Nasco:
Electric Utility
Electrical Maintenance
Meter Service
Electrical Switching
Telecommunication workers
CATV workers
Specifications
| | | | | | | | | | | | | | | | | | | | | | | | | | | | | | | | | | | | | | | | | | | | | | | | | |
| --- | --- | --- | --- | --- | --- | --- | --- | --- | --- | --- | --- | --- | --- | --- | --- | --- | --- | --- | --- | --- | --- | --- | --- | --- | --- | --- | --- | --- | --- | --- | --- | --- | --- | --- | --- | --- | --- | --- | --- | --- | --- | --- | --- | --- | --- | --- | --- | --- |
| SKU | NC1101TY-S-EA | NC1101TBO-S-EA | NC1101TY-M-EA | NC1101TBO-M-EA | NC1101TY-L-EA | NC1101TBO-L-EA | NC1101TY-XL-EA | NC1101TBO-XL-EA | NC1101TY-2XL-EA | NC1101TBO-2XL-EA | NC1101TY-3XL-EA | NC1101TBO-3XL-EA | NC1101TY-4XL-EA | NC1101TBO-4XL-EA | NC1101TY-5XL-EA | NC1101TBO-5XL-EA | NC1101TY-S-L-EA | NC1101TBO-S-L-EA | NC1101TY-M-L-EA | NC1101TBO-M-L-EA | NC1101TY-L-L-EA | NC1101TBO-L-L-EA | NC1101TY-XL-L-EA | NC1101TBO-XL-L-EA | NC1101TY-2XL-L-EA | NC1101TBO-2XL-L-EA | NC1101TY-3XL-L-EA | NC1101TBO-3XL-L-EA | NC1101TY-4XL-L-EA | NC1101TBO-4XL-L-EA | NC1101TY-5XL-L-EA | NC1101TBO-5XL-L-EA | NC1101TY-S-T-EA | NC1101TBO-S-T-EA | NC1101TY-M-T-EA | NC1101TBO-M-T-EA | NC1101TY-L-T-EA | NC1101TBO-L-T-EA | NC1101TY-XL-T-EA | NC1101TBO-XL-T-EA | NC1101TY-2XL-T-EA | NC1101TBO-2XL-T-EA | NC1101TY-3XL-T-EA | NC1101TBO-3XL-T-EA | NC1101TY-4XL-T-EA | NC1101TBO-4XL-T-EA | NC1101TY-5XL-T-EA | NC1101TBO-5XL-T-EA |
| MPN | 1101TY-S | 1101TBO-S | 1101TY-M | 1101TBO-M | 1101TY-L | 1101TBO-L | 1101TY-XL | 1101TBO-XL | 1101TY-2XL | 1101TBO-2XL | 1101TY-3XL | 1101TBO-3XL | 1101TY-4XL | 1101TBO-4XL | 1101TY-5XL | 1101TBO-5XL | 1101TY-S-L | 1101TBO-S-L | 1101TY-M-L | 1101TBO-M-L | 1101TY-L-L | 1101TBO-L-L | 1101TY-XL-L | 1101TBO-XL-L | 1101TY-2XL-L | 1101TBO-2XL-L | 1101TY-3XL-L | 1101TBO-3XL-L | 1101TY-4XL-L | 1101TBO-4XL-L | 1101TY-5XL-L | 1101TBO-5XL-L | 1101TY-S-T | 1101TBO-S-T | 1101TY-M-T | 1101TBO-M-T | 1101TY-L-T | 1101TBO-L-T | 1101TY-XL-T | 1101TBO-XL-T | 1101TY-2XL-T | 1101TBO-2XL-T | 1101TY-3XL-T | 1101TBO-3XL-T | 1101TY-4XL-T | 1101TBO-4XL-T | 1101TY-5XL-T | 1101TBO-5XL-T |
| Waist Size | S | S | M | M | L | L | XL | XL | 2XL | 2XL | 3XL | 3XL | 4XL | 4XL | 5XL | 5XL | S | S | M | M | L | L | XL | XL | 2XL | 2XL | 3XL | 3XL | 4XL | 4XL | 5XL | 5XL | S | S | M | M | L | L | XL | XL | 2XL | 2XL | 3XL | 3XL | 4XL | 4XL | 5XL | 5XL |
| Pants Length | Regular | Regular | Regular | Regular | Regular | Regular | Regular | Regular | Regular | Regular | Regular | Regular | Regular | Regular | Regular | Regular | Long, +2" in Length | Long, +2" in Length | Long, +2" in Length | Long, +2" in Length | Long, +2" in Length | Long, +2" in Length | Long, +2" in Length | Long, +2" in Length | Long, +2" in Length | Long, +2" in Length | Long, +2" in Length | Long, +2" in Length | Long, +2" in Length | Long, +2" in Length | Long, +2" in Length | Long, +2" in Length | Tall, +4" in Length | Tall, +4" in Length | Tall, +4" in Length | Tall, +4" in Length | Tall, +4" in Length | Tall, +4" in Length | Tall, +4" in Length | Tall, +4" in Length | Tall, +4" in Length | Tall, +4" in Length | Tall, +4" in Length | Tall, +4" in Length | Tall, +4" in Length | Tall, +4" in Length | Tall, +4" in Length | Tall, +4" in Length |
| Garment Primary Color | Yellow, 12 cal/cm2 | International Orange, 16 cal/cm2 | Yellow, 12 cal/cm2 | International Orange, 16 cal/cm2 | Yellow, 12 cal/cm2 | International Orange, 16 cal/cm2 | Yellow, 12 cal/cm2 | International Orange, 16 cal/cm2 | Yellow, 12 cal/cm2 | International Orange, 16 cal/cm2 | Yellow, 12 cal/cm2 | International Orange, 16 cal/cm2 | Yellow, 12 cal/cm2 | International Orange, 16 cal/cm2 | Yellow, 12 cal/cm2 | International Orange, 16 cal/cm2 | Yellow, 12 cal/cm2 | International Orange, 16 cal/cm2 | Yellow, 12 cal/cm2 | International Orange, 16 cal/cm2 | Yellow, 12 cal/cm2 | International Orange, 16 cal/cm2 | Yellow, 12 cal/cm2 | International Orange, 16 cal/cm2 | Yellow, 12 cal/cm2 | International Orange, 16 cal/cm2 | Yellow, 12 cal/cm2 | International Orange, 16 cal/cm2 | Yellow, 12 cal/cm2 | International Orange, 16 cal/cm2 | Yellow, 12 cal/cm2 | International Orange, 16 cal/cm2 | Yellow, 12 cal/cm2 | International Orange, 16 cal/cm2 | Yellow, 12 cal/cm2 | International Orange, 16 cal/cm2 | Yellow, 12 cal/cm2 | International Orange, 16 cal/cm2 | Yellow, 12 cal/cm2 | International Orange, 16 cal/cm2 | Yellow, 12 cal/cm2 | International Orange, 16 cal/cm2 | Yellow, 12 cal/cm2 | International Orange, 16 cal/cm2 | Yellow, 12 cal/cm2 | International Orange, 16 cal/cm2 | Yellow, 12 cal/cm2 | International Orange, 16 cal/cm2 |