DuPont™ Tychem® ThermoPro Suit with Hood - Elastic Wrists - Socks - Double Storm Flap - TP199T
SKU: DPTP199TORMD000200-PKMPN: TP199TORMD000200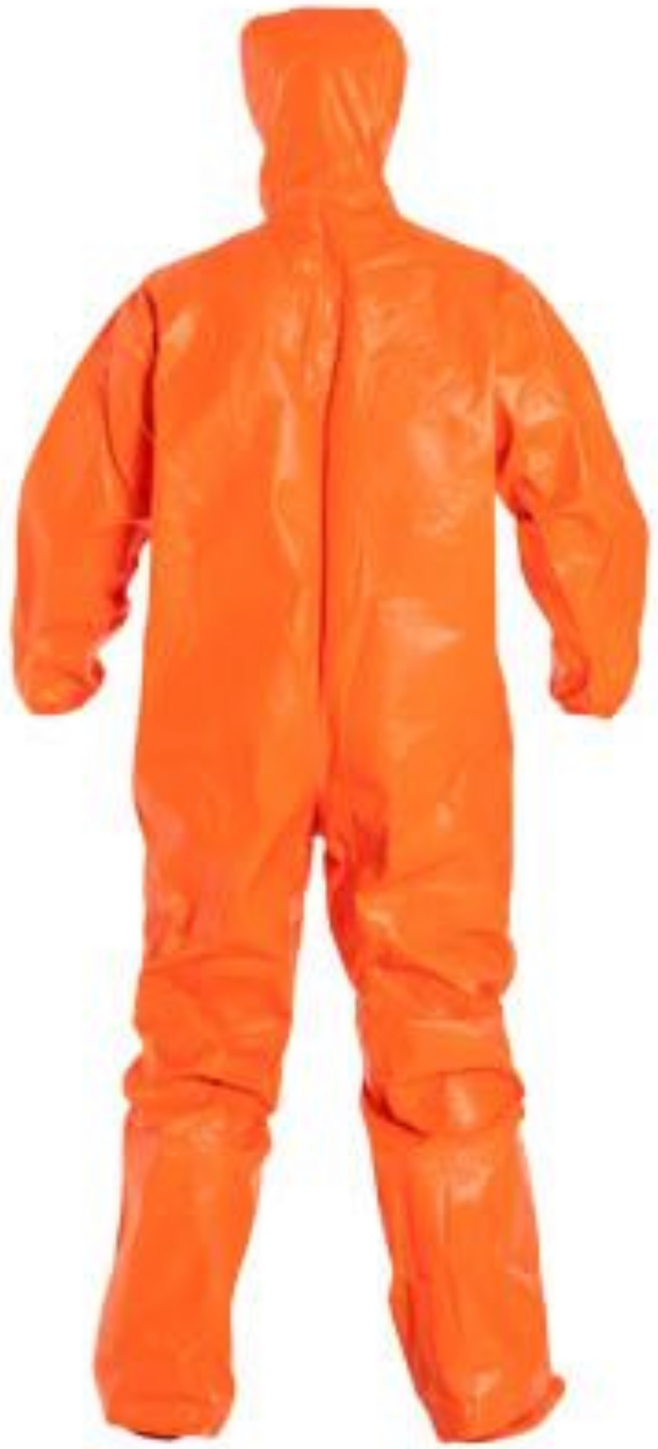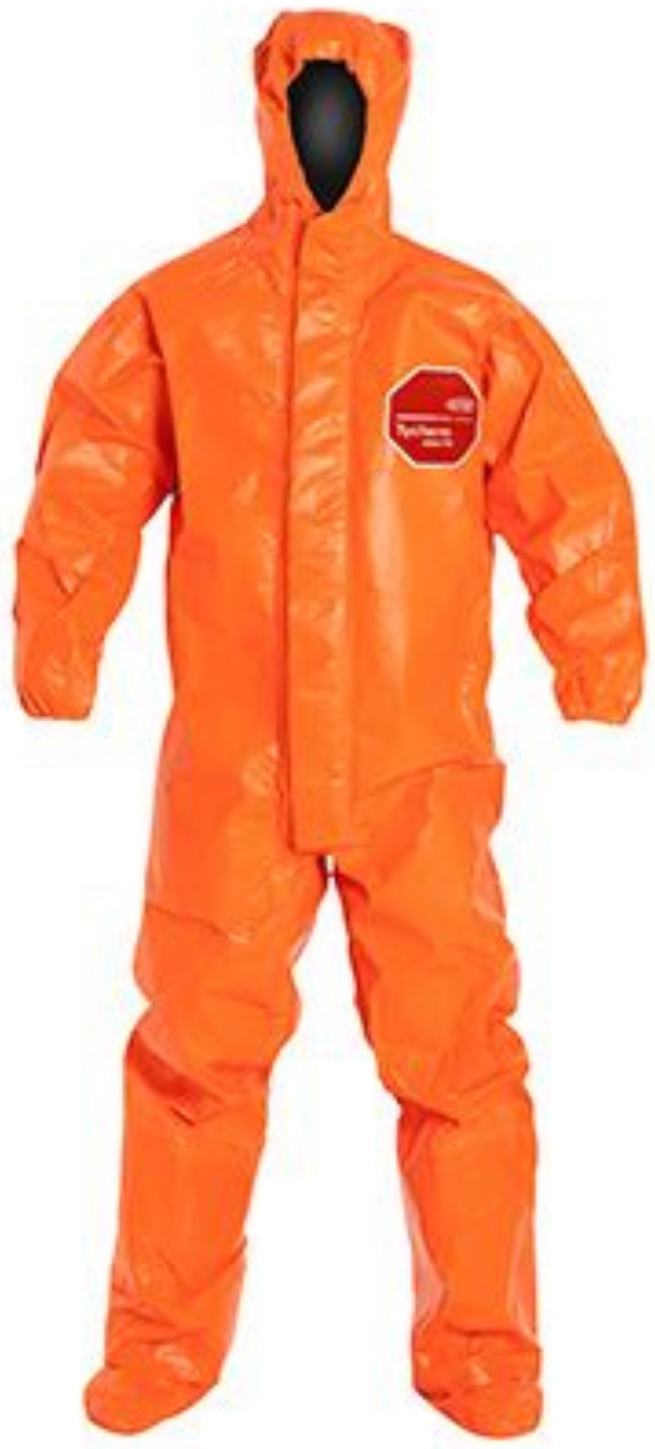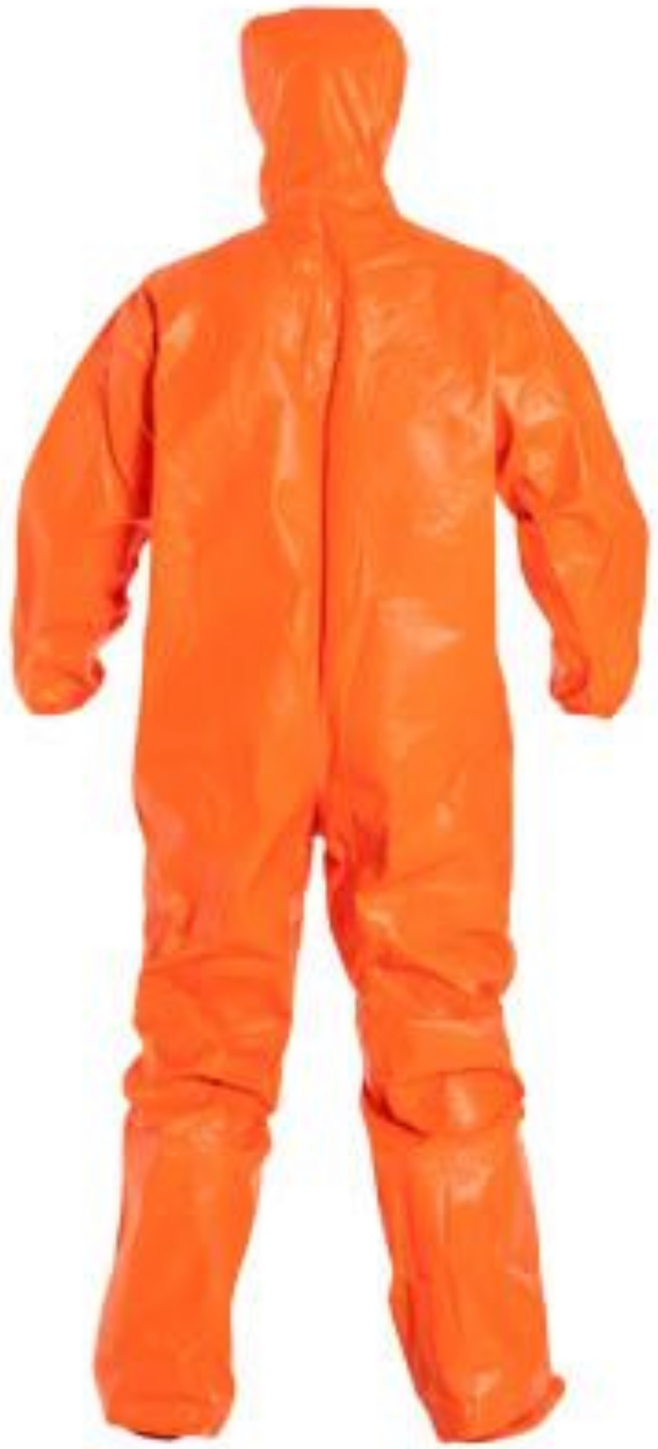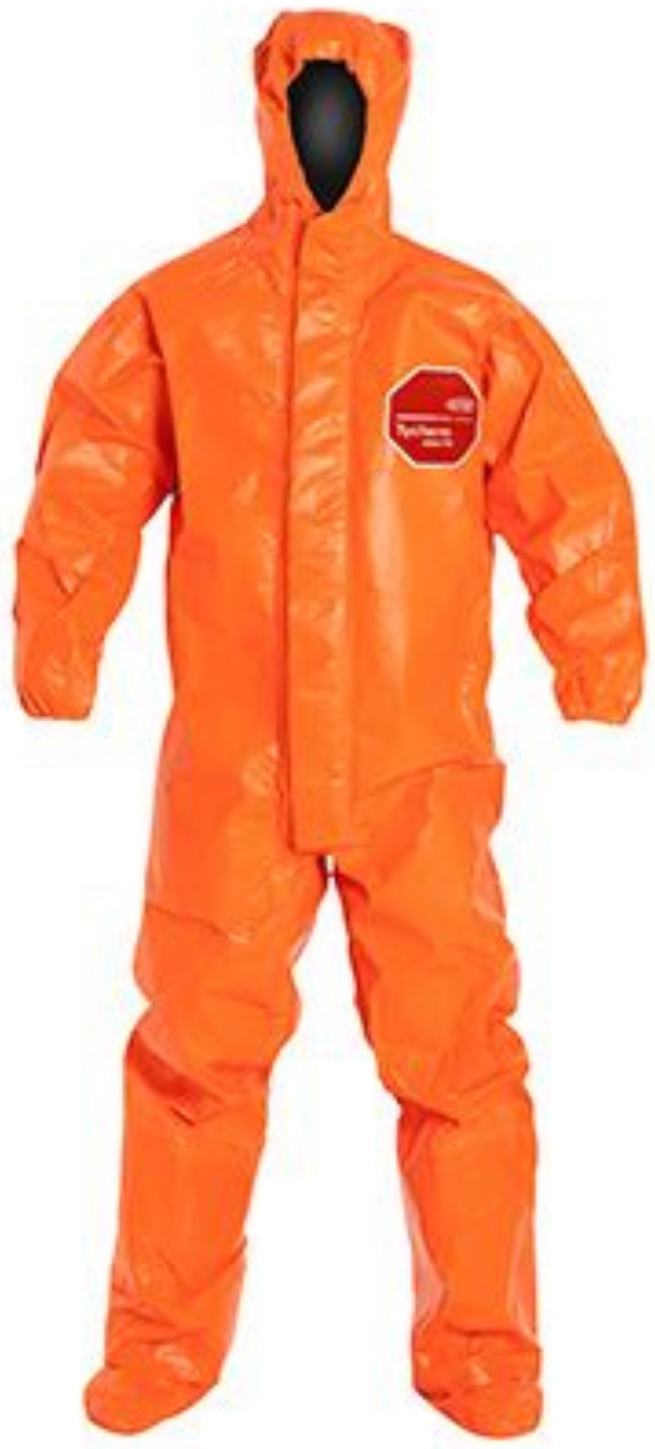 Product Details
The Tychem® ThermoPro TP199T chemical resistant suit provides triple hazard protection from flash fire, electric arc and liquid-chemical splash. Tychem® ThermoPro garments are designed to combine the trusted chemical protection of Tychem® and thermal/arc protection of Nomex® into a single layer garment. They are designed to protect workers and Hazmat responders against a broad range of toxic chemicals, warfare agents, as well as time to escape flash fires and electric arc protection. The ThermoPro fabric will provide at least one hour of breakthrough protection against 20 of the 21 standard ASTM F1101 chemicals and at least 30 minutes of protection against 182 chemical challenges. Coming in at an arc flash rating of 15.2 cal/cm², this Tychem® ThermoPro coverall exceeds NFPA 70E hazard risk category 2 requirements for arc flashes. This Tychem® coverall is ideal for a wide variety of applications including Hazmat, Fire protective services, Clandestine Lab Investigation, Industrial Chemical Processing Plants, Electrical workers and many more.
These suits are normally made to order by DuPont and may take 8-12 weeks for production - please call to check availability. Because these suits are made to order, they are not returnable.
Features:
Taped seams provide strong chemical resistance against heavy liquid splashes
Certified to NFPA 1992 (2005) and NFPA 2112 (2007) standards
A sewn seam is covered with a strip of compatible chemical-resistant material through heatsealing
Attached respirator-fit hood with drawstring to pull tightly around respirator
longer zipper extends to chin for complete coverage of neck area
Storm flap covers zipper which can be secured by the wearer with rugged hook and loop material
Elastic opening for tighter fit at wrist
Integrated socks composed of garment material
Attached flaps are designed to cover boot tops to help reduce potential for liquid intrusion
Please visit the DuPont™ website to see the Specifications for Tychem® TP199T .
Variations of DuPont™ Tychem® ThermoPro TP199T Coverall
DuPont™ Tychem® TP199TORSM000200 Small size chemical resistant coverall
TP199TORMD000200 Medium Size chemical resistant coverall
TP199TORLG000200 Large Size chemical resistant coverall
TP199TORXL000200 X-Large Size chemical resistant coverall
TP199TOR2X000200 2X-Large Size chemical resistant coverall
TP199TOR3X000200 3X-Large Size chemical resistant coverall
DuPont™ Tyvek® TP199TGYSM000200 Small size chemical resistant coverall
TP199TGYMD000200 Medium Size chemical resistant coverall
TP199TGYLG000200 Large Size chemical resistant coverall
TP199TGYXL000200 X-Large Size chemical resistant coverall
TP199TGY2X000200 2X-Large Size chemical resistant coverall
TP199TGY3X000200 3X-Large Size chemical resistant coverall
Specifications
| | | | | | | | | | | |
| --- | --- | --- | --- | --- | --- | --- | --- | --- | --- | --- |
| SKU | DPTP199TORMD000200-PK | DPTP199TGYMD000200-PK | DPTP199TORLG000200-PK | DPTP199TGYLG000200-PK | DPTP199TORXL000200-PK | DPTP199TGYXL000200-PK | DPTP199TOR2X000200-PK | DPTP199TGY2X000200-PK | DPTP199TOR3X000200-PK | DPTP199TGY3X000200-PK |
| MPN | TP199TORMD000200 | TP199TGYMD000200 | TP199TORLG000200 | TP199TGYLG000200 | TP199TORXL000200 | TP199TGYXL000200 | TP199TOR2X000200 | TP199TGY2X000200 | TP199TOR3X000200 | TP199TGY3X000200 |
| Coverall Size | M | M | L | L | XL | XL | 2XL | 2XL | 3XL | 3XL |
| Garment Primary Color | Orange | Grey | Orange | Grey | Orange | Grey | Orange | Grey | Orange | Grey |