DuPont™ Tychem® QC Suit with Hood - Socks - Elastic Wrists & Ankles - QC122
SKU: DPQC122SYLMD001200-PKMPN: QC122SYLMD001200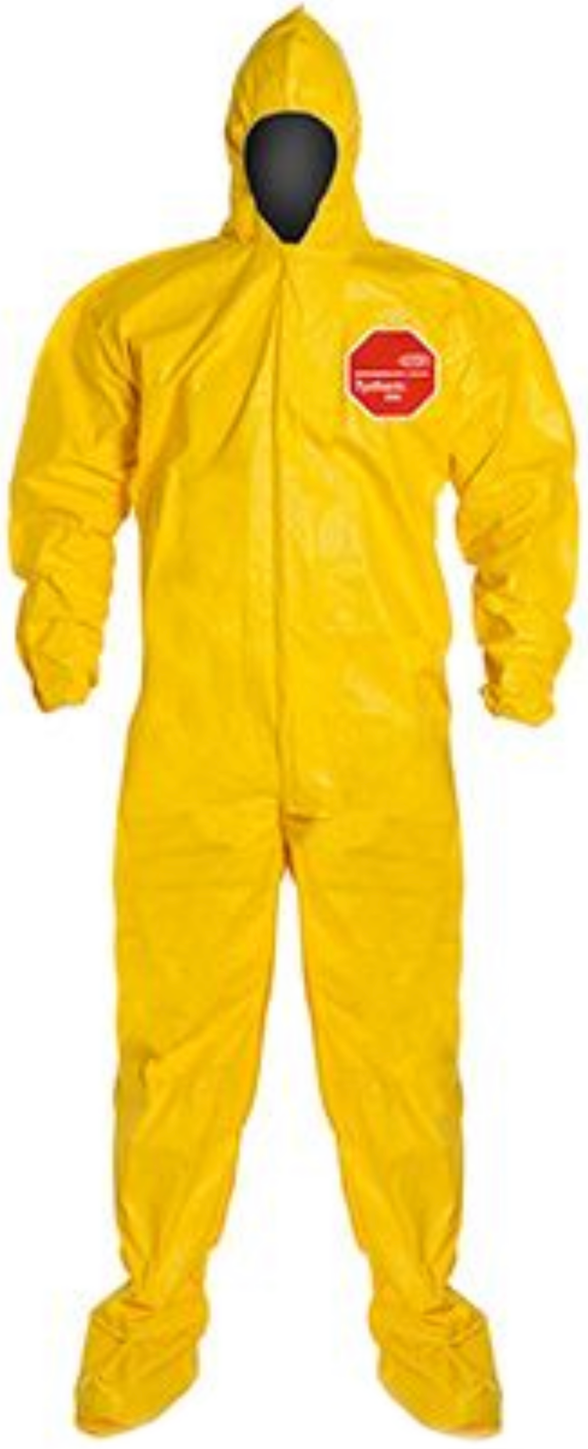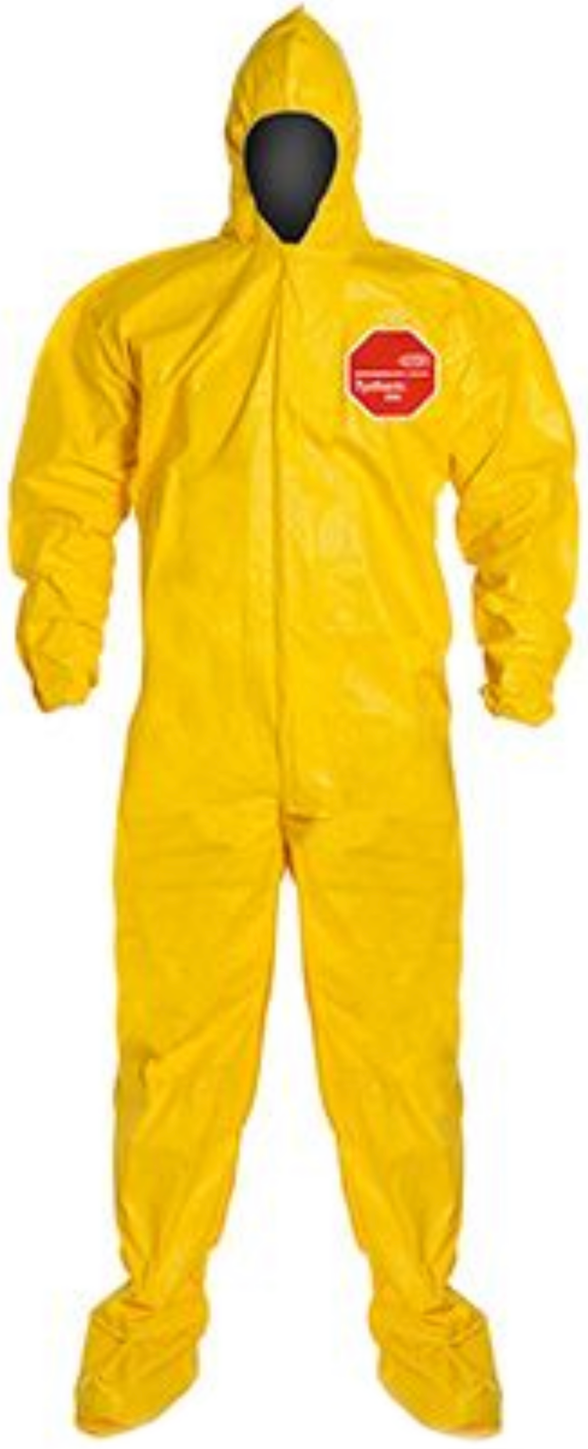 Product Details
This DuPont™ Tychem® Coverall is made from lightweight Tychem® material which is Tyvek® material with a chemical resistant polyethylene coating. Providing at least 30 minutes of protection against over 42 different chemicals, this chemical resistant Tychem® coverall wont let you down. Ideal for light splash protection, these Tychem® coveralls are suitable for a variety of industrial environments, including petroleum refining, pulp and paper manufacturing, food processing, chemical processing and pharmaceutical manufacturing.
Features:
Elastic opening for tighter fit at wrist
Integrated socks composed of garment material
Attached hood with elastic around face opening
Multiple interlocking threads are sewn around the raw edges of garment material to create a strong, stress-resistance seam (SYL)
Storm flap covers zipper which can be sealed by the wearer with adhesive strip to prevent intrusion at zipper (TYL & BYL)
Taped seams provide strong chemical resistance against heavy liquid splashes (TYL)
Seam is covered with a strip of compatible chemical-resistant material through heatsealing (TYL)
Seam is covered with garment fabric for reinforcement (BYL)
Please visit the DuPont™ website to see the Specifications for Tychem® QC122 .
Variations of DuPont™ Tychem® QC122 Coveralls
DuPont™ Tyvek® QC122SYLSM001200 Small Size Chemical resistant coverall with serged seams
QC122SYLMD001200 Medium Size with serged seams
QC122SYLLG001200 Large Size with serged seams
QC122SYLXL001200 X-Large Size with serged seams
QC122SYL2X001200 2X-Large Size with serged seams
QC122SYL3X001200 3X-Large Size with serged seams
QC122SYL4X001200 4X-Large Size with serged seams
DuPont™ Tyvek® QC122BYLSM001200 Small Size Chemical resistant coverall with bound seams and storm flap
QC122BYLMD001200 Medium Size with bound seams and storm flap
QC122BYLLG001200 Large Size with bound seams and storm flap
QC122BYLXL001200 X-Large Size with bound seams and storm flap
QC122BYL2X001200 2X-Large Size with bound seams and storm flap
QC122BYL3X001200 3X-Large Size with bound seams and storm flap
QC122BYL4X001200 4X-Large Size with bound seams and storm flap
DuPont™ Tyvek® QC122TYLSM000400 Small Size Chemical resistant coverall with taped seams and storm flap
QC122TYLMD000400 Medium Size with taped seams and storm flap
QC122TYLLG000400 Large Size with taped seams and storm flap
QC122TYLXL000400 X-Large Size with taped seams and storm flap
QC122TYL2X000400 2X-Large Size with taped seams and storm flap
QC122TYL3X000400 3X-Large Size with taped seams and storm flap
QC122TYL4X000400 4X-Large Size with taped seams and storm flap
Specifications
| | | | | | | | | | | | | | | | | | | |
| --- | --- | --- | --- | --- | --- | --- | --- | --- | --- | --- | --- | --- | --- | --- | --- | --- | --- | --- |
| SKU | DPQC122SYLMD001200-PK | DPQC122BYLMD001200-PK | DPQC122TYLMD000400-PK | DPQC122SYLLG001200-PK | DPQC122BYLLG001200-PK | DPQC122TYLLG000400-PK | DPQC122SYLXL001200-PK | DPQC122BYLXL001200-PK | DPQC122TYLXL000400-PK | DPQC122SYL2X001200-PK | DPQC122BYL2X001200-PK | DPQC122TYL2X000400-PK | DPQC122SYL3X001200-PK | DPQC122BYL3X001200-PK | DPQC122TYL3X000400-PK | DPQC122SYL4X001200-PK | DPQC122BYL4X001200-PK | DPQC122TYL4X000400-PK |
| MPN | QC122SYLMD001200 | QC122BYLMD001200 | QC122TYLMD000400 | QC122SYLLG001200 | QC122BYLLG001200 | QC122TYLLG000400 | QC122SYLXL001200 | QC122BYLXL001200 | QC122TYLXL000400 | QC122SYL2X001200 | QC122BYL2X001200 | QC122TYL2X000400 | QC122SYL3X001200 | QC122BYL3X001200 | QC122TYL3X000400 | QC122SYL4X001200 | QC122BYL4X001200 | QC122TYL4X000400 |
| Coverall Size | M | M | M | L | L | L | XL | XL | XL | 2XL | 2XL | 2XL | 3XL | 3XL | 3XL | 4XL | 4XL | 4XL |
| Chemical Suit Seams | Serged Seams, Case of 12 | Bound Seams, with Storm Flap, Case of 12 | Taped Seams, with Storm Flap, Case of 4 | Serged Seams, Case of 12 | Bound Seams, with Storm Flap, Case of 12 | Taped Seams, with Storm Flap, Case of 4 | Serged Seams, Case of 12 | Bound Seams, with Storm Flap, Case of 12 | Taped Seams, with Storm Flap, Case of 4 | Serged Seams, Case of 12 | Bound Seams, with Storm Flap, Case of 12 | Taped Seams, with Storm Flap, Case of 4 | Serged Seams, Case of 12 | Bound Seams, with Storm Flap, Case of 12 | Taped Seams, with Storm Flap, Case of 4 | Serged Seams, Case of 12 | Bound Seams, with Storm Flap, Case of 12 | Taped Seams, with Storm Flap, Case of 4 |