3M 2096 P100 Filters - Nuisance Acid Gas Relief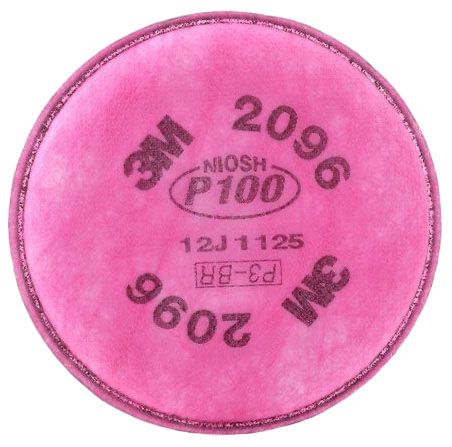 Out of stock due to COVID-19 pandemic. Expect 6+ week wait.
Product Details
These P95 Particulate Filters from 3M are suitable for protection from Hydrogen Fluoride and nuisance levels of acid gas. Use 3M 2096 filters for protection from solids such as those from processing minerals, coal, iron ore, cotton, flour, and certain other substances, liquid or oil based particles from sprays that do not also emit harmful vapors, and metal fumes produced from welding, brazing, cutting and other operations involving heating of metals. These filters are 3M recommended for relief from nuisance levels of acid gases such as sulfur dioxide and/or chlorine. 3M 2096 filter cartridges from are NIOSH approved and feature bayonet filter holders. They provide at least 99.97% filtration efficiency against solid and liquid aerosols including oils and are suitable for use in a variety of workplace applications, including utility operations, aluminum smelting, glass etching, chemical manufacturing and OSHA substance specific particle exposures: Lead, Asbestos, Cadmium, Arsenic, 4,4' Methylenedianiline (MDA). The 2096 filter from 3M can be used as a stand-alone filter with 3M 6000, 7500, 7800 and Ultimate FX FF-400 series facepieces or as a prefilter with 3M 5000 series respirators and 6000 series cartridges (use with 502 adapter).
The 3M 2096 P100 filters can be used in a variety of workplace applications:
Utility operations
Aluminum smelting
Glass etching
Chemical manufacturing
OSHA substance specific particle exposures: Lead, Asbestos, Cadmium, Arsenic, 4,4' Methylenedianiline (MDA)
Specifications
| | |
| --- | --- |
| SKU | MM2096-PR |
| MPN | 2096 |
| Gas protection | None |
| Particulates protection | P100 |