Nasco WorkLite 81J Waist Length Jacket with Hood
SKU: NC81JY-L-EAMPN: 81JY-L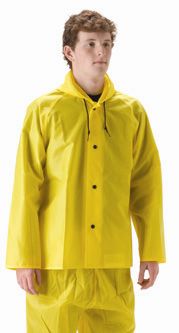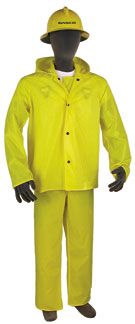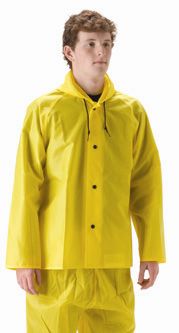 Product Details
Nasco WorkLite 81J waist length jacket comes with a hood and snap front with storm fly. Durable and waterproof, yet lightweight this jacket from Nasco is available in Navy ( 81JN), Yellow (81JY), International Orange (81JBO), and Black (81JB) colors (Black, Navy, and International Orange are non-stock items, call to order).
Nasco WorkLite protective clothing is made with 4.5 oz/yd2 200-denier nylon oxford material with a polyurethane moisture barrier. It provides flame resistance (ASTM D6413-99) and two needle full felled seam construction with exclusive seam sealing tape. WorkLite 80 Series outwear is a lightweight, general duty product ideal for use in application where comfort and durability are needed.
WorkLite polyurethane coated outwear is a lightweight yet highly durable solution for foul weather protection, designed with numerous industrial applications in mind. Maintains flexibility in cold weather.
Features & Benefits of Nasco 81J Hooded Jackets:
Waterproof
Lightweight
Soft & Flexible
Durable
Non-Conductive
Limited Flame Resistance
Recommended Applications:
Construction
Municipalities
Tree Trimming
Transportation
Telecommunications
CATV
Food Processing
Specifications
| | | | | | | | | |
| --- | --- | --- | --- | --- | --- | --- | --- | --- |
| SKU | NC81JY-S-EA | NC81JY-M-EA | NC81JY-L-EA | NC81JY-XL-EA | NC81JY-2XL-EA | NC81JY-3XL-EA | NC81JY-4XL-EA | NC81JY-5XL-EA |
| MPN | 81JY-S | 81JY-M | 81JY-L | 81JY-XL | 81JY-2XL | 81JY-3XL | 81JY-4XL | 81JY-5XL |
| Coat Size | S | M | L | XL | 2XL | 3XL | 4XL | 5XL |
| Length | Regular | Regular | Regular | Regular | Regular | Regular | Regular | Regular |
| Garment Primary Color | Yellow | Yellow | Yellow | Yellow | Yellow | Yellow | Yellow | Yellow |
| Coat length | Waist | Waist | Waist | Waist | Waist | Waist | Waist | Waist |
| High Visibility | Enhanced | Enhanced | Enhanced | Enhanced | Enhanced | Enhanced | Enhanced | Enhanced |
| Material | 4.5 oz 200-Denier Nylon, Polyurethane barrier | 4.5 oz 200-Denier Nylon, Polyurethane barrier | 4.5 oz 200-Denier Nylon, Polyurethane barrier | 4.5 oz 200-Denier Nylon, Polyurethane barrier | 4.5 oz 200-Denier Nylon, Polyurethane barrier | 4.5 oz 200-Denier Nylon, Polyurethane barrier | 4.5 oz 200-Denier Nylon, Polyurethane barrier | 4.5 oz 200-Denier Nylon, Polyurethane barrier |
| Style | Unisex | Unisex | Unisex | Unisex | Unisex | Unisex | Unisex | Unisex |