Otterlayer aluminized coat, TruteX, 50" long, C31-ATX
SKU: OTC31-ATX-SMMPN: C31-ATX-SM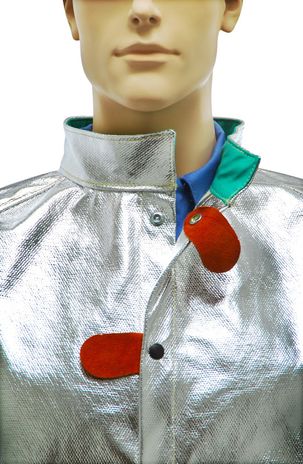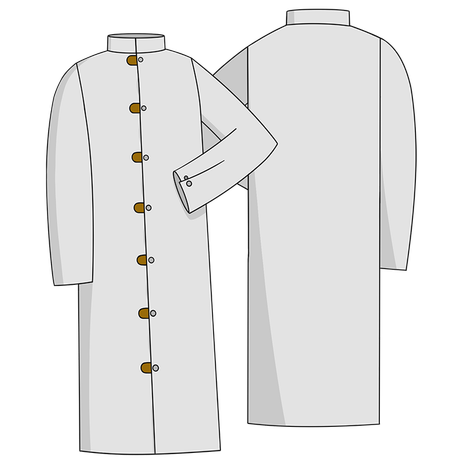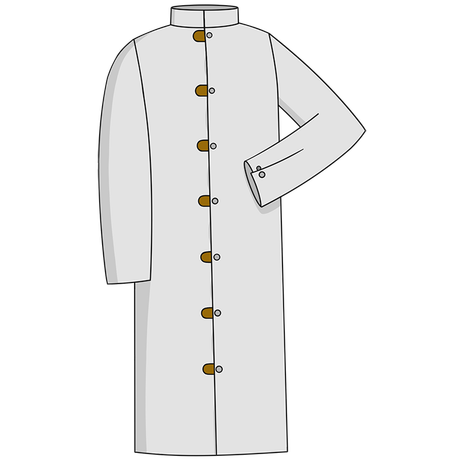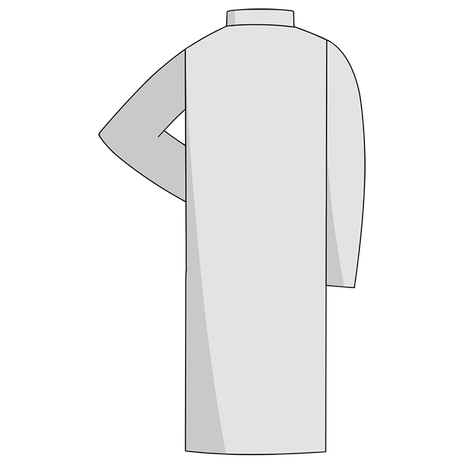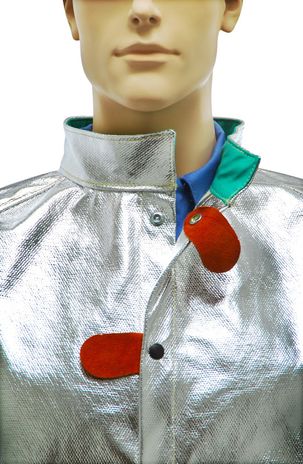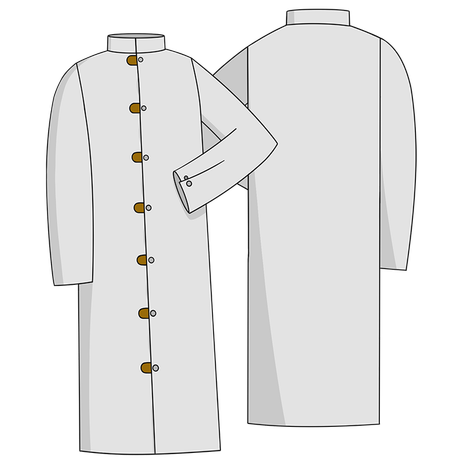 Product Details
Otterlayer high heat coat model C31-ATX is a great primary protection layer for people that work in foundries and other environments where they are subjected to high levels of radiant heat and require protection from potential contact with high objects such as ovens, molten metal splash, hot tools, and many more.
Features of Otterlayer foundry and aluminized coats:
Metal snap front closure with pull tabs to allow easy removal
Stand-up collar to protect part of the neck and reduce risk of sparks or particles from splashing under the collar
Sleeves have snaps at wrists, to tighten openings at wrists for better fit with gauntlet style gloves
Available in various lengths to accomodate different protective needs and allow combinations of full body protection that are most convenient and effective for a particular situation
Aluminized Trutex™ is a non-woven fabric with a para-aramid batting, OPF batting, and meta-aramid scrim which is coated with aluminum on one side. It is constructed using the time tested technique of adhering pure aluminum to both sides of a thin polyester film and adding it to a flame resistant textile substrate.
The base fabric is essentially a carbon para aramid blend which makes it very strong and tear-resistant. It has the characteristic pea green and black speckled appearance, yet has a soft, fleece-like texture.
Aluminized Trutex™ is a great choice for molten metal splash and radiant heat protection. It is relatively light and flexible, and garments made from it will be more comfortable to wear.
Protective properties of aluminized Trutex™ clothing material:
Lightweight, soft and flexible
Protects against both molten iron and aluminum splash
Very good thermal protection - withstands up to 400-600°F contact heat
Excellent radiant reflectivity
Radiant heat resistance - up to 2000°F
Fabric composition and characteristics:
Non-woven, para-aramid and OPF batting, meta-aramid scrim with aluminized layer
Fabric Weight: 10 oz. / sq. yd.
Specifications
| | | | | | | | | | | | | | | | | |
| --- | --- | --- | --- | --- | --- | --- | --- | --- | --- | --- | --- | --- | --- | --- | --- | --- |
| SKU | OTC31-ATX-SM | OTC31-ATX-MD | OTC31-ATX-LG | OTC31-ATX-XL | OTC31-ATX-2X | OTC31-ATX-3X | OTC31-ATX-4X | OTC31-ATX-5X | OTC31-ATX-SM-CF | OTC31-ATX-MD-CF | OTC31-ATX-LG-CF | OTC31-ATX-XL-CF | OTC31-ATX-2X-CF | OTC31-ATX-3X-CF | OTC31-ATX-4X-CF | OTC31-ATX-5X-CF |
| MPN | C31-ATX-SM | C31-ATX-MD | C31-ATX-LG | C31-ATX-XL | C31-ATX-2X | C31-ATX-3X | C31-ATX-4X | C31-ATX-5X | C31-ATX-SM-CF | C31-ATX-MD-CF | C31-ATX-LG-CF | C31-ATX-XL-CF | C31-ATX-2X-CF | C31-ATX-3X-CF | C31-ATX-4X-CF | C31-ATX-5X-CF |
| Collar Style | Standard Band | Standard Band | Standard Band | Standard Band | Standard Band | Standard Band | Standard Band | Standard Band | Folded Shirt Collar | Folded Shirt Collar | Folded Shirt Collar | Folded Shirt Collar | Folded Shirt Collar | Folded Shirt Collar | Folded Shirt Collar | Folded Shirt Collar |
| Coat Size | S | M | L | XL | 2XL | 3XL | 4XL | 5XL | S | M | L | XL | 2XL | 3XL | 4XL | 5XL |
| Length - collar to bottom | 50" | 50" | 50" | 50" | 50" | 50" | 50" | 50" | 50" | 50" | 50" | 50" | 50" | 50" | 50" | 50" |
| Coat back | Standard coat | Standard coat | Standard coat | Standard coat | Standard coat | Standard coat | Standard coat | Standard coat | Standard coat | Standard coat | Standard coat | Standard coat | Standard coat | Standard coat | Standard coat | Standard coat |
| Max contact heat | High (500F to 800F) | High (500F to 800F) | High (500F to 800F) | High (500F to 800F) | High (500F to 800F) | High (500F to 800F) | High (500F to 800F) | High (500F to 800F) | High (500F to 800F) | High (500F to 800F) | High (500F to 800F) | High (500F to 800F) | High (500F to 800F) | High (500F to 800F) | High (500F to 800F) | High (500F to 800F) |
| Insulation level | Medium | Medium | Medium | Medium | Medium | Medium | Medium | Medium | Medium | Medium | Medium | Medium | Medium | Medium | Medium | Medium |
| Abrasion and tear resistance | Medium | Medium | Medium | Medium | Medium | Medium | Medium | Medium | Medium | Medium | Medium | Medium | Medium | Medium | Medium | Medium |
| Fabric flexibility | Flexible | Flexible | Flexible | Flexible | Flexible | Flexible | Flexible | Flexible | Flexible | Flexible | Flexible | Flexible | Flexible | Flexible | Flexible | Flexible |
| Radiant heat protection | Yes | Yes | Yes | Yes | Yes | Yes | Yes | Yes | Yes | Yes | Yes | Yes | Yes | Yes | Yes | Yes |
| Sparks resistance | Yes | Yes | Yes | Yes | Yes | Yes | Yes | Yes | Yes | Yes | Yes | Yes | Yes | Yes | Yes | Yes |
| Molten aluminum splash | Resistant | Resistant | Resistant | Resistant | Resistant | Resistant | Resistant | Resistant | Resistant | Resistant | Resistant | Resistant | Resistant | Resistant | Resistant | Resistant |
| Molten iron splash | Resistant | Resistant | Resistant | Resistant | Resistant | Resistant | Resistant | Resistant | Resistant | Resistant | Resistant | Resistant | Resistant | Resistant | Resistant | Resistant |