Steiner 18" FR Straight Knit Sleeve 13618
SKU: ST13618-PKMPN: 13618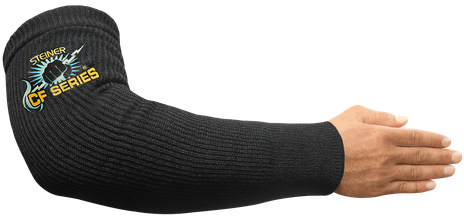 For current coupons - check home page
Product Details
These Steiner 13618 CF Series Knit Sleeves are ideal for welding applications in which a worker wants protection from the wrist to upper bicep. The knit fabric is inherently flame and electrical resistant yet remains very breathable, unlike leather cape sleeves.
About Steiner Carbonized Fiber (CF) Fabrics
Made exclusively by Steiner, their Carbonized Fiber is made up of carbon based fibers blended with durable Para-Aramid strengthening fibers to produce a fabric that is flame resistant, electrical resistant as well as cut and abrasion resistant. A unique blend of oxidized polyacrylonitrile fibers blend to create these unique features.
Features:
18" Length
Inherently flame resistant
Specifications
| | |
| --- | --- |
| SKU | ST13618-PK |
| MPN | 13618 |
| Sleeve Length | 18" Length |
| Sleeve length | 18" |
| Heat & sparks resistant | Yes |
| Breathable | Yes |