Cementex CPTS Telescoping Hot Stick
SKU: CPTS-212-EAMPN: TS-212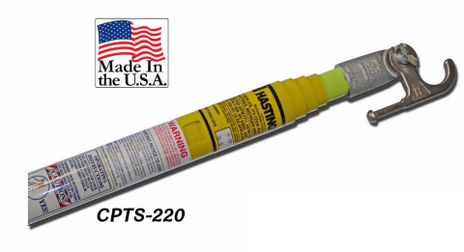 For current coupons - check home page
Product Details
Telescoping Hot Sticks offer long reach, speed, convenience and safety.
Features of Cementex CPTS Telescoping Hot Stick:
Fabricated of reinforced high density electrical grade fiberglass laminate for greater strength and dielectric properties.
Flourscent tip section is highly visible and has a foam core. All tip sections are 1.15" diameter. Cushioned cap protects base end.
Triangle shape eliminates "twisting and turning" and enables each section to "Jock in automatically"; providing an ergonomic design for better control
Larger shape lock buttons provide easy operation.
Add or remove sections without the use of tools. Sections have a smooth glossy surface and only one size lock button and spring for replacement.
Universal head made of strong aluminum alloy incorporates corona discharge design and holds universal attachments securely.
Tested per ASTM F711.
Specifications
| | | | | | | | | | | |
| --- | --- | --- | --- | --- | --- | --- | --- | --- | --- | --- |
| SKU | CPTS-212-EA | CPTS-208-EA | CPTS-216-EA | CPTS-220-EA | CPTS-225-EA | CPTS-225HSB-EA | CPTS-230-EA | CPTS-235-EA | CPTS-240-EA | CPTS-250-EA |
| MPN | TS-212 | TS-208 | TS-216 | TS-220 | TS-225 | TS-225HSB | TS-230 | TS-235 | TS-240 | TS-250 |
| Hot Stick Options | 12'7" | 8' | 16'9" | 20' | 25'6" | 25'6" with Bag | 30' | 35' | 39'6" | 26' Heavy Duty |