Ansell Endurosaf Apron for Work
SKU: AN56-802-EAMPN: 56-802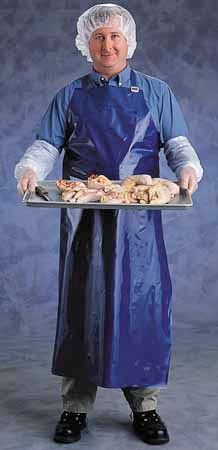 For current coupons - check home page
Product Details
These Ansell aprons made with Enduro 2000 outperform aprons made of traditional materials such as neoprene, vinyl, and nitrile in abrasion and chemical resistance. The material use on Ansell Endurosaf aprons is also lighter and stronger than other common apron materials. This apron resists deterioration due to fats and oils, is easy to clean, flexible in cold temperatures and is made of materials that are FDA compliant for food contact.
Exclusive Endurosaf Aprons offer a unique combination of characteristics that outperform traditional materials such as neoprene, nitrile, vinyl, and other films. Endurosaf is lighter in weight, stronger, wears longer, and is exceptionally resistant to abrasions, chemicals, and deterioration from oils and fats. It's also softer, easier to clean, more comfortable, and remains flexible in cold temperatures. Plus, Endurosaf is environmentally friendly. It can be buried or incinerated without harm to the environment. Component materials comply with FDA regulations for food contact. The Endurosaf apron features a high-quality self-material neck strap for comfort and performance. Dielectrically sealed to the apron for added strength, the 1" wide strap is adjustable to individual size and comfort levels using the non-corrosive, non-absorbent plastic buckle.
Easy to Clean. The Endurosaf apron with Enduro 200 has a satiny-smooth surface that is quickly and easily cleaned. Liquids virtually roll of the material, which can be wiped clean with a damp cloth, can be rinsed and hung to dry, or machine-washed using, for best results, a liquid dishwashing detergent. To sanitize, a solution of 1 ounce of chlorine bleach per gallon of water is recommended.
Applications:
Cleanrooms
Laboratories
Food processing
Chemical processing
Pharmaceutical
Janitorial
Specifications
| | |
| --- | --- |
| SKU | AN56-802-EA |
| MPN | 56-802 |
| Apron Type | 35"x45", Blue |