Workrite Flame Retardant Coverall 131UT70/1317 - 7oz UltraSoft
SKU: WR1317CG-38-0R-EAMPN: 1317CG-38-0R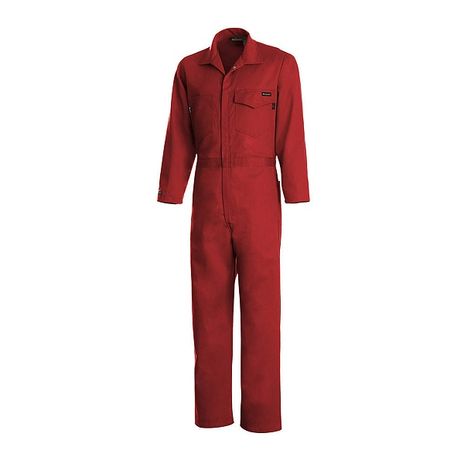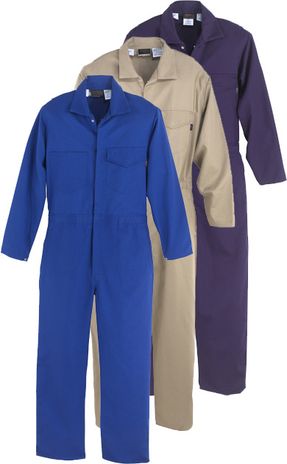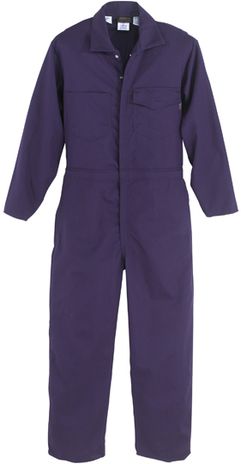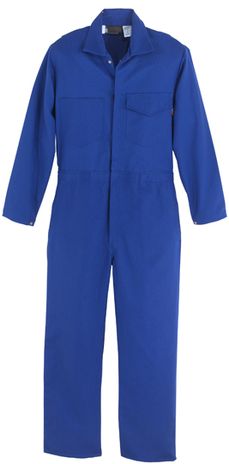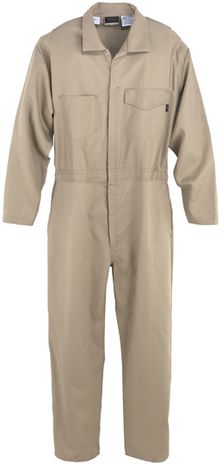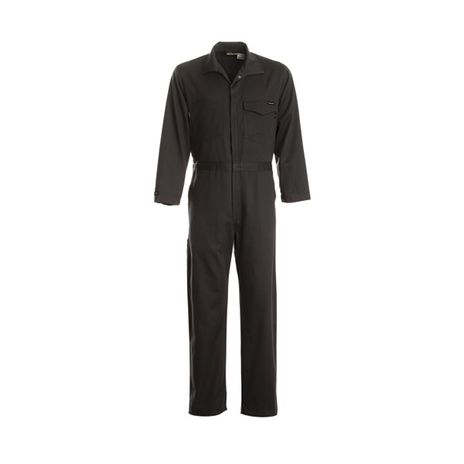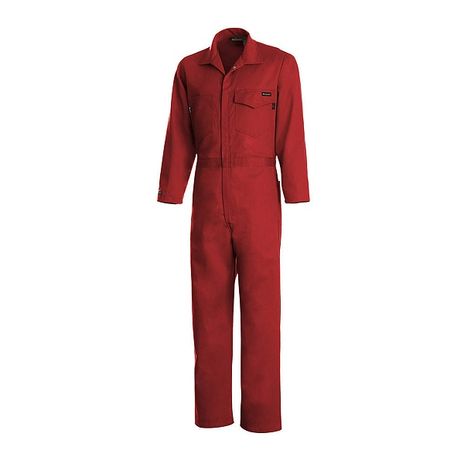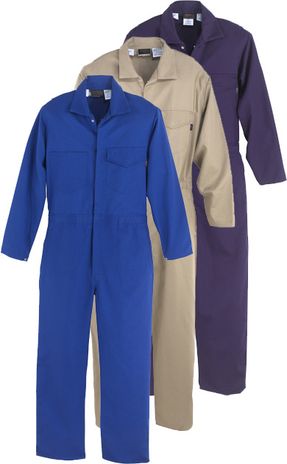 Product Details
Workrite 131UT70 / 1317 flame retardant coverall is part of our wide selection of FR work clothing and is made from 7 oz UltraSoft fabrics. This material isn't only comfortable but is also guaranteed flame resistance for the life of the garment. The Indura UltraSoft material provides excellent protection from electric arc flash, molten ferrous metal splash, and welding exposures. The Workrite Arc Flash Fire Retardant Coverall is 88% cotton and 12% high tenacity nylon with FR treatment. Keep yourself safe and make sure all regulations are met with Workrite protective clothing.
Unfortunately, these coveralls have been discontinued by the manufacturer. Please consider other similar items, such as Bulwark CLB2 model, or contact us and we will help you find a replacement.
The 131UT70 / 1317 UltraSoft coverall in Navy is the replacement for the Workrite 186UT70 UltraSoft Zippered Pocket Coverall.
Features of Workrite 131UT70 / 1317 flame resistant coverall:
Arc flash calorie rating 8.7 - HRC 2
NFPA 2112 compliant for flash fire rated clothing
Made of Westex Indura UltraSoft fabric – 88% cotton, 12% nylon, FR treated to provide protection for the life of garment
Two extra-deep front inset pockets, and two rear patch pockets
Two large double-stitched chest pockets, one with flap
Tool pocket on right leg
Pass-thru access to inner clothing
Three-piece action back style for ease of movement
Solid brass breakaway zipper
Double-stitched seams for enhanced durability
Roomy leg cut to fit over boots
Elastic waist
Snap wrist closures
Replacement item for Workrite 186UT70 UltraSoft Fire Retardant Zippered Pocket Coverall
Model numbers: 1317KH for Khaki, 1317NB for Navy Blue, 1317RB for Royal Blue, 1317CG for Charcoal Gray and 1317RD for Red
Specifications
| | | | | | | | | | | | | | | | | | | | | | | | | | | | | | | | | | | | | | | | | | | | | | | | | | | | | | | | | | | | | | | | | | | | | | | | | | | | | | | | | | | | | | | |
| --- | --- | --- | --- | --- | --- | --- | --- | --- | --- | --- | --- | --- | --- | --- | --- | --- | --- | --- | --- | --- | --- | --- | --- | --- | --- | --- | --- | --- | --- | --- | --- | --- | --- | --- | --- | --- | --- | --- | --- | --- | --- | --- | --- | --- | --- | --- | --- | --- | --- | --- | --- | --- | --- | --- | --- | --- | --- | --- | --- | --- | --- | --- | --- | --- | --- | --- | --- | --- | --- | --- | --- | --- | --- | --- | --- | --- | --- | --- | --- | --- | --- | --- | --- | --- | --- | --- |
| SKU | WR1317CG-38-0R-EA | WR131UT-70KH-38-EA | WR1317RD-38-0R-EA | WR131UT-70NB-38-EA | WR131UT-70RB-38-EA | WR1317CG-38-0L-EA | WR131UT-70KH-38-L-EA | WR1317RD-38-0L-EA | WR131UT-70NB-38-L-EA | WR131UT-70RB-38-L-EA | WR1317CG-40-0R-EA | WR131UT-70KH-40-EA | WR1317RD-40-0R-EA | WR131UT-70NB-40-EA | WR131UT-70RB-40-EA | WR1317CG-40-0L-EA | WR131UT-70KH-40-L-EA | WR1317RD-40-0L-EA | WR131UT-70NB-40-L-EA | WR131UT-70RB-40-L-EA | WR1317CG-42-0R-EA | WR131UT-70KH-42-EA | WR1317RD-42-0R-EA | WR131UT-70NB-42-EA | WR131UT-70RB-42-EA | WR1317CG-42-0L-EA | WR131UT-70KH-42-L-EA | WR1317RD-42-0L-EA | WR131UT-70NB-42-L-EA | WR131UT-70RB-42-L-EA | WR1317CG-44-0R-EA | WR131UT-70KH-44-EA | WR1317RD-44-0R-EA | WR131UT-70NB-44-EA | WR131UT-70RB-44-EA | WR1317CG-44-0L-EA | WR131UT-70KH-44-L-EA | WR1317RD-44-0L-EA | WR131UT-70NB-44-L-EA | WR131UT-70RB-44-L-EA | WR1317CG-46-0R-EA | WR131UT-70KH-46-EA | WR1317RD-46-0R-EA | WR131UT-70NB-46-EA | WR131UT-70RB-46-EA | WR1317CG-46-0L-EA | WR131UT-70KH-46-L-EA | WR1317RD-46-0L-EA | WR131UT-70NB-46-L-EA | WR131UT-70RB-46-L-EA | WR1317CG-48-0R-EA | WR131UT-70KH-48-EA | WR1317RD-48-0R-EA | WR131UT-70NB-48-EA | WR131UT-70RB-48-EA | WR1317CG-48-0L-EA | WR131UT-70KH-48-L-EA | WR1317RD-48-0L-EA | WR131UT-70NB-48-L-EA | WR131UT-70RB-48-L-EA | WR1317CG-50-0R-EA | WR131UT-70KH-50-EA | WR1317RD-50-0R-EA | WR131UT-70NB-50-EA | WR131UT-70RB-50-EA | WR1317CG-50-0L-EA | WR131UT-70KH-50-L-EA | WR1317RD-50-0L-EA | WR131UT-70NB-50-L-EA | WR131UT-70RB-50-L-EA | WR1317CG-52-0R-EA | WR131UT-70KH-52-EA | WR131UT-70NB-52-EA | WR131UT-70RB-52-EA | WR1317CG-52-0L-EA | WR131UT-70KH-52-L-EA | WR131UT-70NB-52-L-EA | WR131UT-70RB-52-L-EA | WR1317CG-54-0R-EA | WR131UT-70KH-54-EA | WR131UT-70NB-54-EA | WR131UT-70RB-54-EA | WR1317CG-54-0L-EA | WR131UT-70KH-54-L-EA | WR131UT-70NB-54-L-EA | WR131UT-70RB-54-L-EA |
| MPN | 1317CG-38-0R | 131UT-70KH-38 | 1317RD-38-0R | 131UT-70NB-38 | 131UT-70RB-38 | 1317CG-38-0L | 131UT-70KH-38-L | 1317RD-38-0L | 131UT-70NB-38-L | 131UT-70RB-38-L | 1317CG-40-0R | 131UT-70KH-40 | 1317RD-40-0R | 131UT-70NB-40 | 131UT-70RB-40 | 1317CG-40-0L | 131UT-70KH-40-L | 1317RD-40-0L | 131UT-70NB-40-L | 131UT-70RB-40-L | 1317CG-42-0R | 131UT-70KH-42 | 1317RD-42-0R | 131UT-70NB-42 | 131UT-70RB-42 | 1317CG-42-0L | 131UT-70KH-42-L | 1317RD-42-0L | 131UT-70NB-42-L | 131UT-70RB-42-L | 1317CG-44-0R | 131UT-70KH-44 | 1317RD-44-0R | 131UT-70NB-44 | 131UT-70RB-44 | 1317CG-44-0L | 131UT-70KH-44-L | 1317RD-44-0L | 131UT-70NB-44-L | 131UT-70RB-44-L | 1317CG-46-0R | 131UT-70KH-46 | 1317RD-46-0R | 131UT-70NB-46 | 131UT-70RB-46 | 1317CG-46-0L | 131UT-70KH-46-L | 1317RD-46-0L | 131UT-70NB-46-L | 131UT-70RB-46-L | 1317CG-48-0R | 131UT-70KH-48 | 1317RD-48-0R | 131UT-70NB-48 | 131UT-70RB-48 | 1317CG-48-0L | 131UT-70KH-48-L | 1317RD-48-0L | 131UT-70NB-48-L | 131UT-70RB-48-L | 1317CG-50-0R | 131UT-70KH-50 | 1317RD-50-0R | 131UT-70NB-50 | 131UT-70RB-50 | 1317CG-50-0L | 131UT-70KH-50-L | 1317RD-50-0L | 131UT-70NB-50-L | 131UT-70RB-50-L | 1317CG-52-0R | 131UT-70KH-52 | 131UT-70NB-52 | 131UT-70RB-52 | 1317CG-52-0L | 131UT-70KH-52-L | 131UT-70NB-52-L | 131UT-70RB-52-L | 1317CG-54-0R | 131UT-70KH-54 | 131UT-70NB-54 | 131UT-70RB-54 | 1317CG-54-0L | 131UT-70KH-54-L | 131UT-70NB-54-L | 131UT-70RB-54-L |
| Coverall Size | 38 | 38 | 38 | 38 | 38 | 38 | 38 | 38 | 38 | 38 | 40 | 40 | 40 | 40 | 40 | 40 | 40 | 40 | 40 | 40 | 42 | 42 | 42 | 42 | 42 | 42 | 42 | 42 | 42 | 42 | 44 | 44 | 44 | 44 | 44 | 44 | 44 | 44 | 44 | 44 | 46 | 46 | 46 | 46 | 46 | 46 | 46 | 46 | 46 | 46 | 48 | 48 | 48 | 48 | 48 | 48 | 48 | 48 | 48 | 48 | 50 | 50 | 50 | 50 | 50 | 50 | 50 | 50 | 50 | 50 | 52 | 52 | 52 | 52 | 52 | 52 | 52 | 52 | 54 | 54 | 54 | 54 | 54 | 54 | 54 | 54 |
| Coverall Length | Regular | Regular | Regular | Regular | Regular | Long | Long | Long | Long | Long | Regular | Regular | Regular | Regular | Regular | Long | Long | Long | Long | Long | Regular | Regular | Regular | Regular | Regular | Long | Long | Long | Long | Long | Regular | Regular | Regular | Regular | Regular | Long | Long | Long | Long | Long | Regular | Regular | Regular | Regular | Regular | Long | Long | Long | Long | Long | Regular | Regular | Regular | Regular | Regular | Long | Long | Long | Long | Long | Regular | Regular | Regular | Regular | Regular | Long | Long | Long | Long | Long | Regular | Regular | Regular | Regular | Long | Long | Long | Long | Regular | Regular | Regular | Regular | Long | Long | Long | Long |
| Garment Primary Color | Charcoal Grey | Khaki | Red | Navy | Royal | Charcoal Grey | Khaki | Red | Navy | Royal | Charcoal Grey | Khaki | Red | Navy | Royal | Charcoal Grey | Khaki | Red | Navy | Royal | Charcoal Grey | Khaki | Red | Navy | Royal | Charcoal Grey | Khaki | Red | Navy | Royal | Charcoal Grey | Khaki | Red | Navy | Royal | Charcoal Grey | Khaki | Red | Navy | Royal | Charcoal Grey | Khaki | Red | Navy | Royal | Charcoal Grey | Khaki | Red | Navy | Royal | Charcoal Grey | Khaki | Red | Navy | Royal | Charcoal Grey | Khaki | Red | Navy | Royal | Charcoal Grey | Khaki | Red | Navy | Royal | Charcoal Grey | Khaki | Red | Navy | Royal | Charcoal Grey | Khaki | Navy | Royal | Charcoal Grey | Khaki | Navy | Royal | Charcoal Grey | Khaki | Navy | Royal | Charcoal Grey | Khaki | Navy | Royal |