Tempshield Cryogenic Gloves 234-CRYO-B-14 - 14" Long
SKU: CP234-CRYO-B-14-PRMPN: 234-CRYO-B-14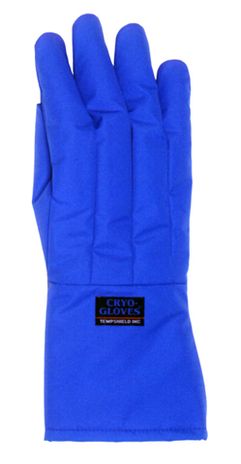 For current coupons - check home page
Product Details
Cryo-Gloves from Tempshield are the original cryo gloves, made in the USA. They feature an advanced design with multiple layers of insulating materials that combine to create flexible cryogenic gloves that provide reliable protection and comfort. Use the Tempshield cryogenic gloves for applications that present risk of splash of sub-cooled liquids onto hands and arms - these gloves will effectively protect from small splash and greatly reduce the risk of freeze burn. Tempshield Cryogenic Gloves protect your hands and arms when working in hazardous, ultra-cold environments. The innovative design of these gloves offers superior thermal protection and allows for a maximum level of flexibility and dexterity. Made from advanced fabrics, Tempshield Cryo-Gloves use a flexible, multi-layered construction that maximizes insulation and thermal protection, yet offers comfort, flexibility, and dexterity so you can perform tasks effectively and safely. An additional stay-dry lining keeps you warm and comfortable. Suitable for temperatures as low as -320.8°F/196°C.
The CPA 234-CRYO-B-14 Tempshield Cryogenic gloves are:
Made in USA, not Chinese knock-off, like Inf-Way
Great for protecting your hands when working in hazardous, ultra-cold environments
Designed to provide thermal protection and allows for maximum flexibility/dexterity
Lined with stay-dry insulation to help keep you warm and comfortable
Suitable for temperatures as low as -320.8°F/196°C
** WARNING Anyone handling cryogenic liquids should be familiar with the hazards presented by such materials and trained in how to handle them safely. Emergency procedures should be established and rehearsed, proper training in the operation of all equipment provided, and knowledge and appreciation of hazardous properties of the materials instilled. Cryogenic liquids should never be handled without proper protective gear. **
CAUTION Not intended for immersion in liquid nitrogen or other cryogenic liquids.
Specifications
| | |
| --- | --- |
| SKU | CP234-CRYO-B-14-PR |
| MPN | 234-CRYO-B-14 |
| Cold Comfort Rating | -320.8°F |
| Glove Size | 14" Long, Large |