Salisbury Insulating Rubber Gloves Class 00
SKU: SAE0011B/8MPN: E0011B/8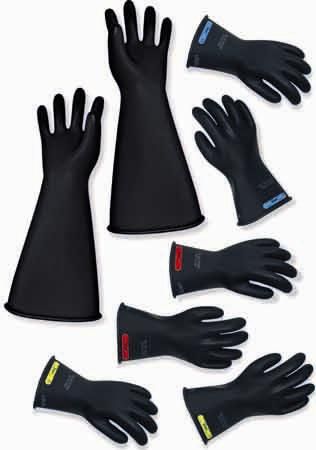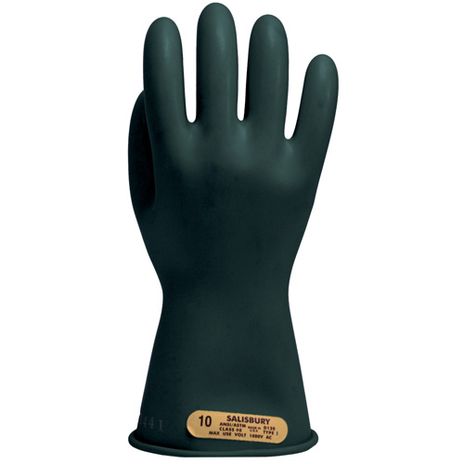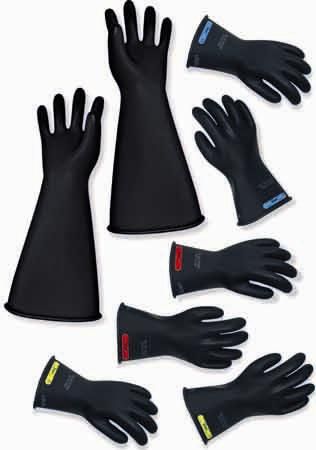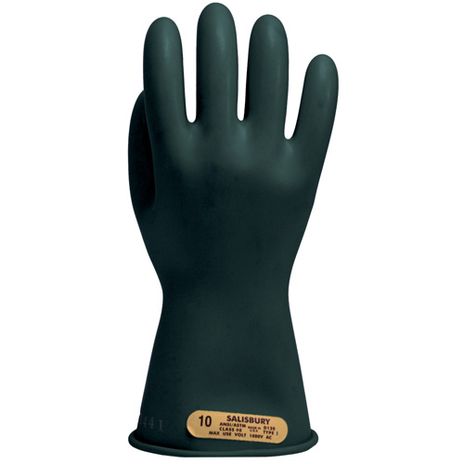 For current coupons - check home page
Product Details
Salisbury's Class 00 arc flash rubber insulating gloves provide economical and reliable protection from voltages below 500V. They are proof-tested at 2500V to ensure sufficient reliability, and are available in 11 inch length.
Features of Salisbury class 00 insulating rubber gloves:
Suitable for use at 500 V (AC) max, proof tested at 2,500V AC.
Available in 11 inch lengths
Please refer to ASTM D 120-02 standard specification for rubber insulating gloves and ASTM F 496-02 standard specification for in-service care of insulating gloves and sleeves. Refer to ASTM F 696-02 standard specification for leather protectors for rubber insulating gloves and mittens.
Gloves in colors other than black may take longer to arrive. Salisbury insulating rubber gloves are available in the following colors:
Salisbury E0011R - red color, 11" long, type I natural rubber low voltage electrical gloves
Salisbury E0011B - black color, 11" long, type I natural rubber low voltage electrical gloves
Salisbury E0011BL - blue color, 11" long, type I natural rubber low voltage electrical gloves
Salisbury E0011BLO - blue in orange out, 11" long, type II Salcor low voltage electric gloves
Salisbury E0014R - red color, 14" long, type I natural rubber low voltage electrical gloves
Salisbury E0014B - black color, 14" long, type I natural rubber low voltage electrical gloves
Salisbury E0014BL - blue color, 14" long, type I natural rubber low voltage electrical gloves
Salisbury E0014BLO - blue in orange out, 14" long, type II Salcor low voltage electric gloves
** Please give us a call at 866-781-3892 if you are interested in Salisbury insulating rubber gloves in colors other than black! **
Specifications
| | | | | | | | | | | |
| --- | --- | --- | --- | --- | --- | --- | --- | --- | --- | --- |
| SKU | SAE0011B/8 | SAE0011B/9 | SAE0011B/10 | SAE0011B/11 | SAE0011B/12 | SAE0011BL/8 | SAE0011BL/9 | SAE0011BL/10 | SAE0011BL/11 | SAE0011BL/12 |
| MPN | E0011B/8 | E0011B/9 | E0011B/10 | E0011B/11 | E0011B/12 | E0011BL/8 | E0011BL/9 | E0011BL/10 | E0011BL/11 | E0011BL/12 |
| Material | Black, Natural Rubber | Black, Natural Rubber | Black, Natural Rubber | Black, Natural Rubber | Black, Natural Rubber | Blue, Salcor | Blue, Salcor | Blue, Salcor | Blue, Salcor | Blue, Salcor |
| Glove class & rating | 00 - max 500V AC | 00 - max 500V AC | 00 - max 500V AC | 00 - max 500V AC | 00 - max 500V AC | 00 - max 500V AC | 00 - max 500V AC | 00 - max 500V AC | 00 - max 500V AC | 00 - max 500V AC |
| Glove Length | 11" | 11" | 11" | 11" | 11" | 11" | 11" | 11" | 11" | 11" |
| Glove Size | 8 | 9 | 10 | 11 | 12 | 8 | 9 | 10 | 11 | 12 |