Class 2 Lineman Glove Kit - Rubber and Leather Gloves plus Bag
SKU: CPGK-2-14-8B-EAMPN: GK-2-14-8B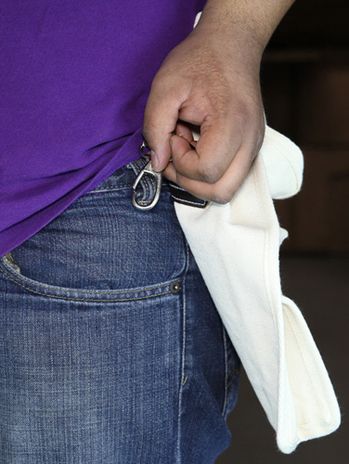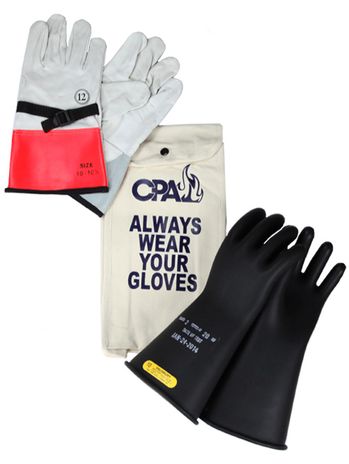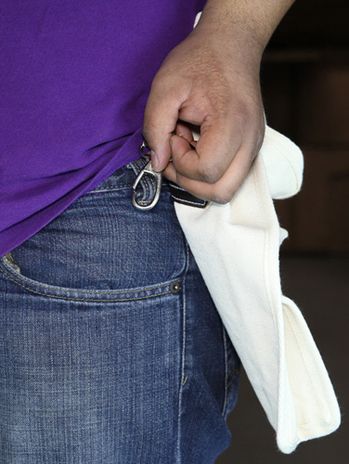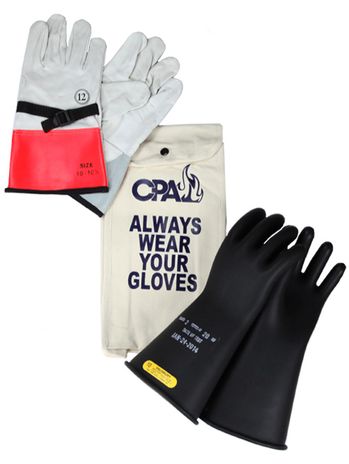 For current coupons - check home page
Product Details
Class 2 arc flash glove kit from Chicago Protective Apparel or comparable manufacturers is an economical and reliable kit for work with 17,000 volts or less.
Components of CPA GK-2-14 glove kit:
Please refer to ASTM D 120-02 standard specification for rubber insulating gloves and ASTM F 496-02 standard specification for in-service care of insulating gloves and sleeves. Refer to ASTM F 696-02 stanadard specification for leather protectors for rubber insulating gloves and mittens.
Specifications
| | | | | | | | | | | | | | | | |
| --- | --- | --- | --- | --- | --- | --- | --- | --- | --- | --- | --- | --- | --- | --- | --- |
| SKU | CPGK-2-14-8B-EA | CPGK-2-14-8YB-EA | CPGK-2-14-8RB-EA | CPGK-2-14-9B-EA | CPGK-2-14-9YB-EA | CPGK-2-14-9RB-EA | CPGK-2-14-10B-EA | CPGK-2-14-10YB-EA | CPGK-2-14-10RB-EA | CPGK-2-14-11B-EA | CPGK-2-14-11YB-EA | CPGK-2-14-11RB-EA | CPGK-2-14-12B-EA | CPGK-2-14-12YB-EA | CPGK-2-14-12RB-EA |
| MPN | GK-2-14-8B | GK-2-14-8YB | GK-2-14-8RB | GK-2-14-9B | GK-2-14-9YB | GK-2-14-9RB | GK-2-14-10B | GK-2-14-10YB | GK-2-14-10RB | GK-2-14-11B | GK-2-14-11YB | GK-2-14-11RB | GK-2-14-12B | GK-2-14-12YB | GK-2-14-12RB |
| Glove Color | All Black | Yellow In/Black Out | Red In/Black Out | All Black | Yellow In/Black Out | Red In/Black Out | All Black | Yellow In/Black Out | Red In/Black Out | All Black | Yellow In/Black Out | Red In/Black Out | All Black | Yellow In/Black Out | Red In/Black Out |
| Glove class & rating | 2 - max 17,000V AC | 2 - max 17,000V AC | 2 - max 17,000V AC | 2 - max 17,000V AC | 2 - max 17,000V AC | 2 - max 17,000V AC | 2 - max 17,000V AC | 2 - max 17,000V AC | 2 - max 17,000V AC | 2 - max 17,000V AC | 2 - max 17,000V AC | 2 - max 17,000V AC | 2 - max 17,000V AC | 2 - max 17,000V AC | 2 - max 17,000V AC |
| Glove Size | 8 | 8 | 8 | 9 | 9 | 9 | 10 | 10 | 10 | 11 | 11 | 11 | 12 | 12 | 12 |