MCR Safety Crews Chemical Splash Goggles 2230R
SKU: MR2230R-EAMPN: 2230R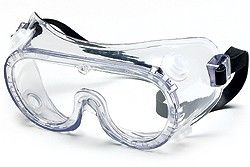 Product Details
The Crews Chemical Splash Goggles are an excellent choice for college laboratories and research facilities alike. Offering great splash protection, these safety goggles come in a ventilated and non-ventilated variety, with optional anti-fog coating.
MCR Safety Crews 2230R 2235R and 2237R Safety Goggle Models
Crews 2230R/2235R/2237R general purpose safety goggles protect the wearer's eyes against impacts and chemical splashes. The safety goggle frame is molded from PVC, with a polycarbonate Duramass-coated scratch-resistant lens. With a latex-free rubber strap, you can be sure these safety goggles will remain secured and protect you in times of need. The Crews 2230R and 2235R models have special splash-resistant ventilation openings. The Crews 2235R safety goggles model also features an anti-fog coating. The 2237R safety goggle also has the anti-fog coating, but no ventilation openings. All models provide 99.9% UV protection and meet (or exceed) the ANSI Z87.1 safety standard.
Specifications
| | | | |
| --- | --- | --- | --- |
| SKU | MR2230R-EA | MR2235R-EA | MR2237R-EA |
| MPN | 2230R | 2235R | 2237R |
| Safety Goggles Type | Indirect Vented | Anti-Fog, Indirect Vented | Anti-Fog, Not Vented |