Otterlayer aluminized spats, TruteX, LV1-ATX
SKU: OTLV1-ATX1MPN: LV1-ATX1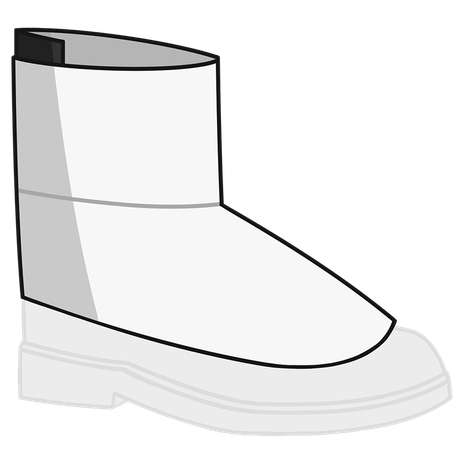 Product Details
Otterlayer's spats model LV1-ATX have a high-heat resistant strip of Velcro at the back to hold them securely on the feet, and protecting the feet of wearers from sparks and molten metal splash.
Features of Otterlayer foundry/aluminized spats:
Velcro closure allows to easily and quickly remove these spats in case hot splash lands on them, reducing chance of injury from heat transfer further to shoes and feet underneath
7" high from bottom to top of legging
6" flare over top side of foot
Aluminized Trutex™ is a non-woven fabric with a para-aramid batting, OPF batting, and meta-aramid scrim which is coated with aluminum on one side. It is constructed using the time tested technique of adhering pure aluminum to both sides of a thin polyester film and adding it to a flame resistant textile substrate.
The base fabric is essentially a carbon para aramid blend which makes it very strong and tear-resistant. It has the characteristic pea green and black speckled appearance, yet has a soft, fleece-like texture.
Aluminized Trutex™ is a great choice for molten metal splash and radiant heat protection. It is relatively light and flexible, and garments made from it will be more comfortable to wear.
Protective properties of aluminized Trutex™ clothing material:
Lightweight, soft and flexible
Protects against both molten iron and aluminum splash
Very good thermal protection - withstands up to 400-600°F contact heat
Excellent radiant reflectivity
Radiant heat resistance - up to 2000°F
Fabric composition and characteristics:
Non-woven, para-aramid and OPF batting, meta-aramid scrim with aluminized layer
Fabric Weight: 10 oz. / sq. yd.
Specifications
| | | | |
| --- | --- | --- | --- |
| SKU | OTLV1-ATX1 | OTLV1-ATX-LX | OTLV1-ATX-L2 |
| MPN | LV1-ATX1 | LV1-ATX-LX | LV1-ATX-L2 |
| Garment Size | Standard size | XL | 2XL |
| Max contact heat | High (500F to 800F) | High (500F to 800F) | High (500F to 800F) |
| Insulation level | Medium | Medium | Medium |
| Abrasion and tear resistance | Medium | Medium | Medium |
| Fabric flexibility | Flexible | Flexible | Flexible |
| Radiant heat protection | Yes | Yes | Yes |
| Sparks resistance | Yes | Yes | Yes |
| Molten aluminum splash | Resistant | Resistant | Resistant |
| Molten iron splash | Resistant | Resistant | Resistant |