Nasco WorkTrack 403J Waist Length Jacket with Hood
SKU: NC403JY-S-EAMPN: 403JY-S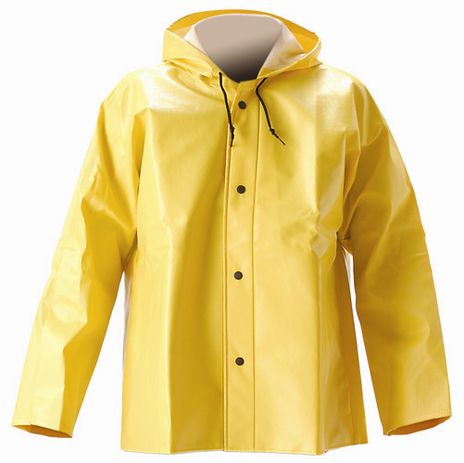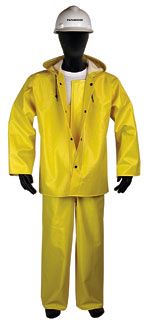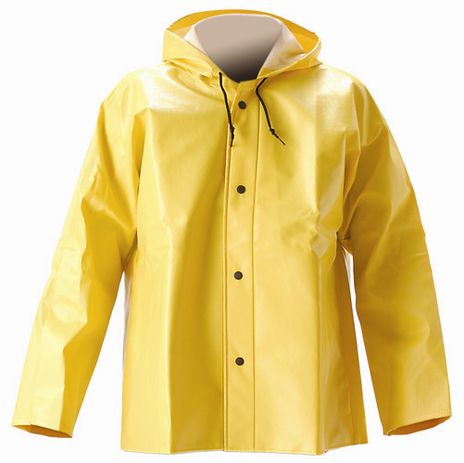 Product Details
This Nasco WorkTrack 403J waist length jacket is comfortable and durable. It comes with an attached hood and snap front with storm fly. Model 403J jackets from Nasco are available in Green (403JG) and Yellow 403JY) colors.
Nasco WorkTrack protective clothing features include: 8.5 oz/yd2 non-woven polyester, PVC moisture barriers, flame resistant (ASTM D6413-99), RF welded seam construction. WorkTrack is a lightweight yet tough version of the WorkClassic outwear. Nasco WorkTrack protective clothing is for general duty applications.
WorkTrack 400 Series rainwear is a cost effective way to provide durable, yet comfortable protective outerwear for many work environments. Its soft pile lining pulls moisture away from the body to keep you warm in the winter and cool in the summer.
Features & Benefits of Nasco 403J Hooded Jackets:
Waterproof
Lightweight
Classic Ribbed Exterior
Soft, Fleece-Like Lining
Limited Chemical Splash Resistance
Limited Flame Resistance
Recommended Applications:
General Industry
Agriculture
Municipalities
Construction
Specifications
| | | | | | | | | |
| --- | --- | --- | --- | --- | --- | --- | --- | --- |
| SKU | NC403JY-S-EA | NC403JY-M-EA | NC403JY-L-EA | NC403JY-XL-EA | NC403JY-2XL-EA | NC403JY-3XL-EA | NC403JY-4XL-EA | NC403JY-5XL-EA |
| MPN | 403JY-S | 403JY-M | 403JY-L | 403JY-XL | 403JY-2XL | 403JY-3XL | 403JY-4XL | 403JY-5XL |
| Coat Size | S | M | L | XL | 2XL | 3XL | 4XL | 5XL |
| Length | Regular | Regular | Regular | Regular | Regular | Regular | Regular | Regular |
| Garment Primary Color | Yellow | Yellow | Yellow | Yellow | Yellow | Yellow | Yellow | Yellow |
| Coat length | Waist | Waist | Waist | Waist | Waist | Waist | Waist | Waist |
| High Visibility | Enhanced | Enhanced | Enhanced | Enhanced | Enhanced | Enhanced | Enhanced | Enhanced |
| Material | 8.5 oz Non-Woven Polyester, PVC Moisture Barrier | 8.5 oz Non-Woven Polyester, PVC Moisture Barrier | 8.5 oz Non-Woven Polyester, PVC Moisture Barrier | 8.5 oz Non-Woven Polyester, PVC Moisture Barrier | 8.5 oz Non-Woven Polyester, PVC Moisture Barrier | 8.5 oz Non-Woven Polyester, PVC Moisture Barrier | 8.5 oz Non-Woven Polyester, PVC Moisture Barrier | 8.5 oz Non-Woven Polyester, PVC Moisture Barrier |
| Style | Unisex | Unisex | Unisex | Unisex | Unisex | Unisex | Unisex | Unisex |