Otterlayer aluminized leggings, CarbonX, hip-length, LH4-AX1
SKU: OTLH4-AX1-SH-VLMPN: LH4-AX1-SH-VL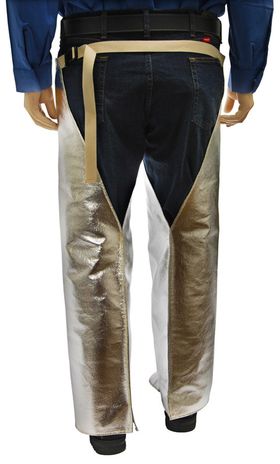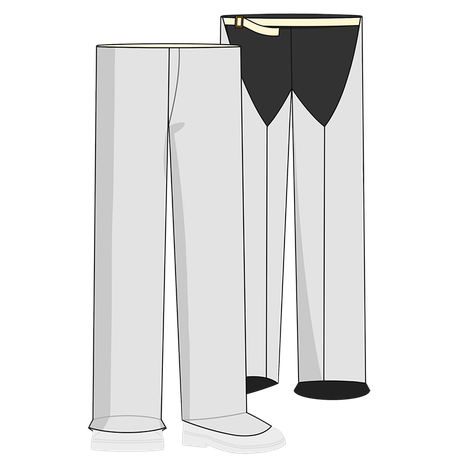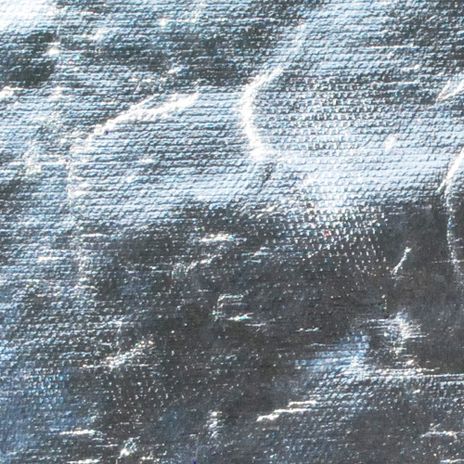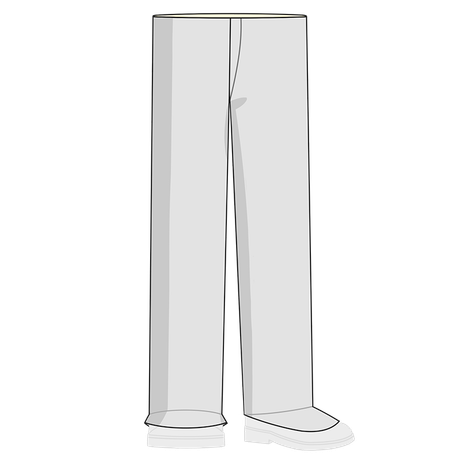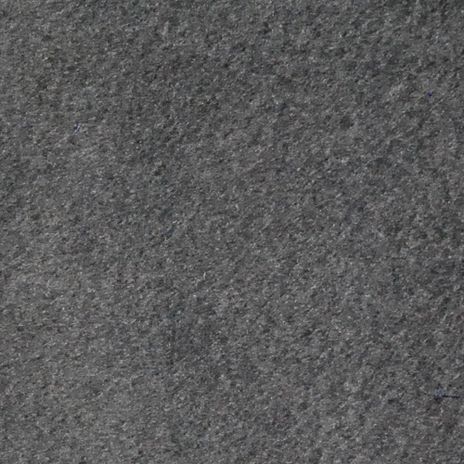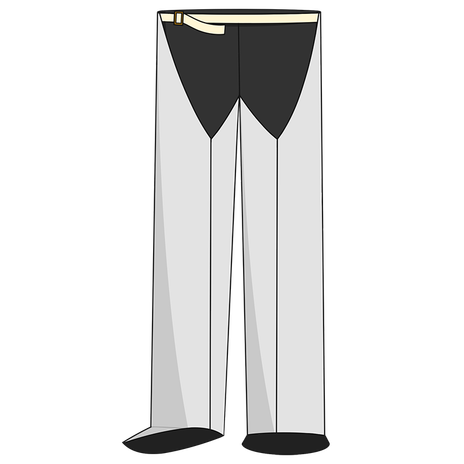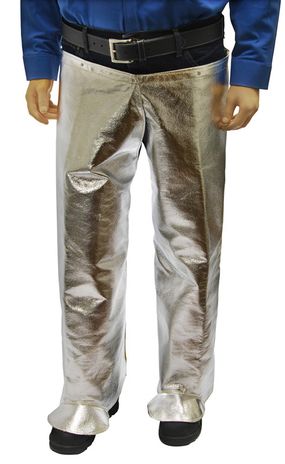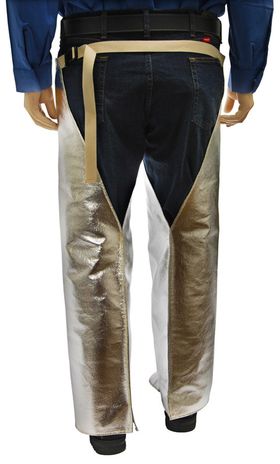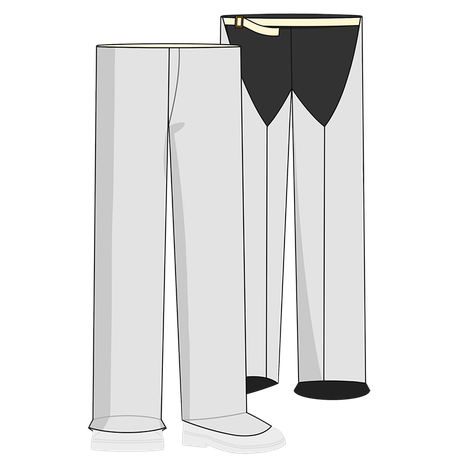 Product Details
Otterlayer's heat resistant foundry leggings LH4-AX1 are attached at hips, similar to pants, and are a great solutions for leg protection where used in combination with a coat. They are easier to put on and take off and provide more ventilation compared with pants or bib overalls (and are also more economical), but protect legs from both front and back in most areas when compared to chaps and other types of easy on-off leggings.
Features of Otterlayer foundry and aluminized hip-high leggigns:
Choice of snaps or Velcro at back of legs
Adjustable belt top
CarbonX® is a high-performance, truly non-flammable fabric that will not burn, ignite or melt, and protects against molten metal splash, sparks, hot liquids and high temperatures. Through the Z-Flex® MLATM process or multilayer aluminization the CarbonX® base becomes coated with several layers of aluminum, protective films and high heat adhesives. If one layer breaks down, there is another available to protect.
At 10 oz. / sq. yd., Aluminized CarbonX® is among the lightest fabrics that can pass the ASTM F955 pour test for both aluminum and iron. It also receives high marks for radiant heat protection and aluminum and iron molten metal splash resistance according to the European standard EN ISO 11612.
Protective properties of aluminized CarbonX clothing material:
Lightweight, flexible and comfortable
Resists molten aluminum and iron splash
High temperature resistance - withstands over 800°F contact temperature
Radiant heat protection - up to 2000°F
Good insulation coefficient based on material thickness
Fabric composition and characteristics:
CarbonX®, a proprietary blend of highperformance fibers with Z-Flex® Multi-Layer Aluminization
Fabric Weight: 10 oz. / sq. yd
Specifications
| | | | | | | | | | | | | | | | | | | |
| --- | --- | --- | --- | --- | --- | --- | --- | --- | --- | --- | --- | --- | --- | --- | --- | --- | --- | --- |
| SKU | OTLH4-AX1-SH-VL | OTLH4-AX1-LX-SH-VL | OTLH4-AX1-L2-SH-VL | OTLH4-AX1-TL-VL | OTLH4-AX1-LX-TL-VL | OTLH4-AX1-L2-TL-VL | OTLH4-AX1-VL | OTLH4-AX1-LX-VL | OTLH4-AX1-L2-VL | OTLH4-AX1-SH-SP | OTLH4-AX1-LX-SH-SP | OTLH4-AX1-L2-SH-SP | OTLH4-AX1-TL-SP | OTLH4-AX1-LX-TL-SP | OTLH4-AX1-L2-TL-SP | OTLH4-AX1-SP | OTLH4-AX1-LX-SP | OTLH4-AX1-L2-SP |
| MPN | LH4-AX1-SH-VL | LH4-AX1-LX-SH-VL | LH4-AX1-L2-SH-VL | LH4-AX1-TL-VL | LH4-AX1-LX-TL-VL | LH4-AX1-L2-TL-VL | LH4-AX1-VL | LH4-AX1-LX-VL | LH4-AX1-L2-VL | LH4-AX1-SH-SP | LH4-AX1-LX-SH-SP | LH4-AX1-L2-SH-SP | LH4-AX1-TL-SP | LH4-AX1-LX-TL-SP | LH4-AX1-L2-TL-SP | LH4-AX1-SP | LH4-AX1-LX-SP | LH4-AX1-L2-SP |
| Closure & attachment | High Heat Velcro | High Heat Velcro | High Heat Velcro | High Heat Velcro | High Heat Velcro | High Heat Velcro | High Heat Velcro | High Heat Velcro | High Heat Velcro | Snaps | Snaps | Snaps | Snaps | Snaps | Snaps | Snaps | Snaps | Snaps |
| Garment Size | Standard size | XL | 2XL | Standard size | XL | 2XL | Standard size | XL | 2XL | Standard size | XL | 2XL | Standard size | XL | 2XL | Standard size | XL | 2XL |
| Pants Length | Short | Short | Short | Tall | Tall | Tall | Regular | Regular | Regular | Short | Short | Short | Tall | Tall | Tall | Regular | Regular | Regular |
| Max contact heat | Very high (over 800F) | Very high (over 800F) | Very high (over 800F) | Very high (over 800F) | Very high (over 800F) | Very high (over 800F) | Very high (over 800F) | Very high (over 800F) | Very high (over 800F) | Very high (over 800F) | Very high (over 800F) | Very high (over 800F) | Very high (over 800F) | Very high (over 800F) | Very high (over 800F) | Very high (over 800F) | Very high (over 800F) | Very high (over 800F) |
| Insulation level | High | High | High | High | High | High | High | High | High | High | High | High | High | High | High | High | High | High |
| Abrasion and tear resistance | Low | Low | Low | Low | Low | Low | Low | Low | Low | Low | Low | Low | Low | Low | Low | Low | Low | Low |
| Fabric flexibility | Flexible | Flexible | Flexible | Flexible | Flexible | Flexible | Flexible | Flexible | Flexible | Flexible | Flexible | Flexible | Flexible | Flexible | Flexible | Flexible | Flexible | Flexible |
| Radiant heat protection | Yes | Yes | Yes | Yes | Yes | Yes | Yes | Yes | Yes | Yes | Yes | Yes | Yes | Yes | Yes | Yes | Yes | Yes |
| Sparks resistance | Yes | Yes | Yes | Yes | Yes | Yes | Yes | Yes | Yes | Yes | Yes | Yes | Yes | Yes | Yes | Yes | Yes | Yes |
| Molten aluminum splash | Resistant | Resistant | Resistant | Resistant | Resistant | Resistant | Resistant | Resistant | Resistant | Resistant | Resistant | Resistant | Resistant | Resistant | Resistant | Resistant | Resistant | Resistant |
| Molten iron splash | Resistant | Resistant | Resistant | Resistant | Resistant | Resistant | Resistant | Resistant | Resistant | Resistant | Resistant | Resistant | Resistant | Resistant | Resistant | Resistant | Resistant | Resistant |