Otterlayer aluminized bib overalls, heavy-duty rayon, PB1-AR2
SKU: OTPB1-AR2-SM-SHMPN: PB1-AR2-SM-SH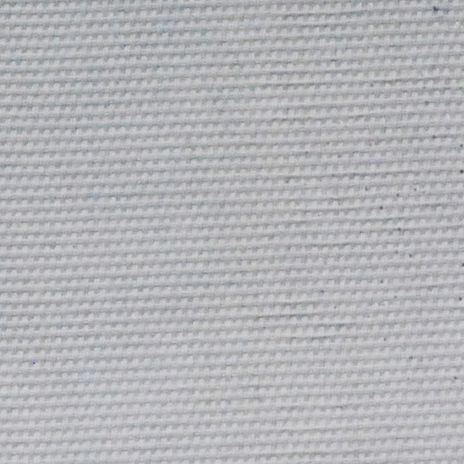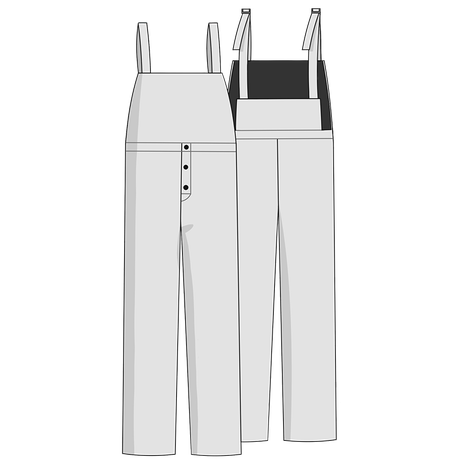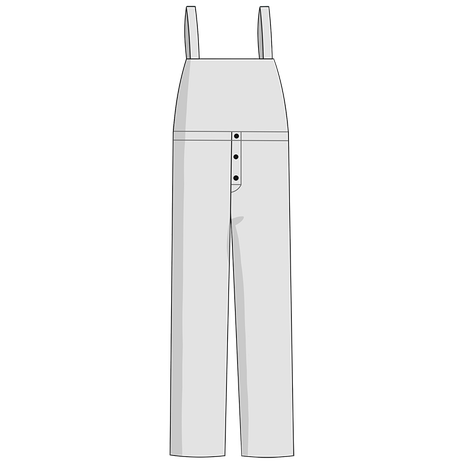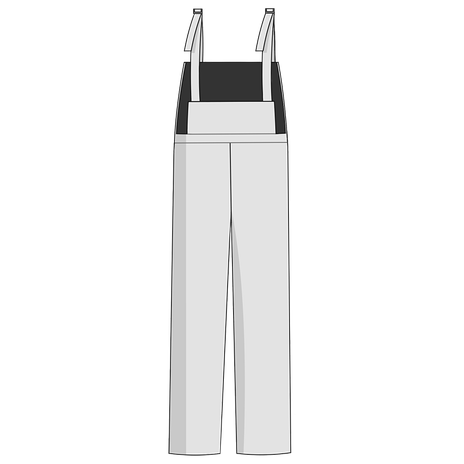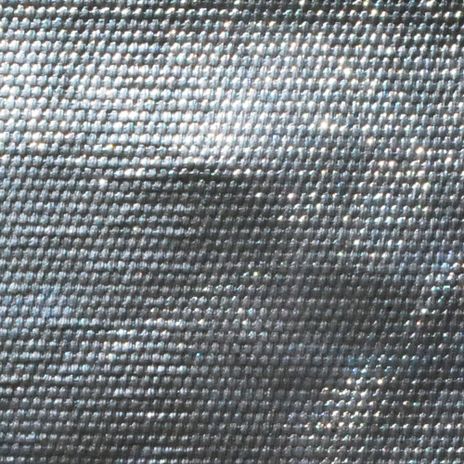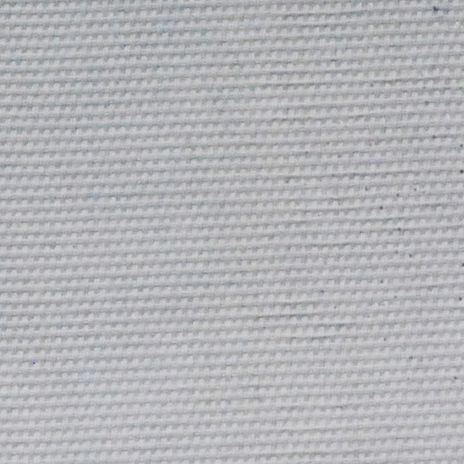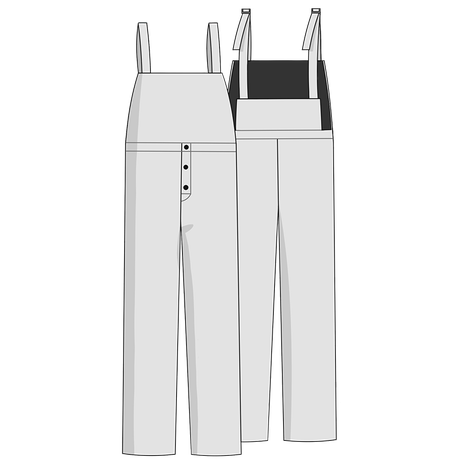 Product Details
Otterlayer high heat bib overalls model PB1-AR2 are a great solution for worker protection in environments with exposure to high radiant heat levels and possible contact with hot objects such as ovens, molten metal splash, and other.
Features of Otterlayer foundry and aluminized pants:
Loose fitting pants ensure easier fit over secondary layers of clothing and to allow air to be trapped inside for additional insulation
Adjustable suspenders allow moving pants up or down to accomodate persons of different height
Bib overalls rise high above hips on all sides to provide extra overlap with jacket, reducing chance of sparks or other hot particles getting into an uncovered area
Protective properties of aluminized heavy rayon clothing material:
Resists molten iron and aluminum splash
High heat resistance - able to withstand 400-600°F
Radiant heat resistance - up to 2000°F
Economical material
Fabric composition and characteristics:
Rayon woven fabric finished with an aluminized coating
Fabric Weight: 19 oz. per sq. yd.
Specifications
| | | | | | | | | | | | | | | | | | | | | | | | | |
| --- | --- | --- | --- | --- | --- | --- | --- | --- | --- | --- | --- | --- | --- | --- | --- | --- | --- | --- | --- | --- | --- | --- | --- | --- |
| SKU | OTPB1-AR2-SM-SH | OTPB1-AR2-MD-SH | OTPB1-AR2-LG-SH | OTPB1-AR2-XL-SH | OTPB1-AR2-2X-SH | OTPB1-AR2-3X-SH | OTPB1-AR2-4X-SH | OTPB1-AR2-5X-SH | OTPB1-AR2-SM-TL | OTPB1-AR2-MD-TL | OTPB1-AR2-LG-TL | OTPB1-AR2-XL-TL | OTPB1-AR2-2X-TL | OTPB1-AR2-3X-TL | OTPB1-AR2-4X-TL | OTPB1-AR2-5X-TL | OTPB1-AR2-SM | OTPB1-AR2-MD | OTPB1-AR2-LG | OTPB1-AR2-XL | OTPB1-AR2-2X | OTPB1-AR2-3X | OTPB1-AR2-4X | OTPB1-AR2-5X |
| MPN | PB1-AR2-SM-SH | PB1-AR2-MD-SH | PB1-AR2-LG-SH | PB1-AR2-XL-SH | PB1-AR2-2X-SH | PB1-AR2-3X-SH | PB1-AR2-4X-SH | PB1-AR2-5X-SH | PB1-AR2-SM-TL | PB1-AR2-MD-TL | PB1-AR2-LG-TL | PB1-AR2-XL-TL | PB1-AR2-2X-TL | PB1-AR2-3X-TL | PB1-AR2-4X-TL | PB1-AR2-5X-TL | PB1-AR2-SM | PB1-AR2-MD | PB1-AR2-LG | PB1-AR2-XL | PB1-AR2-2X | PB1-AR2-3X | PB1-AR2-4X | PB1-AR2-5X |
| Waist Size | S | M | L | XL | 2XL | 3XL | 4XL | 5XL | S | M | L | XL | 2XL | 3XL | 4XL | 5XL | S | M | L | XL | 2XL | 3XL | 4XL | 5XL |
| Pants Length | Short | Short | Short | Short | Short | Short | Short | Short | Tall | Tall | Tall | Tall | Tall | Tall | Tall | Tall | Regular | Regular | Regular | Regular | Regular | Regular | Regular | Regular |
| Max contact heat | Medium (up to 500F) | Medium (up to 500F) | Medium (up to 500F) | Medium (up to 500F) | Medium (up to 500F) | Medium (up to 500F) | Medium (up to 500F) | Medium (up to 500F) | Medium (up to 500F) | Medium (up to 500F) | Medium (up to 500F) | Medium (up to 500F) | Medium (up to 500F) | Medium (up to 500F) | Medium (up to 500F) | Medium (up to 500F) | Medium (up to 500F) | Medium (up to 500F) | Medium (up to 500F) | Medium (up to 500F) | Medium (up to 500F) | Medium (up to 500F) | Medium (up to 500F) | Medium (up to 500F) |
| Insulation level | Medium | Medium | Medium | Medium | Medium | Medium | Medium | Medium | Medium | Medium | Medium | Medium | Medium | Medium | Medium | Medium | Medium | Medium | Medium | Medium | Medium | Medium | Medium | Medium |
| Abrasion and tear resistance | Medium | Medium | Medium | Medium | Medium | Medium | Medium | Medium | Medium | Medium | Medium | Medium | Medium | Medium | Medium | Medium | Medium | Medium | Medium | Medium | Medium | Medium | Medium | Medium |
| Fabric flexibility | Stiff | Stiff | Stiff | Stiff | Stiff | Stiff | Stiff | Stiff | Stiff | Stiff | Stiff | Stiff | Stiff | Stiff | Stiff | Stiff | Stiff | Stiff | Stiff | Stiff | Stiff | Stiff | Stiff | Stiff |
| Radiant heat protection | Yes | Yes | Yes | Yes | Yes | Yes | Yes | Yes | Yes | Yes | Yes | Yes | Yes | Yes | Yes | Yes | Yes | Yes | Yes | Yes | Yes | Yes | Yes | Yes |
| Sparks resistance | Yes | Yes | Yes | Yes | Yes | Yes | Yes | Yes | Yes | Yes | Yes | Yes | Yes | Yes | Yes | Yes | Yes | Yes | Yes | Yes | Yes | Yes | Yes | Yes |
| Molten aluminum splash | Resistant | Resistant | Resistant | Resistant | Resistant | Resistant | Resistant | Resistant | Resistant | Resistant | Resistant | Resistant | Resistant | Resistant | Resistant | Resistant | Resistant | Resistant | Resistant | Resistant | Resistant | Resistant | Resistant | Resistant |
| Molten iron splash | Resistant | Resistant | Resistant | Resistant | Resistant | Resistant | Resistant | Resistant | Resistant | Resistant | Resistant | Resistant | Resistant | Resistant | Resistant | Resistant | Resistant | Resistant | Resistant | Resistant | Resistant | Resistant | Resistant | Resistant |