Cementex BL-C Low Voltage Insulating Blankets
SKU: CXBL-C0-EAMPN: BL-C0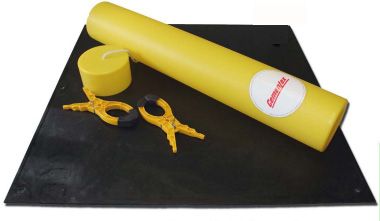 Electric Rating
Class 0/Yellow/No Eyelets
For current coupons - check home page
Product Details
Superior quality dielectric blankets are designed, manufactured, and tested in the USA in strict accordance to current ASTM 01048 specifications. All Blankets measure 3' X 3' and share Class Identification noted for Insulating Rubber Gloves.
Features of Cementex BL-C Low Voltage Insulating Blankets:
Class 0 and Class 4 Blankets are both Type II: made of ozone-resistant EPDM synthetic rubber. Class 2, Type I Blanket is made of natural rubber.
Specifications
| | | | |
| --- | --- | --- | --- |
| SKU | CXBL-C0-EA | CXBL-C2-EA | CXBL-C4-EA |
| MPN | BL-C0 | BL-C2 | BL-C4 |
| Electric Rating | Class 0/Yellow/No Eyelets | Class 2/Black/6 Eyelets | Class 4/Orange/6 Eyelets |
| Blanket Size | 3' X 3' | 3' X 3' | 3' X 3' |