Chicago Protective Breathable Aluminized Coat - Carbon and Aramid Blend
SKU: CP601-A3D-S-EAMPN: 601-A3D-S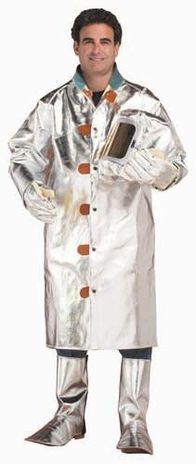 Product Details
These aluminized coats are available in 3 lengths and offer protection from radiant heat up to 3000 degrees F. Made of perforated fabric blend of carbon and aramid with fabric weight of 14.5 oz/sq yard, they provide breathability and reliable protection for workers exposed to extreme heat hazards.
Legion Safety offers coat models 601-A3D, 602-A3D and 603-A3D in lengths from hip- to below-the-knee to accommodate various protection and convenience needs. These breathable aluminized coats from Chicago Protective Apparel are made in USA from quality fabric, designed to keep workers protected. We hope that one of these coats may help you stay more comfortable and protected while doing your work.
CPA 601-A3D - 40 inches long
CPA 602-A3D - 45 inches long
CPA 603-A3D - 50 inches long
You can see a brochure for the breathable fabric used to make this coat here . If you have any questions about this or another product on Legion Safety's website, please don't hesitate to call or email us and we'll be happy help.
Specifications
| | | | | | | | | | | | | | | | | | | | | | | | | |
| --- | --- | --- | --- | --- | --- | --- | --- | --- | --- | --- | --- | --- | --- | --- | --- | --- | --- | --- | --- | --- | --- | --- | --- | --- |
| SKU | CP601-A3D-S-EA | CP602-A3D-S-EA | CP603-A3D-S-EA | CP601-A3D-M-EA | CP602-A3D-M-EA | CP603-A3D-M-EA | CP601-A3D-L-EA | CP602-A3D-L-EA | CP603-A3D-L-EA | CP601-A3D-XL-EA | CP602-A3D-XL-EA | CP603-A3D-XL-EA | CP601-A3D-2XL-EA | CP602-A3D-2XL-EA | CP603-A3D-2XL-EA | CP601-A3D-3XL-EA | CP602-A3D-3XL-EA | CP603-A3D-3XL-EA | CP601-A3D-4XL-EA | CP602-A3D-4XL-EA | CP603-A3D-4XL-EA | CP601-A3D-5XL-EA | CP602-A3D-5XL-EA | CP603-A3D-5XL-EA |
| MPN | 601-A3D-S | 602-A3D-S | 603-A3D-S | 601-A3D-M | 602-A3D-M | 603-A3D-M | 601-A3D-L | 602-A3D-L | 603-A3D-L | 601-A3D-XL | 602-A3D-XL | 603-A3D-XL | 601-A3D-2XL | 602-A3D-2XL | 603-A3D-2XL | 601-A3D-3XL | 602-A3D-3XL | 603-A3D-3XL | 601-A3D-4XL | 602-A3D-4XL | 603-A3D-4XL | 601-A3D-5XL | 602-A3D-5XL | 603-A3D-5XL |
| Coat Size | S | S | S | M | M | M | L | L | L | XL | XL | XL | 2XL | 2XL | 2XL | 3XL | 3XL | 3XL | 4XL | 4XL | 4XL | 5XL | 5XL | 5XL |
| Length | 40" | 45" | 50" | 40" | 45" | 50" | 40" | 45" | 50" | 40" | 45" | 50" | 40" | 45" | 50" | 40" | 45" | 50" | 40" | 45" | 50" | 40" | 45" | 50" |
| Coat back | Standard coat | Standard coat | Standard coat | Standard coat | Standard coat | Standard coat | Standard coat | Standard coat | Standard coat | Standard coat | Standard coat | Standard coat | Standard coat | Standard coat | Standard coat | Standard coat | Standard coat | Standard coat | Standard coat | Standard coat | Standard coat | Standard coat | Standard coat | Standard coat |
| Max contact heat | High (500F to 800F) | High (500F to 800F) | High (500F to 800F) | High (500F to 800F) | High (500F to 800F) | High (500F to 800F) | High (500F to 800F) | High (500F to 800F) | High (500F to 800F) | High (500F to 800F) | High (500F to 800F) | High (500F to 800F) | High (500F to 800F) | High (500F to 800F) | High (500F to 800F) | High (500F to 800F) | High (500F to 800F) | High (500F to 800F) | High (500F to 800F) | High (500F to 800F) | High (500F to 800F) | High (500F to 800F) | High (500F to 800F) | High (500F to 800F) |
| Insulation level | High | High | High | High | High | High | High | High | High | High | High | High | High | High | High | High | High | High | High | High | High | High | High | High |
| Abrasion and tear resistance | Heavy duty | Heavy duty | Heavy duty | Heavy duty | Heavy duty | Heavy duty | Heavy duty | Heavy duty | Heavy duty | Heavy duty | Heavy duty | Heavy duty | Heavy duty | Heavy duty | Heavy duty | Heavy duty | Heavy duty | Heavy duty | Heavy duty | Heavy duty | Heavy duty | Heavy duty | Heavy duty | Heavy duty |
| Fabric flexibility | Medium | Medium | Medium | Medium | Medium | Medium | Medium | Medium | Medium | Medium | Medium | Medium | Medium | Medium | Medium | Medium | Medium | Medium | Medium | Medium | Medium | Medium | Medium | Medium |
| Radiant heat protection | Yes | Yes | Yes | Yes | Yes | Yes | Yes | Yes | Yes | Yes | Yes | Yes | Yes | Yes | Yes | Yes | Yes | Yes | Yes | Yes | Yes | Yes | Yes | Yes |
| Sparks resistance | Yes | Yes | Yes | Yes | Yes | Yes | Yes | Yes | Yes | Yes | Yes | Yes | Yes | Yes | Yes | Yes | Yes | Yes | Yes | Yes | Yes | Yes | Yes | Yes |