McRae Steel Toe Leather Work Boots MR88344 - 8"
SKU: DAMR88344-6-R-PRMPN: MR88344-6-R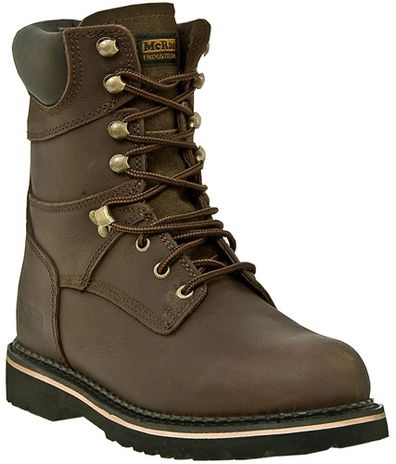 Product Details
These leather boots are designed with steel toes and are made from dark brown full grain leather and include a padded collar. The 8 inch high shaft design provides protection and comfort and can be secured with laces that extend as high as the boot. The steel toe front, rubber outsole, and tempered steel shank provides extreme durability and protection to external forces. These leather work boots come stocked with polyurethane padded insoles, PVC storm welts, and a nylon lining which make them a great buy for most industrial work places.
Features of the McRae MR88344 leather work boot:
Steel toe meets ASTM F2413-11 standards
Electrical hazard rating meets ASTM F2413-11 standards
Goodyear welt construction
Dark brown full grain leather with padded collar
High oil, heat, abrasion, and slip resistant outsole
PVC storm welt
Eyelets and hooks set on stainless steel washers
12 mm polyurethane padded insole with
Tempered steel shank
Moisture wicking nylon lining
Specifications
| | | | | | | | | | | | | | | | | | | | | | | | | |
| --- | --- | --- | --- | --- | --- | --- | --- | --- | --- | --- | --- | --- | --- | --- | --- | --- | --- | --- | --- | --- | --- | --- | --- | --- |
| SKU | DAMR88344-6-R-PR | DAMR88344-6-W-PR | DAMR88344-7-R-PR | DAMR88344-7-W-PR | DAMR88344-8-R-PR | DAMR88344-8-W-PR | DAMR88344-9-R-PR | DAMR88344-9-W-PR | DAMR88344-10-R-PR | DAMR88344-10-W-PR | DAMR883446-11-R-PR | DAMR88344-11-W-PR | DAMR88344-12-R-PR | DAMR88344-12-W-PR | DAMR88344-13-R-PR | DAMR88344-13-W-PR | DAMR88344-14-R-PR | DAMR88344-14-W-PR | DAMR88344-15-R-PR | DAMR88344-15-W-PR | DAMR88344-16-R-PR | DAMR88344-16-W-PR | DAMR88344-17-R-PR | DAMR88344-17-W-PR |
| MPN | MR88344-6-R | MR88344-6-W | MR88344-7-R | MR88344-7-W | MR88344-8-R | MR88344-8-W | MR88344-9-R | MR88344-9-W | MR88344-10-R | MR88344-10-W | MR883446-11-R | MR88344-11-W | MR88344-12-R | MR88344-12-W | MR88344-13-R | MR88344-13-W | MR88344-14-R | MR88344-14-W | MR88344-15-R | MR88344-15-W | MR88344-16-R | MR88344-16-W | MR88344-17-R | MR88344-17-W |
| Material - Upper | Leather | Leather | Leather | Leather | Leather | Leather | Leather | Leather | Leather | Leather | Leather | Leather | Leather | Leather | Leather | Leather | Leather | Leather | Leather | Leather | Leather | Leather | Leather | Leather |
| Footwear Size (US Men's) | 6 | 6 | 7 | 7 | 8 | 8 | 9 | 9 | 10 | 10 | 11 | 11 | 12 | 12 | 13 | 13 | 14 | 14 | 15 | 15 | 16 | 16 | 17 | 17 |
| Width | Regular | Wide | Regular | Wide | Regular | Wide | Regular | Wide | Regular | Wide | Regular | Wide | Regular | Wide | Regular | Wide | Regular | Wide | Regular | Wide | Regular | Wide | Regular | Wide |
| Application | Heavy duty | Heavy duty | Heavy duty | Heavy duty | Heavy duty | Heavy duty | Heavy duty | Heavy duty | Heavy duty | Heavy duty | Heavy duty | Heavy duty | Heavy duty | Heavy duty | Heavy duty | Heavy duty | Heavy duty | Heavy duty | Heavy duty | Heavy duty | Heavy duty | Heavy duty | Heavy duty | Heavy duty |
| Impact Protection | Steel toe | Steel toe | Steel toe | Steel toe | Steel toe | Steel toe | Steel toe | Steel toe | Steel toe | Steel toe | Steel toe | Steel toe | Steel toe | Steel toe | Steel toe | Steel toe | Steel toe | Steel toe | Steel toe | Steel toe | Steel toe | Steel toe | Steel toe | Steel toe |
| Closure Style | Lace-up | Lace-up | Lace-up | Lace-up | Lace-up | Lace-up | Lace-up | Lace-up | Lace-up | Lace-up | Lace-up | Lace-up | Lace-up | Lace-up | Lace-up | Lace-up | Lace-up | Lace-up | Lace-up | Lace-up | Lace-up | Lace-up | Lace-up | Lace-up |
| Boot Shaft | Ankle | Ankle | Ankle | Ankle | Ankle | Ankle | Ankle | Ankle | Ankle | Ankle | Ankle | Ankle | Ankle | Ankle | Ankle | Ankle | Ankle | Ankle | Ankle | Ankle | Ankle | Ankle | Ankle | Ankle |