3M Versaflo Easy Clean PAPR Kit TR-300-ECK
SKU: MMTR-300-ECK-EAMPN: TR-300-ECK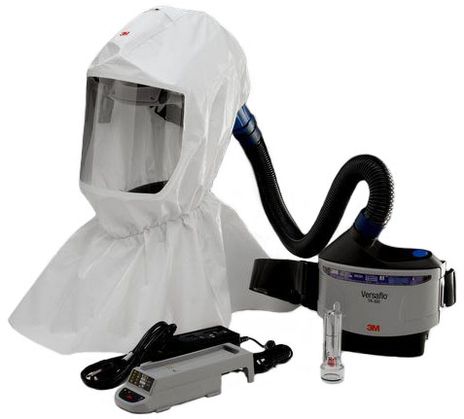 Product Details
The Versalfo TR-300-ECK PAPR kit from 3M is great for a variety of applications including cleaning, infection control, mixing, powder handling, general maintenance and more. This HE PAPR kit comes a filter and is designed for easy maintenance and cleaning. It includes a hood, blower, a belt, breathing tube, battery charger, and a high efficiency particulate filter with a pre-filter. This Versaflo brand Powered Air Purifying Respirator from 3M utilized an ergonomic design that makes it comfortable to wear and features multiple technology features like the battery charge indicator and intake obstruction warning signal that make it stand out among other PAPR models.
Features of the Easy Clean PAPR System TR-300-ECK from 3M:
Comes with breathing tube item BT-30.
Hood number S-655 from 3M.
TR-307N PAPR blower with easy clean belt includes the high efficiency particulate filter TR-3712N and TR-3600 pre-filter.
Battery with charge level indicator and battery charger are included.
Applications include pharmaceutical, healthcare and food and beverage environments.
Specifications
| | | |
| --- | --- | --- |
| SKU | MMTR-300-ECK-EA | |
| MPN | TR-300-ECK | |